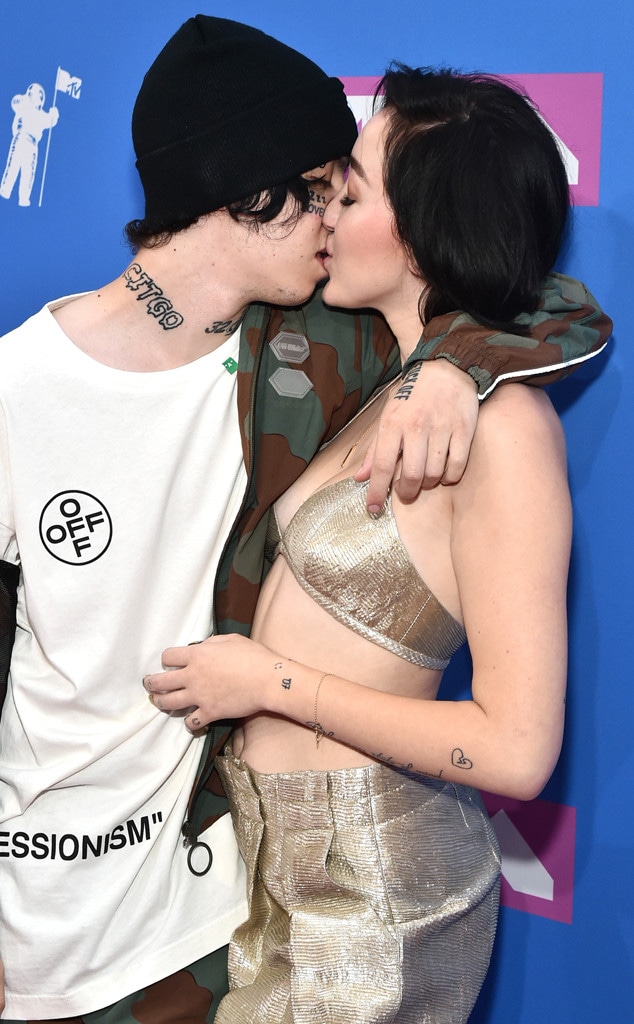 Mike Coppola/Getty Images for MTV
There are few things uglier than a breakup played out on social media. 
As can be the case for some modern celebrity romances gone sour, the two parties can get caught up in airing their side of the story on their own digital platforms. While its a welcome hobby for fans to follow along on their apps as everything unfolds, things definitely can get ugly. 
The most recent case has been the short-lived fling between Noah Cyrus and Lil Xan, who were confirmed to be dating just a month ago. While the pair stepped out on red carpets together and even dropped a track they made together, it didn't take long before things suddenly turned sour online. 
On Sunday evening, the breakup rumors were first sparked when Lil Xan took to a since-deleted Instagram Story to tell fans he thought he was being cheated on. With Cyrus rebuffing the allegations over on her account, the rapper further stirred the pot with a claim that their romance was set up by their record label. The songstress returned to her own social media channels to deny the rapper's cheating accusations and question his fake relationship claim. 
In the mix of tearful live Instagram videos, stories, and screenshots of text messages, photos and memes, the two sides had dramatically unfolded for millions to see. The most recent update was an Instagram plea from the "Make Me" singer to put an end to the public commentary. 
"Diego, please find it in your heart to end this peacefully and not on social media," she wrote to him on Instagram. "We could have done this in person or over the phone. I don't understand why you keep doing this and what changed so drastically in 24 hours. Idk how this all changed and why you're going publicizing all of this. Let's please end this already. It's enough. If you still have an issue that's not resolved then call me so we can stop this isanity."
However, this is hardly the first time a famous couple's breakup drama has spilled out onto the internet. Before Chris Zylka was engaged to Paris Hilton, he had some social media drama with not one, but two ex flames—Lucy Hale and Hanna Beth. 
In both instances, the actor and artist took to his Twitter and Instagram accounts to issue some not-so-nice, but since-deleted words about both women while publicizing their splits in 2012 and 2015. 
It must be noted that, in the case of his drama with Hale, he did issue a social media apology for his public comments. 
"I'd like to apologize about my previous comments," Chris tweeted. "Lucy is not only one of the most talented people I've ever had the pleasure of knowing but also one the most beautiful inside, and out. Anyone who's ever watched, or had the pleasure of meeting her knows this to be true."
As he continued at the time, "I apologize for tarnishing any view anyone has on this amazing women. I had the honor of loving her. That love will never fade, as your love should never fade from her is well. She's going to change the world one day. And the last thing I want to do is be any reason for her to look bad in any way." Hopefully, he's learned his lesson. 
Back in 2016, Iggy Azalea announced the end of her year-long engagement to Nick Young with an Instagram message that only left fans wanting to know more. 
"Unfortunately, although I love Nick and I have tried and tried to rebuild my trust in him—It's become apparent in the last few weeks I am unable to," she shared in a statement post to her social media account. "I genuinely wish Nick the best." Young echoed the sentiment in even fewer words, writing "Single" in a lone tweet on his account. 
While it initially seemed like a concise end to their rocky public relationship, matters escalated when the rapper returned to social media to reveal Young had been unfaithful. "I broke up with Nick because I found out he had brought other women into our home while I was away and caught them on security footage," she tweeted.
"This is just like a second shot to the chest," she continued, referencing surfacing reports that he had impregnated ex-girlfriend Keonna Green. "I feel like I don't even know who the hell it is I've been loving all this time." Of course, Azalea's online comments did not help matters with her ex. 
"Nick is mad Iggy keeps opening her mouth on social media," a source told E! News at the time. 
Perhaps these can all be cautionary tales before the next pair of famous exes decide to hit "share."