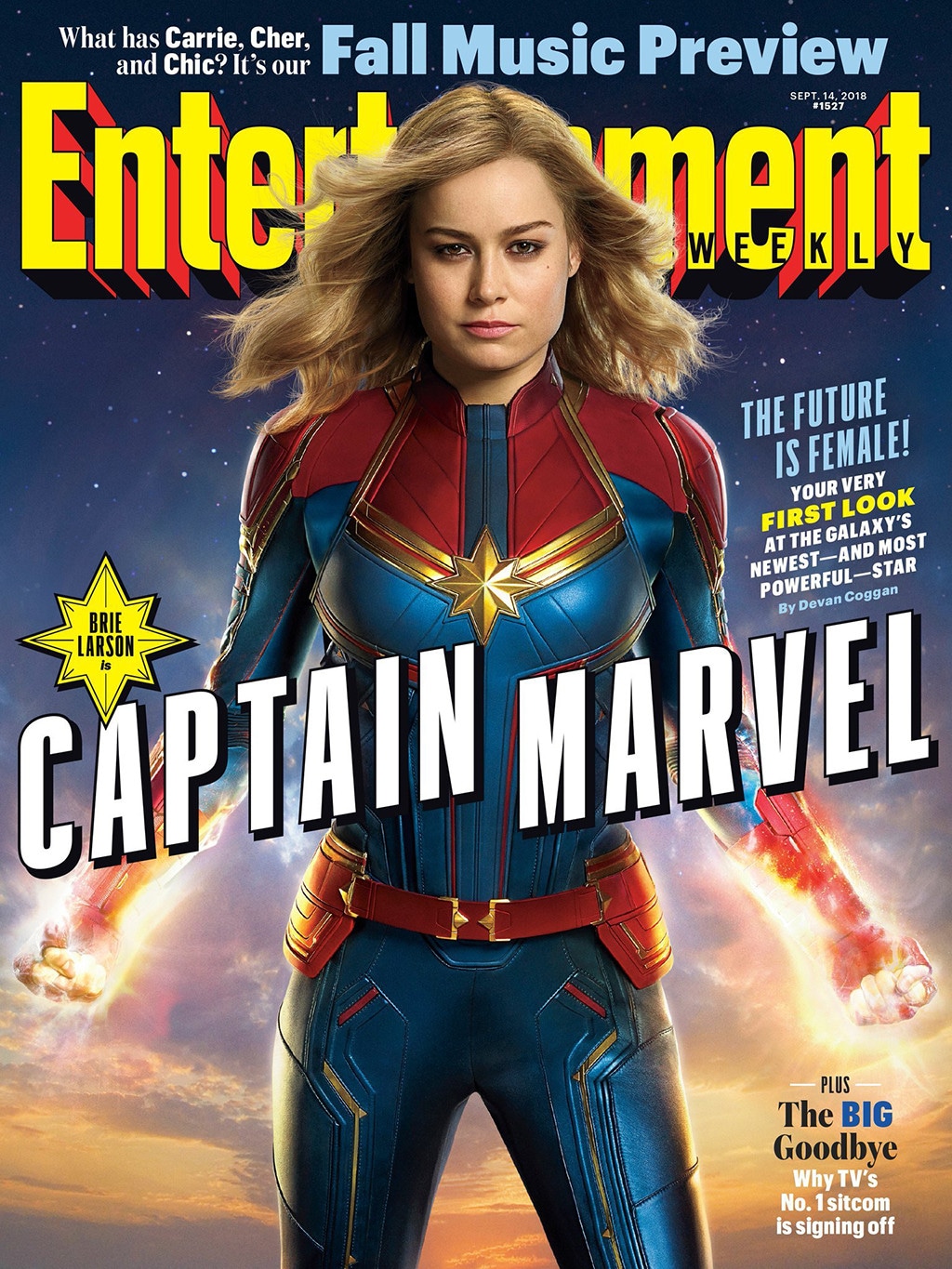 Michael Muller/Marvel Studios
Marvel Studios just released its first official look at Brie Larson as Carol Danvers in Captain Marvel. The actress graces the cover of Entertainment Weekly, modeling her iconic costume. (Some fans were upset after she was photographed wearing a black and green look in January.)
Set in the 1990s, Captain Marvel follows Danvers, an Air Force officer, as she becomes one of the universe's most powerful heroes after earth gets involved in a galactic war between alien races. Larson leads an all-star cast that includes Annette Bening, Gemma Chan, Colin Ford, Mckenna Grace, Robert Kazinsky, Jude Law, Lashana Lynch, Ben Mendelsohn, Chuku Modu, Algenis Perez Soto, Vik Sahay and Rune Temte. Expect to see a few actors from previously released movies in the Marvel Cinematic Universe, including Clark Gregg as Phil Coulson, Djimon Hounsou as Korath, Samuel L. Jackson as Nick Fury and Lee Pace as Ronan the Accuser. Larson is "excited" for what Captain Marvel has in store. "I'm really proud of what it is that we're making," she teased to E! News. "I think all the hype and anticipation will be worth it."
Larson particularly enjoyed the challenge of getting in shape—mentally and physically—to fully embody her role as a superhero. "That's where you find the character. It's all about: 'How far can I take myself to kind of reprogram my brain and reprogram my body to learn something new about myself?' This has been an amazing challenge. She's so, so strong. She can move planets!" the actress explained in June. "To me, it's like, 'How far I can I go with this strength?'"
Anna Boden and Ryan Fleck teamed up to direct the movie, out March 8, 2019. They wrote it with Liz Flahive, Meg LeFauve, Carly Mensch, Nicole Perlman and Geneva Robertson-Dworet.
Production began in March, with filming locations ranging from California and Louisiana.
"This is not a superhero who's perfect or otherworldly or has some godlike connection. But what makes her special is just how human she is. She's funny, but doesn't always tell good jokes. And she can be headstrong and reckless and doesn't always make the perfect decisions for herself," Boden explains in Entertainment Weekly's Sept. 14 issue, on newsstands Friday. "But at her core, she has so much heart and so much humanity—and all of its messiness."
Based on the post-credits scene for Avengers: Infinity War, it seems likely Larson will be reprising her role in the currently untitled fourth Avengers movie, hitting theaters May 3, 2019.