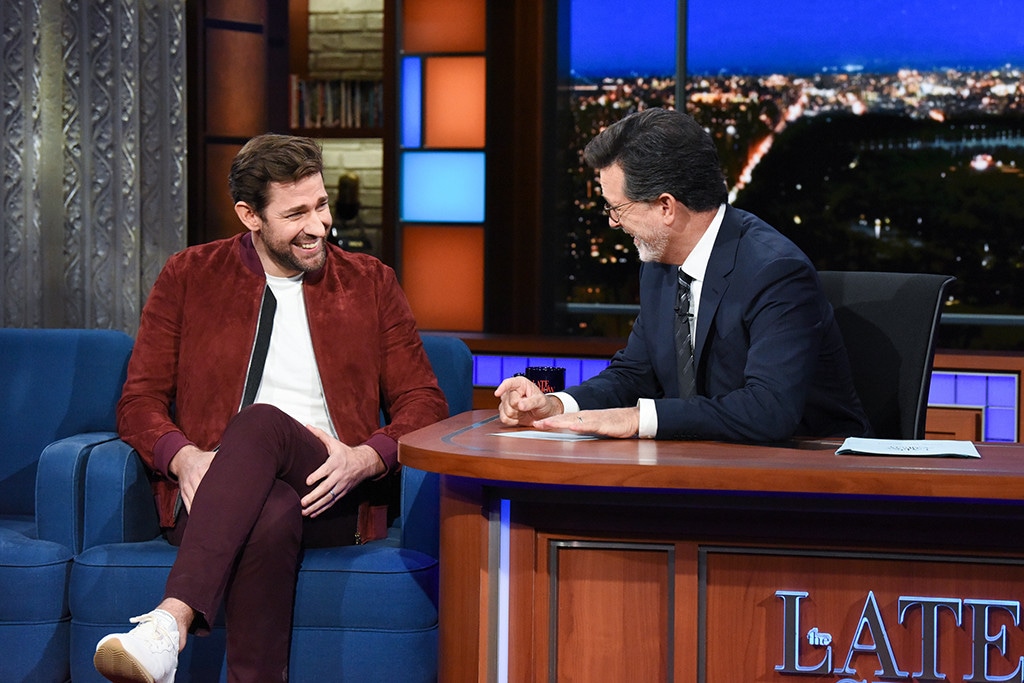 Scott Kowalchyk/CBS
ICYMI, John Krasinski is jacked. Like, seriously jacked.
The 38-year-old actor, best known for his role on NBC's The Office, appeared on CBS' The Late Show last night to promote Amazon's Jack Ryan. During the interview, Stephen Colbert teased his guest over his recent transformation into an action star. "You know I'm a big fan of yours. I think you're a great guy. You're sweet. You're adorable. You're charming. You're funny," he said. "You're a comedy guy—and comedy guys like you and me, we aren't meant to do action."
"The point is, comedy is what you do," Colbert continued. "You do it great."
In mock seriousness, the comedian then referred to 13 Hours as "the plastic surgery movie," claiming Krasinski "put plumpers in his pecs," rather than dieting and exercising for the role. "Those are real," Krasinski said. To prove it, the actor removed his jacket and did 10 push-ups.
"I'm sorry about this," Krasinski said. "This is embarrassing for everybody."
Was it, though? The actor's trainer, Jason Walsh, would be proud of his perfect form.
Count 'em, Colbert! Krasinski could go for days.
"John, you just proved my point: A real action guy wouldn't do push-ups just because I told him to, all right?" Colbert said, removing his glasses. "A real action guy would punch me in the face."
After the actor politely declined ("Classic John Krasinski"), Colbert goaded his guest further, saying, "You know who would have decked me right now? Harrison Ford—the real Jack Ryan."
From there, the two took their fight backstage.
An out-of-breath Colbert was no match for Krasinski's endurance.
On an elevator, they bumped into actress Ellie Kemper, who had nothing but love for Krasinski, her former co-star on The Office. "Congrats on Jack Ryan! Wow, comedy and action. That is so cool," she raved. Turning to Colbert, Kemper laughed, "Can you imagine us trying to do action?"
The over-the-top fight continued on the roof. "It didn't have to be this way, John! All you had to do was tell the truth. Us comedy guys will never be like them. We can't be heroes! We're not allowed to be sexy!" Colbert yelled. After being sprayed with a fire extinguisher, Krasinski lifted his shirt to flash his six-pack abs. "Damn you, Krasinski!" the comedian shouted. "You are sexy!"
Watch the entire eight-minute skit—and find out how it all ends—in the video above.
The Late Show airs weeknights at 11:35 ET on CBS. Jack Ryan is streaming now on Amazon.