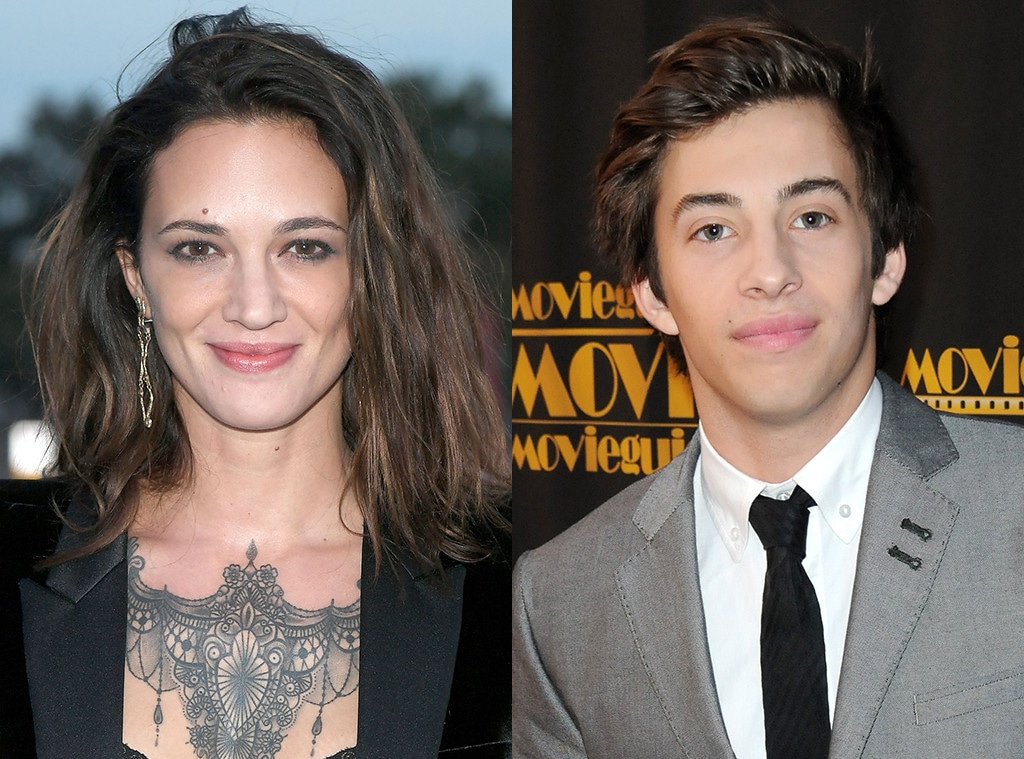 WireImage/Getty Images
UPDATE: On Wednesday, TMZ reported that Asia Argento's accuser Jimmy Bennett allegedly plans to file a sexual assault claim against the actress. E! News has not been able to independently verify the claim. Argento's lawyer Mark Jay Heller sent the following statement to E! News:
"In the spirit of phase two of the #Metoo Movement that Asia launched the other day she encouraged any person who perceives themselves to be a victim of sexual assault to come forward and lodge a complaint. That includes people with a blemished history as well as someone with a clean background. The reason she wants phase two is because sexual predators will usually attack venerable victims, victims who usually have some questionable issues in their background and would be discouraged to come forward for fear that the defense strategy would be to embarrass the complaining. Here Mr. Bennett who has a very troubled history, involving complaints alleged against him in Los Angeles (complaints in previous statement from 2014) should be able to freely come forward and make any allegations or complaints that he has against Asia and she welcomes the opportunity to continue to preserve her good reputation and fully defend herself against any false allegations that Mr. Bennett chooses to lodge against her as a result of an event that took place five years ago. Five years ago Asia very well could have lodged a criminal complaint against him for his sexual attack on her but she graciously decided not to do so. Clearly, the only reason that Mr. Bennett  is making this complaint, five years later, is because the money that he attempted to extract from Asia's partner Mr. Bourdain has now pursuant through Asia's direction been discontinued."
________
Asia Argento will not pay the remaining $130,000 to her accuser Jimmy Bennett, according to her attorney Mark Jay Heller.
Heller said in his statement obtained by E! News, "Asia will not permit any portion of the balance of the $380,000 payment to be paid to Bennett."
In August, a New York Times article reported that Italian actress Argento agreed to pay Bennett the sum of money after he accused her of sexual battery stemming from an alleged incident that occurred in May 2013. Bennett claims the two of them met in a Marina Del Rey, Calif. hotel room where she performed oral sex and then the two allegedly had intercourse. At the time of the allegations, Bennett was 17 and Argento 37. The age of consent in California is 18.
In her statement "strongly" denying the allegations, Argento said that her late boyfriend Anthony Bourdain stepped in to pay Bennett the amount he was requesting. Before the time of his death in June, Bennett had already received $250,000 from the Parts Unknown host. 
In her initial statement, Argento said Bennett "requested an exorbitant amount of money from me." She continued, "Bennett knew my boyfriend, Anthony Bourdain, was a man of great perceived wealth and had his own reputation as a beloved public figure to protect."
According to her comments, the chef "insisted the matter be handled privately...Anthony personally undertook to help Bennett economically, upon the condition that we would no longer suffer any further intrusions in our life."
Heller said Argento "does not intend to prosecute Bennett for his conduct" and believes that Bennett's voice should be heard as a part of the #MeToo movement.
Matthew Eisman/Getty Images
In the memo, Heller introduces something called "'Phase Two' of the #MeToo movement." It states, "A victim who has some negative history should have the courage to come forward and say 'me too, I was a victim of sexual assault' and whatever might color my past does not negate the truth of what happened to me."
Heller's statement notes that "Bennett was alleged to have been charged" at the Los Angeles Police Department in 2014 with violations including "unlawful sex with a minor" and "stalking." Therefore, in accordance with "Phase Two," Heller says this "should not preclude Bennett from making allegations against her, any more than Asia's allegations against Harvey Weinstein should not be made."
He continues, "Asia believes that in Phase Two of the #metoo movement, everyone should come forward, tell their story regardless of their past."
Days after the Times article was published, Bennett spoke out about the alleged incident and why he waited so long to bring it forward into the public eye. "I was underage when the event took place, and I tried to seek justice in a way that made sense to me at the time because I was not ready to deal with the ramifications of my story becoming public," he said.
He wrote in his statement, "I have not made a public statement in the past days and hours because I was ashamed and afraid to be part of the public narrative."
E! News has reached out to Bennett's attorney for comment.