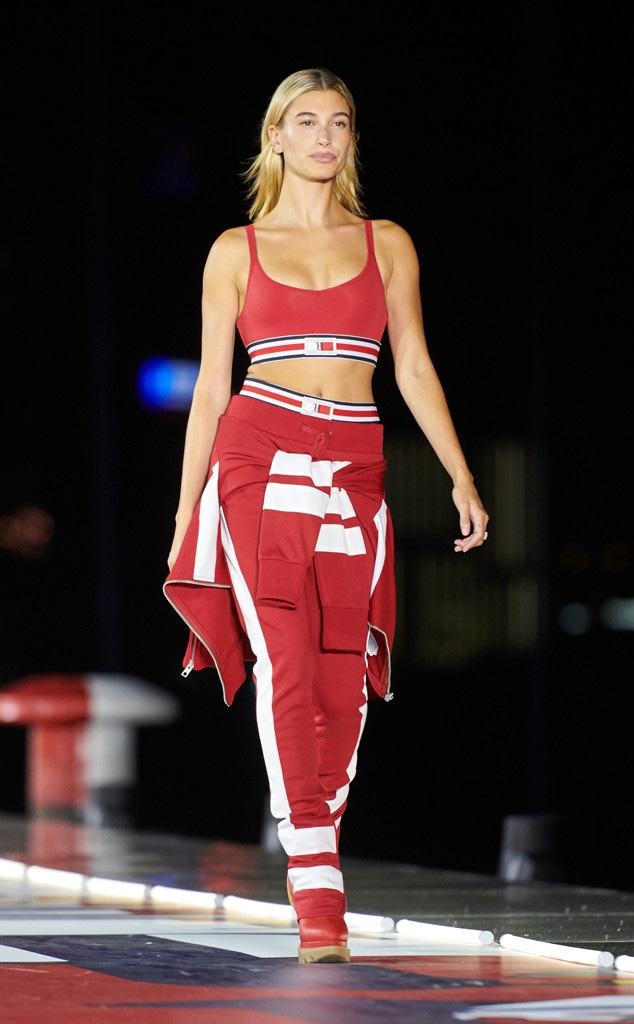 Courtesy of Tommy Hilfiger
Hailey Baldwin is proudly showing off her engagement ring on the runway.
The 21-year-old model, who is set to tie the knot with beau Justin Bieber, traveled to Shanghai to walk in Tommy Hilfiger's TommyNow Icons show on Tuesday. Photos from the fashion event show Baldwin walking down the catwalk in a sporty red and white ensemble, pairing the look with her stunning diamond ring from her fiancé. While Bieber wasn't in attendance at the event, he was definitely on Baldwin's mind on Tuesday.
Before hitting the runway, Baldwin took to Instagram to post about her "perfect" summer, writing, "kissing goodbye the most perfect summer of my life!! Feeling insanely grateful for everything this season of my life has brought me and even more excited for what's next."
Baldwin and Bieber got engaged back in July while on vacation in the Bahamas. "The proposal was a very happy moment and Hailey was taken off guard," a source told E! News at the time. "Her face was in shock but you could tell they are both so in love."
While the couple received a lot of love on their engagement, there was, as expected, some negativity on social media about their relationship. But, Baldwin recently told Australian magazine Stellar that she's "beyond excited" about the engagement. When asked about the media attention surrounding their rekindled romance and how it's impacted her, Baldwin shared, "I don't think it's affected me really. I have learned to just try my best to ignore the negativity at this time so that I can enjoy this season of my life."
In August, Baldwin took to Instagram to share a photo with Bieber, who she called her "absolute best friend." The photo also put her gorgeous engagement ring on display for the world to see.
After the engagement news broke in July, Bieber took to social media to tell Baldwin, "My heart is COMPLETELY and FULLY YOURS and I will ALWAYS put you first! You are the love of my life Hailey Baldwin and I wouldn't want to spend it with anybody else."