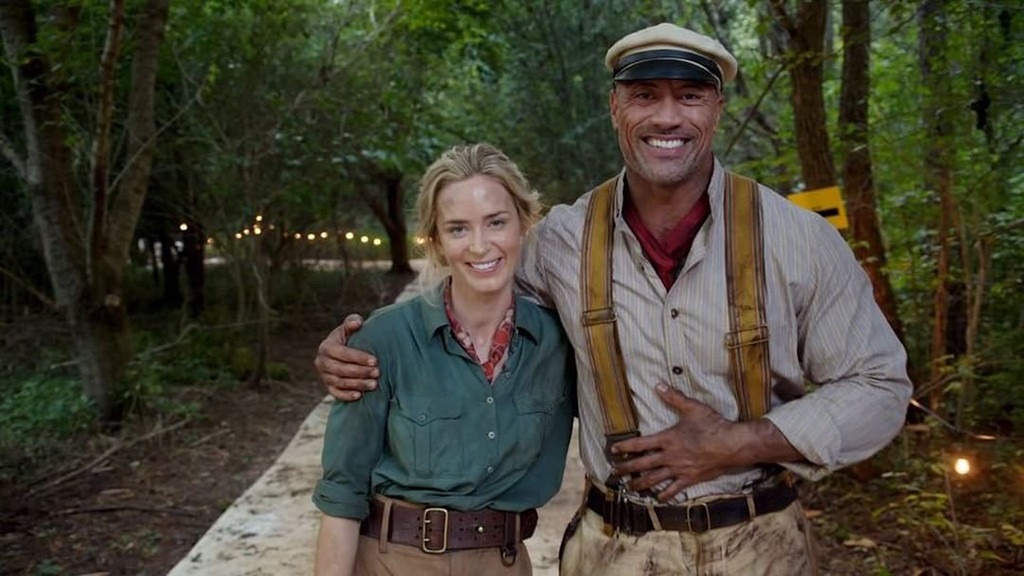 Disney Enterprises, Inc.
Emily Blunt isn't afraid to poke fun at her Jungle Cruise co-star Dwayne Johnson.
On Monday, The Rock shared a video of the actress hitting the gym with her cast members and even talking a little bit of smack. 
The video was shot at the Iron Paradise—the actor's personal traveling gym that contains 40,000 to 50,000 lbs. of steal and iron equipment.
After reminding everyone that the "cast that trains together, stays together," Blunt gave fans a close-up of Johnson finishing his set. She then took a small dig by calling him "toots" and saying he was "looking a little shaky."
But it wasn't until they went over to see their co-star Jack Whitehall that the trash talking was taken to another level. After Whitehall started imitating Johnson, Blunt couldn't help but join in on the fun. 
"Iron paradise. Yeah, just hanging out. I'm Dwayne Johnson. I like squats. I like my shakes," she said in a deep voice. 
The Fast & Furious star then mocked her British accent. 
"Let's go watch some Quidditch. I'm Mary Poppins," he said, citing Blunt's remake of the classic Disney film.
While Blunt wasn't impressed by Johnson's impersonation, the Moana star seemed pleased with his imitation.
"My British voice is beautiful & sexy. Their 'Rock voice' is repugnant & nauseating," part of his video caption read. "The cast that trains together..stays together. And the cast that talks smack to each other.. become LIFERS."
Whitehall also laughed off the showdown.
"It's good that we've got to a stage now where we've spent so much time together that we are comfortable doing each other's voices and Emily is calling Dwayne 'toots,' which he loves," Whitehall wrote after re-sharing the video. "Great way to start the week and makes a change from my usual gym experience which is pootling along on an exercise bike for twenty minutes whilst listening to an audiobook."
In the end, the cast members were able to come to a truce and hugged it out.
To see the hilarious clip, check out the video.