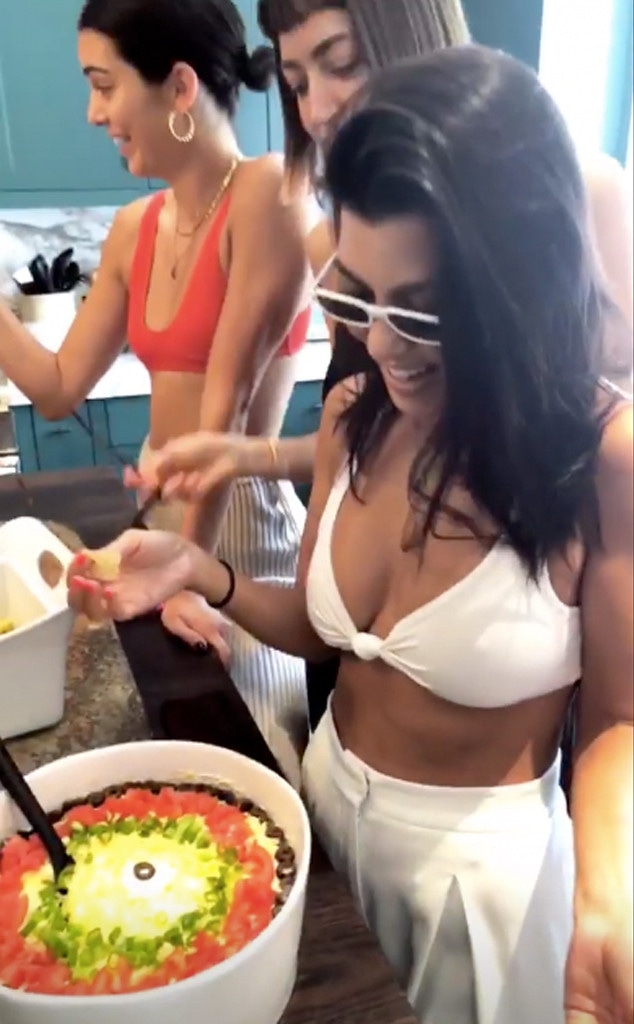 Kim Kardashian/Instagram
As the saying goes, a family who parties together stays together.
Kendall Jenner, Kourtney Kardashian and Kim Kardashian spent their Labor Day soaking up the sun and indulging on yummy food alongside their friends. The sisters were joined by model Bella Hadid and hairstylist Jen Atkin at a house by the beach, which could be seen on their Instagram Stories.
Besides spending some quality time together, the reality stars enjoyed a bit of cooking together in the kitchen, where Kourtney showed off her guacamole—which she made with the help of Kris Jenner's recipe—and Bella was spotted expertly slicing some watermelon. For dessert, they had homemade banana bread made with love by Jen. 
With food covered, Bella and Kendall enjoyed a game of beer pong, while Kourtney and Kim took in the sun's rays. 
The family get-together comes after Kim took to the comments section of Instagram to deny the rumor that she was Kiki from Drake's "In My Feelings."
After one Twitter user shared his theory about who Kiki is, the thread went viral and had people thinking Kim was the mysterious woman. The theorist claimed, "Drake's been telling us for months now he slept with Kim K, we just haven't been listening." The user detailed the many "signs" that pointed to the makeup mogul, however, Kim quickly put the rumors to rest when she commented, "Never happened. End of story."
Meanwhile, Kourtney is fresh off her trip south of the border, where she modeled a stunning array of bikinis.
The trip came after her breakup from ex Younes Bendjima and offered her some much-needed girl's time. The mother-of-three and her friends, Amanda Lee, Stephanie Shepherd, Sarah Howard and makeup artist Hrush Achemyan spent their days in Mexico lounging by the beach and, of course, helping Kourtney get the best pic to share on Instagram. 
After all, what are best friends for if they're not also your personal photographer?