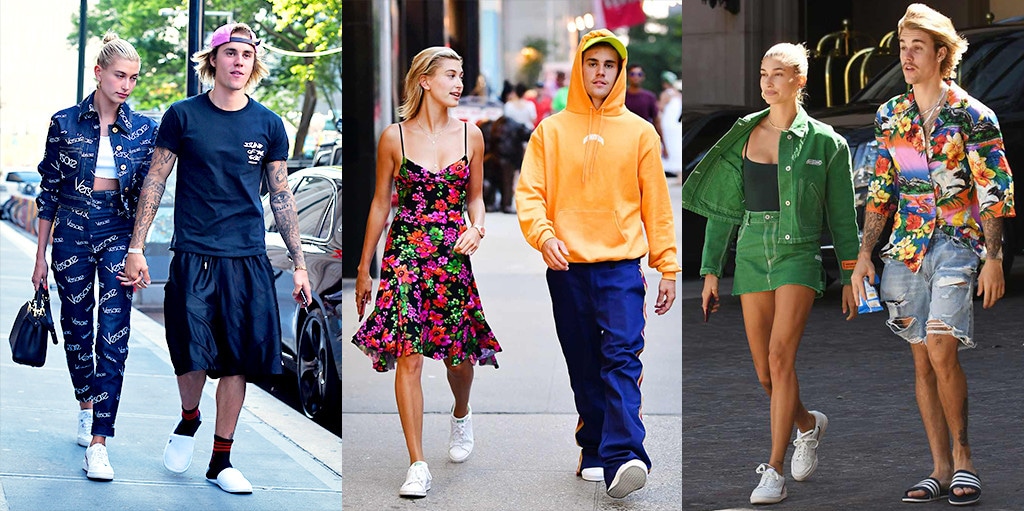 Getty Images/Shutterstock
With each new love story comes a whole new fashion story.
Ever since Justin Bieber got down on one knee and proposed to Hailey Baldwin, the Hollywood couple has been inseparable.
Whether traveling across the country for mini vacations or enjoying dinner and church date nights, the pair can't get enough of one another.
But as the famous pair celebrates their new relationship status, some fans can't help but notice one important change: Justin's fashion choices have totally evolved.
Gone are the days where the Biebs could do his signature hair flip. Instead, it's all about long, wavy surfer hair. Instead of form-fitting outfits, baggy clothes are the perfect fit. And instead of neutral colors like black and white, Justin is going bold with bright hues including orange and purple.
On Thursday afternoon, Justin was spotted in Beverly Hills wearing a Hawaiian print button-down and ripped denim jeans. And on Wednesday afternoon, he sported a tropical button-down and Vans sneakers proving casual is always in style.
And yes, we can't help but notice the "Baby" singer's new habit of sporting white slippers while he's out in New York City.
So what is the cause of this fresh new style? Perhaps it's the fact that you have a world-famous supermodel as your fiancée. Maybe he's just so happy in his relationship that he doesn't care what anyone thinks of his looks.
Whatever the case may be, Justin has come a long way since he was dating Selena Gomez. Back when Jelena was first born, the singer looked red carpet ready with his suits, sporty outfits and put-together looks.
After all, when you pose next to one pretty and successful pop superstar on the red carpet, photographers are going to have a field day.
But when it comes to his latest relationship, there's a certain level of comfort, ease and personality that hasn't been seen before. And lucky for Justin, Hailey seems to be a total supporter.
The pair continues to slowly but surely plan their upcoming wedding. And while we have no idea what these two will wear when they say "I Do," Hailey does have one request: Do not grow the mustache back!
"Don't u dare give him that idea you lunatic," she told one social media follower who suggested the idea.
Something tells us Justin will obey. After all, his "heart is completely and fully yours." Awww!