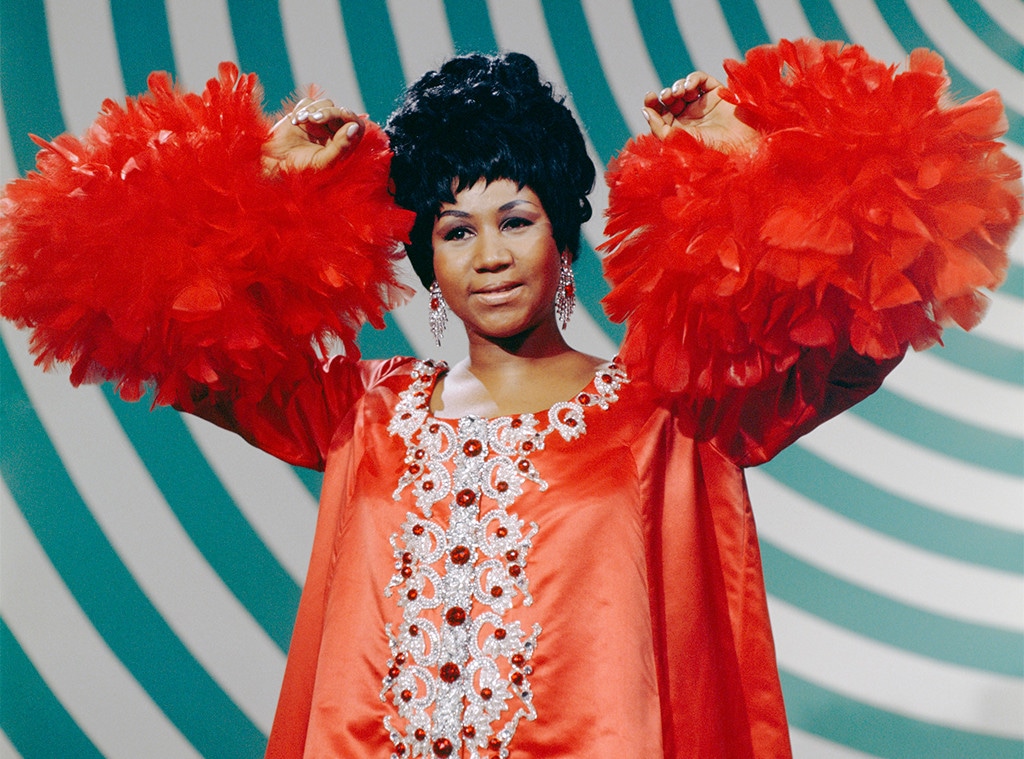 Fred A. Sabine/NBCU Photo Bank
Aretha Franklin was laid to rest on Friday.
The Queen of Soul was entombed at Woodlawn Cemetery in her hometown of Detroit—the same place her father, Rev. C.L. Franklin; her brother, Cecil Franklin; her sisters, Carolyn Franklin and Erma Franklin, and her nephew, Thomas Garrett, were buried.
A funeral was held at Greater Grace Temple before the burial. The Rev. Jasper Williams, Jr., pastor of Salem Baptist Church in Atlanta, gave Franklin's eulogy and Bishop Charles H. Ellis, III, pastor of Greater Grace Temple, served as the officiant. Rev. Robert Smith, Jr., pastor of New Bethel Baptist Church in Detroit, also served as co-officiant.
The homegoing service was limited to family members, friends, dignitaries and special guests.
During the service, Franklin's casket was open and surrounded by pink, purple and white roses. The service started with the Prayer of Comfort and several readings. Many celebrities also paid their respects to the legendary singer by performing musical tributes. For instance, Faith Hill was one of the first performers and sang a rendition of "What a Friend We Have in Jesus." 
Paul Sancya/AP/Shutterstock
Once Hill finished her performance, several members of the state and city government gave their remarks, including Governor Rick Snyder, Detroit City Council's JoAnn Watson, City Council President Brenda Jones and Detroit Mayor Mike Duggan.
Then, Ariana Grande gave her musical tribute, which included a performance of Franklin's hit "(You Make Me Feel Like) A Natural Woman." However, there was one awkward moment when Bishop Charles H. Ellis III joked he thought Grande's name on the program was "something at Taco Bell."
Paul Sancya/AP/Shutterstock
Rev. Al Sharpton was the next one to speak. While giving his remarks, he reflected on Franklin's role as a civil rights activist, a freedom fighter and a feminist. He also joked about how he misspelled "Respect"—the name of Franklin's famous hit—on his show earlier this month. Taking a jab at President Donald Trump he then said, "Now I want y'all to help me correct President Trump to teach him what it means." He concluded his speech by reading a few words from former President Barack Obama and former First Lady Michelle Obama.
Smokey Robinson also spoke fondly of the "Chain of Fools" star. During his tribute, he spoke about growing up in Detroit with Franklin and sang "Really Gonna Miss You."  
Paul Sancya/AP/Shutterstock
The Clark Sisters followed with their own musical tribute. Afterwards, Barbara Sampson shared a statement from former President George W. Bush, who had the honor of giving Franklin the Presidential Medal of Freedom.
Then, The Williams Brothers performed with Vanessa Bell Armstrong.
Franklin's family members took part in the service, too. Her granddaughter, Victoria Franklin; her grandson, Jordan Franklin; her niece, Cristal Franklin and her nephew, Vaughn Franklin all gave personal reflections. Her son, Edward Franklin, also sang "Mercy Me" and her niece, Sabrina Owens, read The Queen of Soul's obituary.
After the family tributes, Bishop Marvin Sapp and Alice McAllister Tillman performed. Tillman sang a beautiful rendition of "Ave Maria." Then, several political figures spoke, including former U.S. attorney general Eric Holder, Michigan Senator Debbie Stabenow and former president Bill Clinton.
Paul Sancya/AP/Shutterstock
During his speech, Clinton joked he and his wife Hillary Clinton started out "not as president [and] first lady" but as "Aretha's groupies." Taking a more serious tone, he talked about how they were all gathered at the temple to honor a woman who was not only talented but also courageous. 
"She lived with courage. Not without fear, but overcoming her fears," he continued. "She lived with faith—not without failure, but overcoming her failures. She lived with power, not without weakness, but overcoming her weakness. I just love her."
He then recalled how Franklin sang at the funeral of Dr. Martin Luther King Jr. and at the inauguration of several presidents, including his own inaugural celebration back in 1993. Looking back at her life, he then said, "I figured out, I think, that the secret of her greatness was she took this massive talent and this perfect culture that raised her and decided to be the composer of her own life song. And what a song it turned out to be." 
Clinton also joked he was happy her casket was open so he could see "what my friend had on today." 
"I want to see what the girl was carrying out," he said, spurring laughter from the audience. 
In addition, he recalled seeing her last public performance at the Elton John AIDS Foundation benefit in New York last November and how she sang her heart out even though she was ill. He also spoke highly of her work ethic and virtues.
"You should remember in this time about this magnificent woman. She worked her can off to get where she was," he said. "She took the gift God gave and she kept getting a little bigger every day."
He concluded his speech by playing Franklin's hit "Think" from his phone.
Paul Sancya/AP/REX/Shutterstock
After Clinton's speech, there were musical tributes performed by Audrey DuBois Harris, Pastor Shirley Caesar and Tasha Cobbs-Leonard. Then, several distinguished guests spoke, including retired judge Greg Mathis, Rev. James Holley of the New Light Missionary Baptist Church, state representative Brenda Lawrence and Rev. Donald L. Parsons of the Logos Assembly Church.
Then, Chaka Khan performed a rendition of "I'm Goin' Up Yonder."
After her performance, Ron Isley shared a personal reflection and performed a musical tribute. He was followed by Rev. Jesse Jackson, president of the Rainbow P.U.SH. Coalition. Jackson spoke highly of the "I Say a Little Prayer" singer and her legacy. At one point, he called Franklin "our queen" and described her as one of the "most soulful singers of our time." He also got slightly political when he noted there were long lines for Franklin's public viewings but short lines for voting booths. In addition, he reflected on the last time he saw Franklin. He concluded by saying, "Sleep on, Aretha. See you in the morning."
Then, Dr. William J. Barber II, pastor of the Greenleaf Christian Church, shared a few words. He was followed by Fantasia Barrino-Taylor, who sang "Take My Hand, Precious Lord" and "You've Got a Friend" barefoot.
Paul Sancya/AP/REX/Shutterstock
Tyler Perry, Cicely Tyson and Clive Davis then took the stage to honor Franklin's legacy with heartfelt statements of their own. 
The filmmaker recalled leaning on her music while grieving the loss of his own mother years ago. He said that 30 years later he received a call from Aretha with praise for his many movies, concluding his remarks with, "I'm so grateful to God that Aretha walked this earth." 
Jennifer Hudson received a standing ovation for her rousing rendition of "Amazing Grace." Gladys Knight then performed "Bridge Over Troubled Water."
Stevie Wonder closed the service with a religious hymn, performing an instrumental version of "The Lord's Prayer" on harmonica. He followed with a brief prayer, sharing, "Without God's goodness and greatness, we would have never known the Queen of Soul. We would have never known the joy that she brought to us, we'd have never known someone who could express in song the pain that we felt. And yes, the reason that we are here today is because of love, because of how much we love this woman."
Wonder concluded, "Please remember the greatest gift that we've been given in life itself is love. Yes, we can talk about all the things that are wrong, and there are many. But the only thing that can deliver us is love. What needs to happen today, not only in this nation but also throughout the world, is that we need to make love great again, because black lives do matter, because all lives do matter, and if we love God, then we know truly that it is our love that will make all things matter."
At 8:50 p.m. local time the singer's hearse arrived at Woodlawn Cemetery, where she is being entombed. 
Earlier this week, thousands of fans honored the late artist by attending public viewings at the Charles H. Wright Museum of African American History.
Franklin passed away on Aug. 16 at the age of 76. She died of advance pancreatic cancer of the neuroendocrine type and was surrounded by family members and loved ones.
Over the course of her career, Franklin received several honors. She produced numerous chart-topping hits, including "Chain of Fools" and "Respect," and received 18 Grammys, including the Recording Academy's prestigious Lifetime Achievement Award. She was also the first woman inducted into the Rock and Roll Hall of Fame and received the Presidential Medal of Freedom. In addition, she performed at several presidential inaugurations and the Super Bowl. 
See even more familiar faces who honored Franklin's legacy by clicking through the gallery above. 
(This story was originally published Friday, Aug. 31, 2018 at 6:57 a.m. PST)