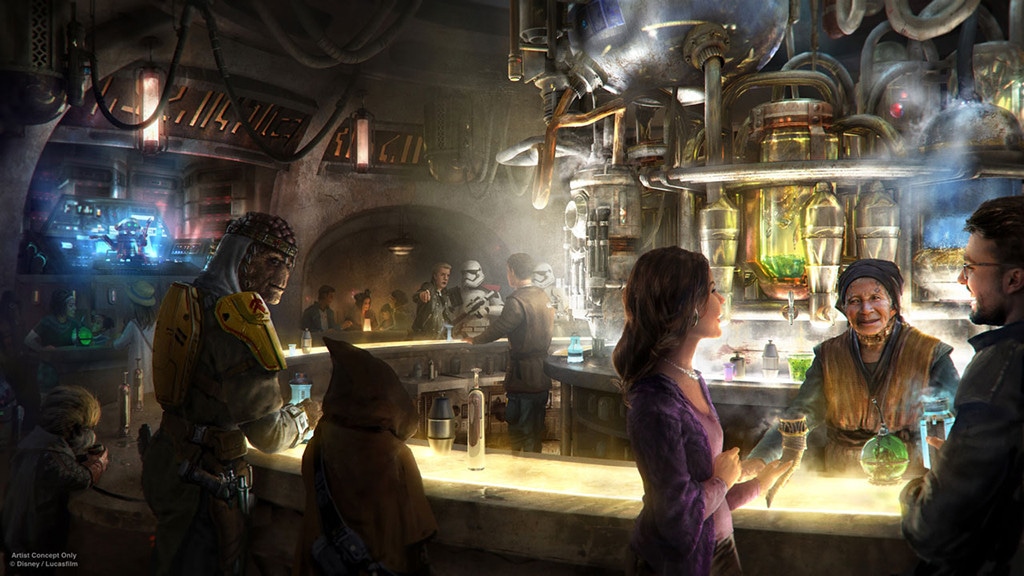 Disney/Lucasfilm
Wanna hang with Han Solo in his favorite watering hole?
For the first time in its 63-year-old history, Disneyland will sell alcohol when Oga's Cantina opens in 2019 and serves "pilots, bounty hunters, smugglers, locals and galactic travelers alike." The establishment will open its doors at Star Wars: Galaxy's Edge, at both Disneyland Resort and Walt Disney World Resort. Disneyland has been offering libations at its exclusive and private Club 33 and adjacent California Adventure park for years, but is otherwise alcohol-free.
"Oga's Cantina is the kind of establishment that attracts some of the most interesting and disreputable characters in the galaxy," Imagineer Scott Trowbridge revealed on the Disney Parks Blog. "And you never know when a stormtrooper or a familiar face will show up." Park patrons are invited to try drinks made using "'otherworldly' methods, served in unique vessels."
Joshua Sudock/Disney Parks
Run by an alien proprietor, Oga Garra, guests are invited to visit the cantina "to unwind, conduct shady business, and maybe even encounter a friend…or a foe," Trowbridge said. "With a history of being a smugglers' safe haven and a popular stopping point for those seeking to avoid the authorities, you can bet that the cantina has a story or two to tell." RX-24—the former StarSpeeder 3000 pilot droid from Star Tours in Tomorrowland—will be the cantina's DJ.
Why shake things up now? "Given our commitment to offering fans an immersive cantina experience," park spokeswoman Liz Jaeger told The Orange County Register, "we felt this was an opportunity to offer alcohol- and non-alcohol-based beverages in the context of the story."
Adult beverages can only be consumed inside the cantina, however.