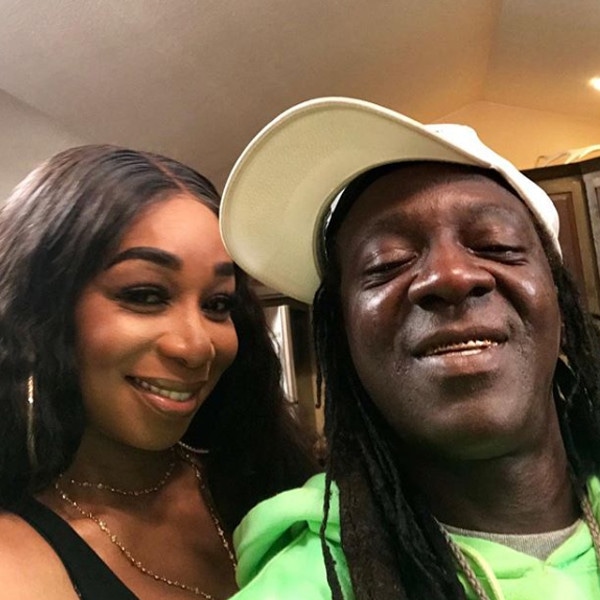 Instagram
You know what time it is!
Reality TV fans found themselves feeling oh-so nostalgic Thursday morning when two legends came together for an unexpected reunion.
As it turns out Flavor Flav and Tiffany "New York" Pollard found themselves in the same room close to 12 years after the pair said goodbye on Flavor of Love season two.
"Hey Ya'll,,!!! Look who I ran into on the set of the Braxton Family Values,,, my girl NY,!!!" the rapper shared on Instagram. "She's still the same NY and hasn't changed a bit yo,! @tiffany_hbic_pollard."
New York added, "Reunited with the #legend @flavorflavofficial and I couldn't be any HAPPIER. It was so nice seeing you."
Fans know that these two have quite the history ever since they first met on VH1's reality show Flavor of Love. New York found herself as the runner-up in the two seasons she appeared on.
Ultimately, her big personality and fights with other contestants including Bootz, Pumkin, and Buckwild allowed her to receive a spin-off appropriately titled I Love New York.
As to what finally brought these two together after so many years apart? Perhaps we have Traci Braxton to thank.
According to Us Weekly, the Braxton Family Values star got booked for a promotional event in Wyoming for the Black Cowboy Whiskey brand. Flavor Flav and New York were also invited but unaware that they would both be attending.  Their reunion is expected to air on an upcoming episode.
Ever since appearing on the VH1 show, New York has remained a familiar face in the reality TV world.
And when looking back on her experience competing for Flavor Flav's heart, the self-proclaimed HBIC assures fans that everything you saw was authentic.
"Everything I did was real, everything I do is real," she told The Cut. "And if you wanna know, yes, I did f--k Flav."