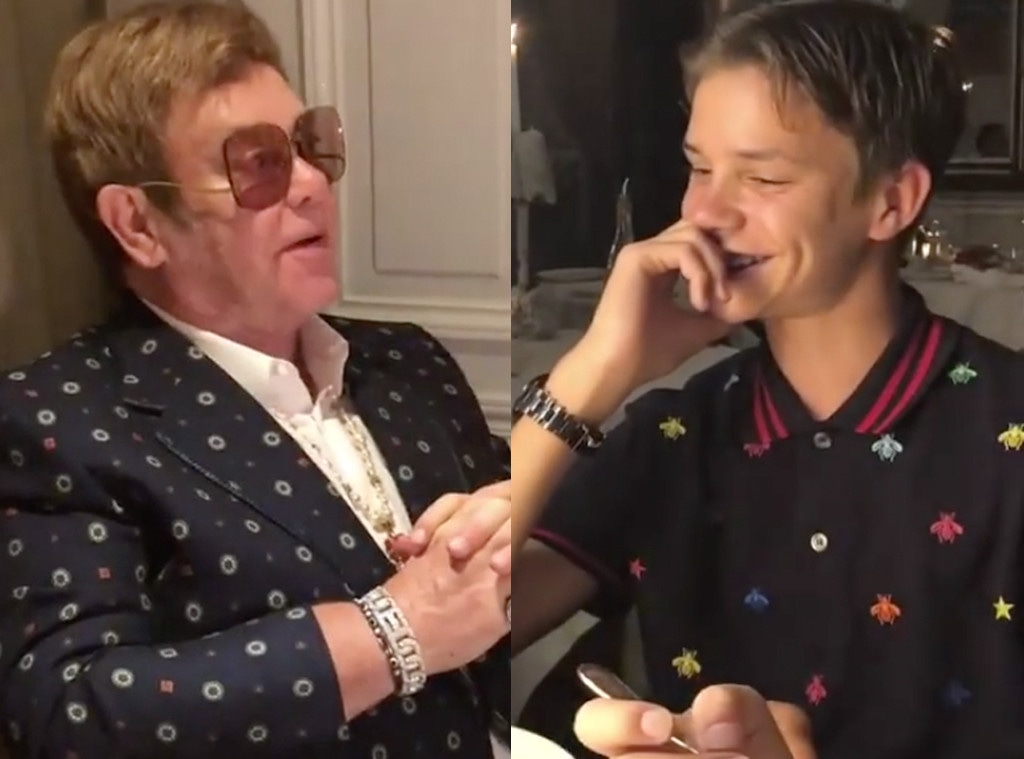 Instagram
Can you feel the birthday love tonight?
David Beckham and Victoria Beckham and their kids are vacationing in the French Riviera with Elton John, who the couple has known for more than two decades, and his husband David Furnish. On Wednesday, they had dinner together at a restaurant and celebrated Romeo Beckham's birthday a few days early. John and Furnish are the godparents of the boy, David and Victoria's second-eldest child, who turns 16 on Saturday.
Victoria posted on her Instagram page a video of the group singing "Happy Birthday" to Romeo as he is presented with a large chocolate cake.
"Early birthday celebrations! X From the best godparents @eltonjohn @davidfurnish x kisses x," she wrote.
Romeo's younger brother Cruz Beckham, 13, also posted a video from the dinner, showing three musicians playing for the group. David and Victoria's youngest child, daughter Harper Beckham, 7, is seen in the clip.
Romeo shared a pic of himself with the three musicians, writing, "Fun night x @victoriabeckham @davidbeckham @cruzbeckham @brooklynbeckham @eltonjohn @davidfurnish ❤️."
On Thursday, the two families continued their vacation. Furnish posted a photo of him, David and his eldest son Brooklyn Beckham, 19.
"Early morning wakeboarding @davidbeckham @brooklynbeckham #BestStartOfTheDay" Furnish wrote.
It is unclear if John and Furnish's two sons, Zachary, 7, and Elijah, 5, joined the group on their trip.
Furnish shared photos of the boys putting goldfish in a pond earlier this week.