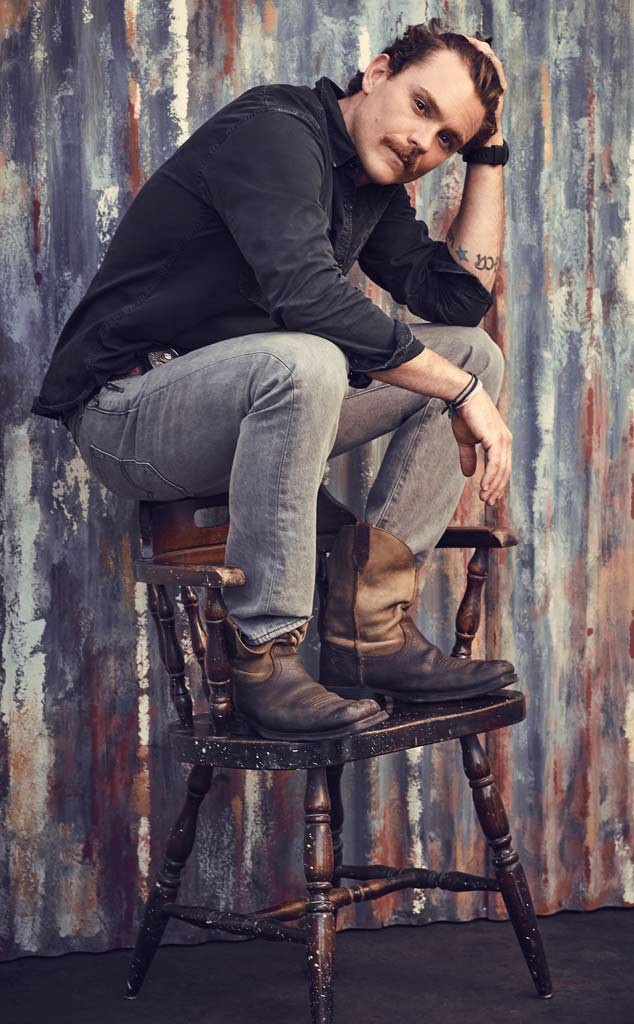 Fox
Lethal Weapon's very public dismissal of Clayne Crawford made headlines for weeks. Now Crawford is telling his version of events.
Fox and Warner Bros. parted ways with Crawford following the second season of the hit drama following articles and reports of Crawford's bad behavior on set. Crawford publicly apologized for behavior on set in April, but was fired from the series weeks later…and claims he didn't hear from Fox or Warner Bros. In an interview on the Drinkin' Bros podcast, Crawford recounted the events surrounding his dismissal, something he didn't think would happen because of the high-profile role he was playing.
When the first articles came out, Crawford said he called McG, the director of the pilot and second episode of the series, and said, "I was like, 'What the f-k is this? This is obviously [Damon Wayans] putting this s—t out here.'" Then McG called Warner Bros. and advised Crawford to do the same, and the actor called Peter Roth, head of Warner Bros. TV. Crawford said he went into the conversation asking how the powers that be could let Wayans release info to the press like Crawford believed he was doing.
"He said, 'Clayne, I can't promise you that I can save your job, but what I can tell you is that you have to make a public announcement apologizing, publicly, to Damon Wayans,'" Crawford said. "I was like, "What the fu—? I was like, 'Peter, why would I apologize publicly because he and I had a riff on set?' And he's like, 'Clayne, that statement alone tells me you don't want to come back.'"
Crawford said he looked to his family, who was there during his call with Roth, and said he could not apologize to Wayans because "he has made life miserable for me on this show." He said he felt like Warner Bros. and the powers that be at Lethal Weapon had already started moving forward with firing him and that if he apologized, they'd use that to justify firing him. The actor said he was aware of the tapes of him yelling at the first AD that were later released by Variety because he was being blackmailed with them for months anytime he had a problem with costar Damon Wayans.
Because Wayans wouldn't do table reads, Crawford said the cast and crew would find out what he would and wouldn't do on day of shooting. He gave an example of one instance where they were shooting in a church and Wayans, a Jehovah's Witness, said it was against his religion to enter the place of worship, so Crawford's shooting schedule would change dramatically. Crawford said he would complain about Wayans and anytime he went to complain he was told the tape of him yelling at the AD would come out and ruin his career. Variety reports Crawford's outbursts were also witnessed by children, which the actor called a "blatant f—king lie."
"I felt embarrassed in the moment," Crawford said, acknowledging it was his mistake to scream on set so publicly. And the tapes of the event, which took place in October 2017, became an ever-present cloud hanging over his head.
"I knew that they were going to release these tapes because they'd been blackmailing me with them for months and months and months, the entire second season," Crawford said, noting he needed to address it head on because it was said he mistreated his cast and crew and he knew he had to apologize and get ahead of it all. He called his costars and asked if he had done anything wrong. "And I have all the text messages from these people and voicemails from these people saying, 'Obviously you're not the problem, but you've got to get ahead of this because you know they're going to use those tapes against you,'" he said.
The tapes came out and the behind-the-scenes drama became very public and Crawford was out.
"It's a little different when you replace Becky [on Roseanne] or the mom off of Fresh Prince. Like it's a little—like if they'd replaced the Fresh Prince, we'd have been like, 'What the f--k are we watching anymore? That's why I just didn't think it was possible," Crawford said about getting replaced. "And again, I knew we had problems."
Crawford told Ross Patterson his vision of the show was different from those involved. He had just finished Rectify and said he was "hesitant to come into a network show," especially one that was a remake of a movie franchise he was a fan of. "Again, our work ethics were quite different and creatively we saw the show much differently, I just didn't think they were going to get rid of me, I guess. And if they did, I thought they'd give me a buzz...just a jangle, just grab two cans and a string and just be like, 'You're not coming back. We feel like this is the Damon Wayans Show and people just don't like you. So go the f--k back to Alabama you dumb hick, thanks for playing.'"
Crawford said to this day he has yet to receive a call from Warner Bros. telling him he was fired from the series and he learned he was being replaced via social media and a Deadline report.
Regarding the second tape released of Crawford and Wayans, Crawford said he wasn't aware of its existence. It took place during the episode Crawford directed, and the actor said he was nervous and excited, and when Wayans called in sick and later indicated he wasn't actually sick, then was hit with shrapnel and said he didn't trust the crew and Crawford, Crawford said he got extremely upset and the two went at it. In the interview, Crawford details the behavior that he alleges took place on set and said he was "set up to fail."
As for why he did the podcast interview, Crawford said, "The only reason I'm doing this is because every time—it's August and any time they talk about the show, it's my image, my f--king name, to promote their goddamn show."
Listen to the full podcast here.