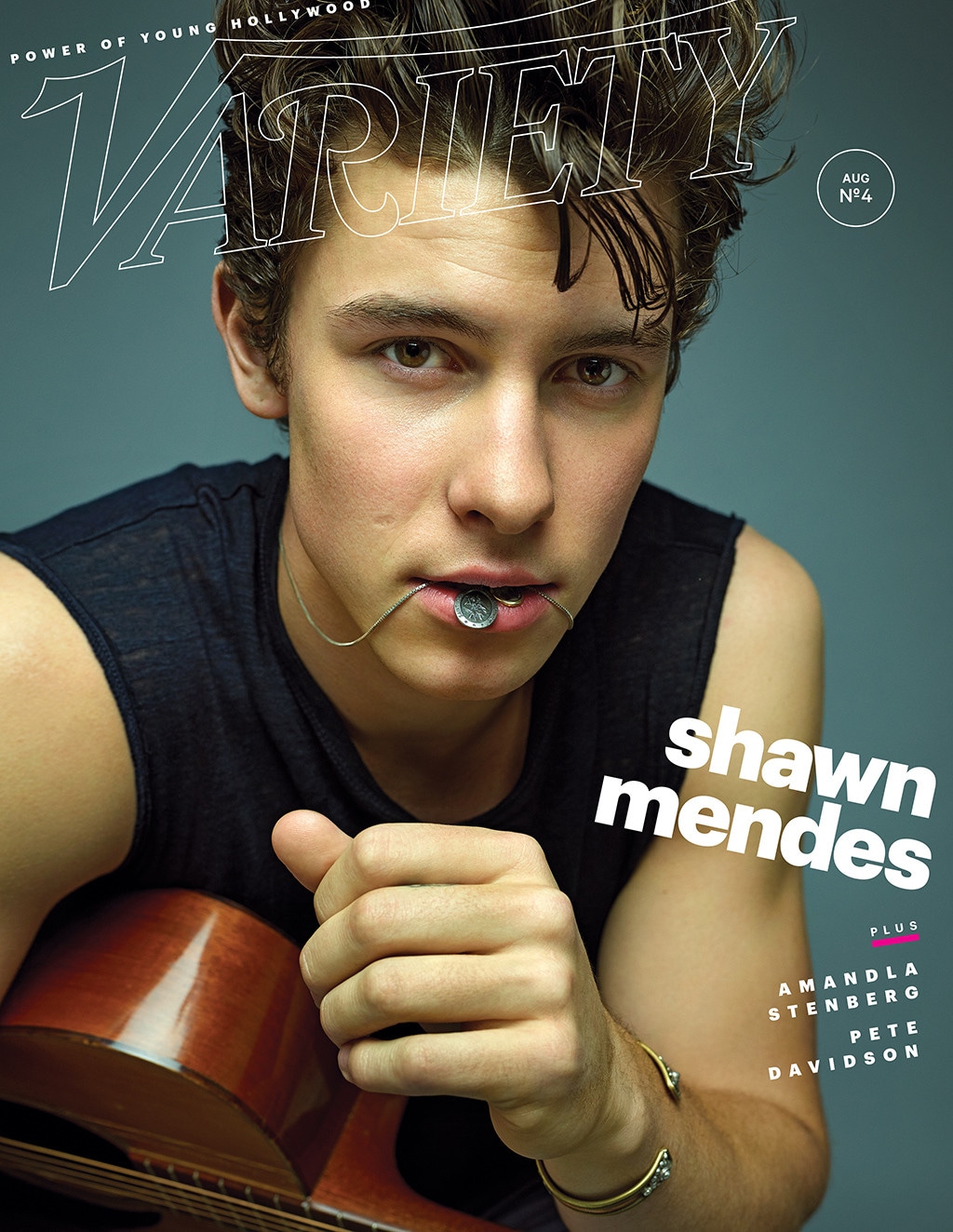 Peggy Sirota/Variety
Shawn Mendes isn't looking for love—at least not right now.
The 20-year-old "Nervous" singer, who is profiled in Variety's Power of Young Hollywood issue alongside comedian Pete Davidson and actress Amandla Stenberg, insists he is happily, decidedly single. "I'm not currently dating anyone, but it's not because I don't have time—I don't know if I'd be dating anyone if I was home in Pickering, either. It hasn't stumbled across me, and I'm not chasing it. Of course, seeing all those other artists and people in relationships, you think, 'Maybe it would be nice; who would be great for me?'" the singer-songwriter says. "And that's when you realize: 'This is wrong. Let it be. I'm not supposed to be with anyone right now.'"
Though Mendes was last linked to Hailey Baldwin, whom he calls "one of the most beautiful souls I've ever met," the musician maintains he's happy for her recent engagement to Justin Bieber. "It's great to see two amazing people get together. If you know them both separately, it does make a lot of sense," he says of the on-again celebrity couple. "A little bit of yin and yang."
For now, Mendes is focused on preparing for his upcoming world tour. "I want to push myself to my limit of what I can handle and play as many shows and write as many songs as I can and fly around the world 10,000 times in a year, pushing myself to the point where it seems crazy," he says, citing his friend Ed Sheeran as an example of someone who's paved the way for him. "He's just nonstop movement, and there's something so exciting about pulling at that energy."
Brian Ziff/Island Records
Sheeran isn't the only person giving Mendes advice, as he'll turn to Elton John, John Mayer and Taylor Swift for tips about how to build a lasting career in the music industry. "Ed told me never to say no. He said, 'Can you go to every radio station in America?' And for the next two years, in just about every radio station in America, I saw a signed photo of him, like, 'I'm watching you. Taylor told me to stop worrying so much about whether the audience is enjoying the show—'It's not a singing competition, nobody came to not enjoy it, so you're already up,'" the "In My Blood" singer tells Variety. "And Elton is somebody who, no matter how successful, creative and praised he is, stays humble, and that's a really big reason I don't let the ego get to me."
Mendes want to remain grounded, and he does so with the support of his "amazing parents and incredible friends." Still, he fears "becoming the one thing everybody tells you not to be."
John has no doubt Mendes will stay on the straight and narrow. "For someone so young, he is remarkably accomplished and professional. He has impressed me with his ability to grow as an artist on record, and especially live," the living legend gushes. "A wonderful future awaits him."
Mendes says he hopes to have a career akin to Mayer's, "because he had an entire fan base when he was young, but now he's 40 and all those people still love him but his music has transcended time and generations." Mendes idolizes the singer-songwriter, saying, "It's so impressive to be able to do that—to become something different without losing those people." Having mentors like John, Mayer, Sheeran and Swift has been invaluable for Mendes. "I think maybe John and Ed saw something in me that they had in themselves, which is a desire to be great. It's not something you can acquire, and maybe it's rare. I meet a lot of people who ask, 'How do I do what you do?' and within the first 10 minutes, from the way they talk about music, I can see that as much as they want to want it, they don't. It's just something you kind of have," he says, adding that he's never been afraid of hard work. "People forget how important groundwork is—physically being in every city, meeting people, like in a presidential campaign."
To be clear: Mendes isn't complaining. "I've known nothing but that since I was 15, so it's not like I was at one time very private and now I have to be open. I've always been like that," he continues. "I don't find it hard or disruptive, and I think I'm OK with it—until I'm not, anyway."