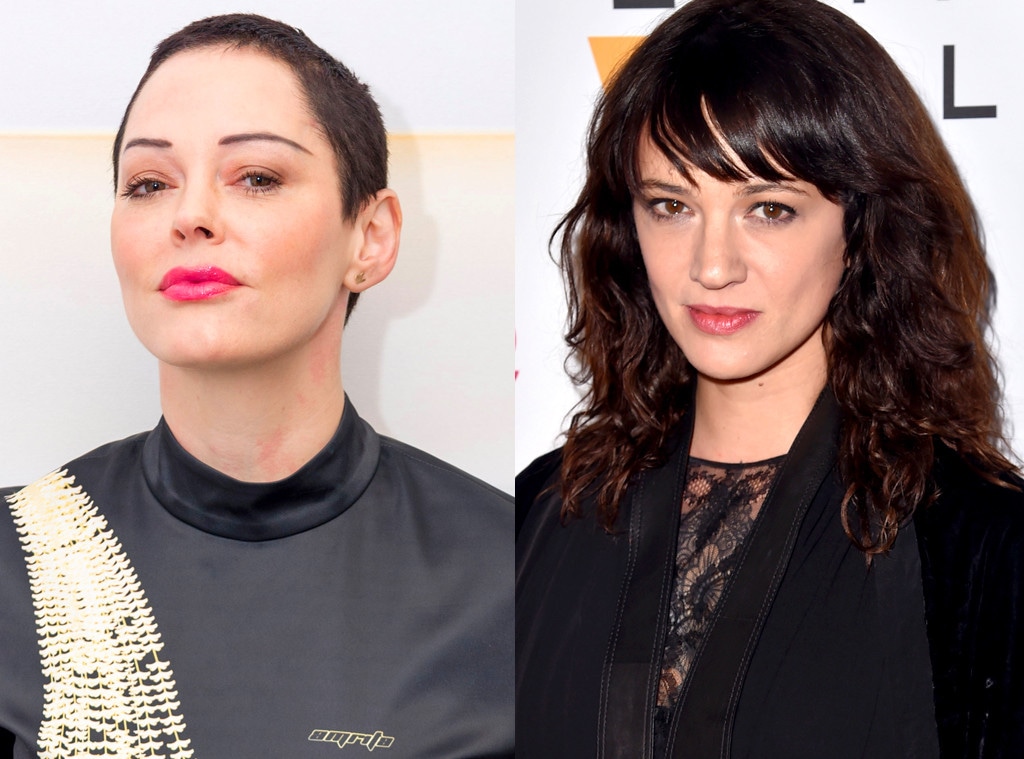 Ken McKay/ITV/REX/Shutterstock; Stephen Lovekin/REX/Shutterstock
Rose McGowan is speaking out about the sexual assault claims made against Asia Argento.
In a lengthy statement explaining her involvement in the case, McGowan asserts, "Many people believe that because we have been close in each other's lives over the past year that perhaps I am affiliated with this incident or being complicit. I am not."
She explains that she only became acquainted with Argento because of the shared trauma they experienced with Harvey Weinstein. In the past year, the two women grew close since they "were able to talk through them [their experiences] together and champion each other's voices."
Then, following the death of Argento's boyfriend Anthony Bourdain, McGowan introduced her partner, Rain Dove, to Asia, since Rose explains they are "a person to whom many high profile entities consult when they are experiencing social pressures because Rain is good at guiding them through the research confrontation, rehabilitation, and solution process."
According to the letter, "While in Berlin, Asia had mentioned that she was being extorted for a large sum of money every month by someone who was blackmailing them with a provocative image. No one in the room knew who the extortionist was. Now we know it to be a reference to this case."
In the days and weeks following, Rose wrote that Rain continued their correspondence with Argento, during which "Asia had revealed that she had indeed slept with Jimmy Bennet."
Upon learning about Argento's alleged encounters with the then-underage Bennet, Rain Dove revealed the contents of their messages with Argento to Rose in a "series of messages." She continued, "Rain also shared that Asia had stated that she'd been receiving unsolicited nudes of Jimmy since he had been 12. Asia mentioned in these texts that she didn't take any action on those images. No reporting to authorities, to the parents, or blocking of Jimmy's social media. Not even a simple message 'Don't send me these images. They are inappropriate.'"
Stephen Lovekin/Shutterstock
"There were a few other details revealed as well that I am not at liberty to mention in this statement as investigators do their job," McGowan added.
Dove then went to the police with the information with Rose supporting their actions and "almost 48 hours later the texts were in the press." McGowan said, "It was not a surprise to me that I received that call and the messages from them. I've referred to Asia in the past as 'My Ride or Die' and said very clearly that their friendship comes first. I know that coming to me with those messages must have been hard for Rain because of that so I commend them for their bravery."
As she has said before, McGowan is saddened by what happened to Bennet and she has "been extremely humbled by this event."
"Asia you were my friend. I loved you. You've spent and risked a lot to stand with the MeToo movement. I really hope you find your way through this process to rehabilitation and betterment. Anyone can be be better- I hope you can be, too. Do the right thing. Be honest. Be fair. Let justice stay its course. Be the person you wish Harvey could have been," she concluded.
Last week, reports emerged that the Italian actress allegedly sexually assaulted the young child star in a California hotel room when he was 17 and she was 37. The New York Times reported Argento agreed to pay former child actor Jimmy Bennett $380,000, after he accused her of sexual battery in a notice of intent to sue sent by his attorney to Argento's in Nov. 2017. 
Argento denied the claims, and said, "I have never had any sexual relationship with Bennett."
She went on to reveal Anthony, who committed suicide in June, helped her to "deal compassionately with Bennett's demand."
Matthew Eisman/Getty Images
"Anthony personally undertook to help Bennett economically, upon the condition that we would no longer suffer any further intrusions in our life," Argento asserted.
However, in the days after the accusations came to light, reports surface claiming Asia contradicted herself in texts, which E! News has not been able to independently verify. Per a story by TMZ, in which messages allegedly between Asia and an unknown person are detailed, the actress seemingly confesses to engaging in sexual relations with the then-17-year-old. "I had sex with him it felt weird. I didn't know he was a minor until the shakedown letter," Asia reportedly wrote.
Dominique Charriau/WireImage
Jimmy Bennett himself has since spoken out and explained why he chose not to make his accusations public. He said, "I was underage when the event took place, and I tried to seek justice in a way that made sense to me at the time because I was not ready to deal with the ramifications of my story becoming public."
"At the time I believed there was still a stigma to being in the situation as a male in our society. I didn't think that people would understand the event that took place from the eyes of a teenage boy," Bennett explained.
Asia has since been fired from her role as a judge on X Factor Italy, according to Variety.
E! News has reached out to Argento's attorney for comment.