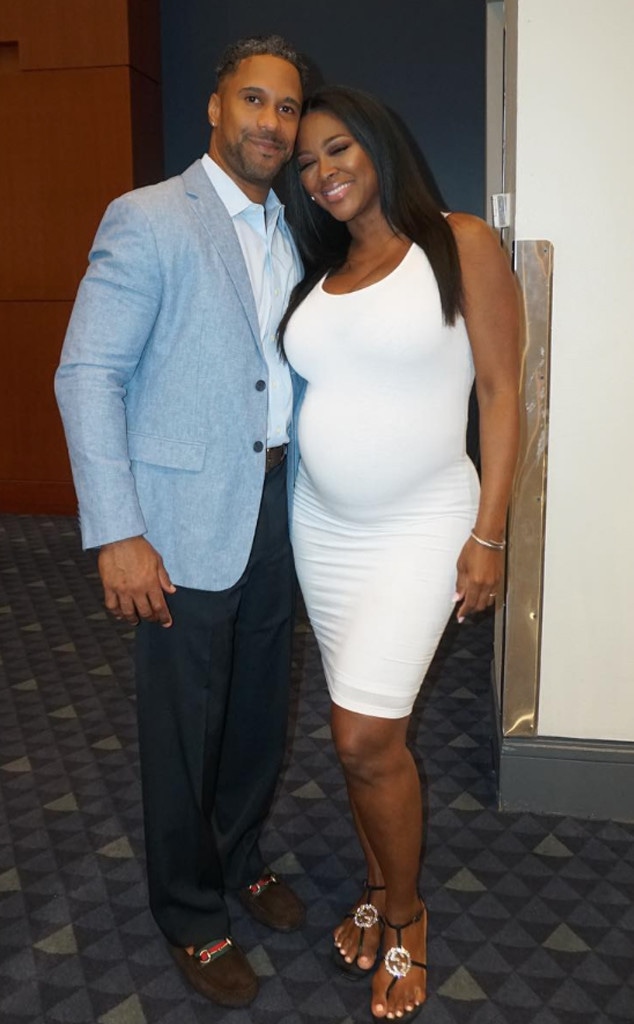 Instagram
Kenya Moore has got a baby bump and she's flaunting it.
The former Real Housewives of Atlanta star showed off her growing bump in an Instagram wearing a tight white dress while standing next to her husband Marc Daly while at an exposition in Washington, D.C.
Moore first announced her pregnancy back in April during a Real Housewives of Atlanta: Reunion Part 1 episode on Bravo. "We will definitely be welcoming a boy or girl in late this year," she told Watch What Happens Live host Andy Cohen. 
The 47-year-old former Miss USA hesitated to speak about her pregnancy at first due to her age. "I am still just very nervous about everything so I just want to get past a safe place," she told Cohen at the time.
Since then, Moore has kept fans and followers up to date on her pregnancy journey, often sharing pictures of her baby bump and how she's feeling. In June, the reality TV celebrity shared a video of her ultrasound and called her baby a "miracle." "My heart is overwhelmed by all the kindness and well wishes many of you have sent our family," she wrote on Instagram. "I felt compelled to share this video of one of our early ultrasounds when I saw my baby's heart beating for the first time. I cried like a baby myself!"
Moore and Daly have not yet announced the sex of their child. 
In November, Moore was seen at a fertility clinic in Barbados and told E! News in December, "I absolutely want children. My husband wants children with me and we are working on it."
With the upcoming arrival of the Daly baby, E! News is taking a look back at some of Moore's best pregnancy style moments.
Congratulations to the parents-to-be!