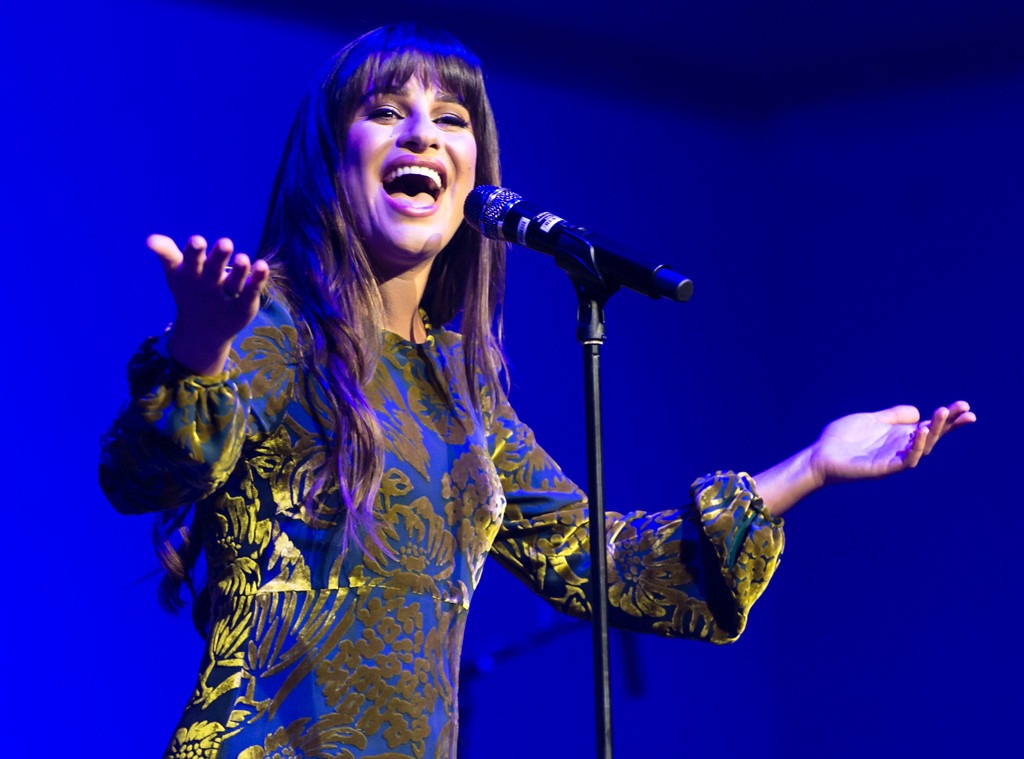 Richard Isaac/REX/Shutterstock
If Lea Michele was looking for some direction, Ryan Murphy was there to provide it. 
That's just how things work with the longtime collaborators. So when the Broadway alum unexpectedly found romance in her former pal, AYR clothing company president Zandy Reich, she knew she needed Murphy to weigh in on her next move. 
Sure, her real estate agent dad Mark had already given the University of Pennsylvania-educated businessman an enthusiastic thumbs up (Michele joked to People her dad "potentially liked him more than me!") and mom Edith, a retired nurse, had followed suit. But an even larger test lie ahead. 
Michele knew Murphy, the producing wunderkind who handpicked her for roles first in Glee and then Scream Queens, was set to be in L.A. for last fall's Emmy Awards, so she went about arranging a meeting between her two guys. And, sure enough, Zeich sailed through. 
"Ryan is like my family, he's one of the greatest friends in the world that I have," she explained to E! News on the Sept. 17 red carpet, "so when my boyfriend got the seal of approval from Ryan Murphy, that was it. It was like, yeah, my parents, yeah friends and whatever, but Ryan Murphy, it's a done deal now."
Come April it was sealed with a proposal that left Michele stunned. And now the Golden Globe- and Emmy-nominated star marks her 32nd birthday today with much to celebrate. Coming off a successful 14-date joint LM/DC Tour with former Glee costar Darren Criss, the New York native is ready to beef up her wedding-related Pinterest boards and revel in every stage of her journey down the aisle starting with a JoAnna Garcia Swisher- and Stephanie Levinson-planned July engagement celebration attended by Ashley Tisdale, Hilary Duff, Jamie-Lynn Sigler, Becca Tobin, Billie Lourd, Emma Roberts and Evan Peters.
"I've been trying to not get so ahead of things because it's so important to stay in the moment," she explained to E! News in June. "We're planning some really great engagement parties to get to celebrate with our friends and family and then focus on wedding stuff."
Her nearest and dearest are ready to toast to their forever. They were thrilled to see her connect with the Ivy League-educated Zeich last year, a man who worked at Goldman Sachs and investment baking firm Renaissance Capital before joining AYR, a clothing company focused on producing wearable season-less essentials. (The brand's acronym, pronounced air, stands for All Year Round.) 
Asked at May's Pose premiere if he approved from the jump, Murphy told E! News, "Loved him. From the first moment I met him, I knew. OK, this guy's going to be good and he's a good guy." For the executive producer it was Reich's recognition of Michele's undeniable talent and willingness to let her shine. He seemed like the type of person who'd be cool with a life known as Mr. Lea Michele and content to hold her clutch as she worked a step-and-repeat, but was in no way attempting to hone in on her extraordinary star power. "He kind of let her be her," explained Murphy. "And I think a lot of times men with women struggle when they're stars or they get a lot of attention and he handles himself very well and he has his own stuff going on. He's, like, a real person and I like that." 
In fact, Murphy is so approving that he happily accepted Michele's request that he play a starring role in their ceremony. 
"I was the first call, I was very thrilled about that," he told E! News, adding he was even more excited about what came next. "She actually wants me to officiate the ceremony, so we'll see if I get my license." Assuming he finds the time to get ordained by the Internet, he's in. "That's what I've got to do," he said. "I want to wear the robes and be priestly." 
He'll be joined by a supporting cast of other Glee regulars. Less than two weeks after Reich took a knee Michele revealed she'd tapped her longtime bestie Jonathan Groff to served as her maid of honor and Criss may just have the role of wedding singer on lock. Watching him rehearse for his portion of their summer tour ("Darren's set is so good, I literally stood up and screamed like a fan," she admitted to Yahoo! Entertainment) gave Michele an idea. 
"There was a song [Darren] wanted me to sing in concert, so he told me kind of last minute, and I had to learn it," she explained. "So I learned it on our last rehearsal date. He's like, 'Oh my gosh, thank you so much,' and I'm like, 'No problem, just start preparing all the songs for my wedding now.' He's like, 'done.'" If a little eleventh hour scrambling is what it took to get Criss to accept her proposal, Michele said she's fine with it: "I got a good trade." 
As for the other details, the red carpet veteran (a longtime devotee to the AYR brand, which, sadly does not specialize in wedding gowns) selected a dress the day before her engagement party—the same Friday her parents marked their 38th wedding anniversary. And she's working on the rest, okay? 
"I'm a busy person and I feel like you have to make it a priority because if you don't, there's always stuff that's going to come and get in the way and take your time and attention," she noted to People. "I try to make sure I try to carve out a little bit of time every day to just chip away at some planning." 
Admittedly, she was coming a bit from behind, never having been that person to idly store away photos of flower arrangements and champagne towers for a rainy day.
"I've always been very excited to be engaged and get married, but it kind of ends there," she told Us Weekly back in May. "As far as being someone that has had a Pinterest board for a hundred years, I have not. So I'm kind of figuring it out as I go, and luckily I have a fantastic fiancé who is equally as excited about this and invested in the process." 
He just may be every bit as indecisive as her. With so many locations dear to their hearts, she admitted they've struggled to pick one and stick to it. "One day we want to get married in Hawaii, the next day we want to get married in the Hamptons," she said. "We'll see where we land. I think we should just put a pin somewhere in the United States and tell everybody to just show up." 
When it comes to the honeymoon and the bachelorette party (two events were eager to see captured on the 'gram), though, she's got ideas. 
"It's actually so much fun. I think for something like those two things, I'm probably going to lean towards some white sand and blue oceans," the Marriott Moments partner shared with E! News in June. "You know, relaxing and fun and, of course, I love exploring and I love traveling." 
And she loves a solid reason to cheers with her nearest and dearest. For that all important pre-party with her collection of besties (potential invitees include: Garcia Swisher, Tisdale, Roberts and Tobin) she doesn't require much beyond ocean views, swimsuits and a skilled bartender. "Especially for a bachelorette," she said, "I just need me and my girls on a beach somewhere with margaritas." 
Mentally, we'd guess, she already has those white bikinis packed. But she's trying her best to savor each moment, something she's been struggling with since Reich first proffered the custom elongated, radiant-cut diamond he designed with Leor Yerushalmi and The Jewelers of Las Vegas. 
"I was so surprised, I kept saying, 'Stop joking around, stop joking around!'" she recounted on Watch What Happens Live With Andy Cohen mere days after the private and sweet proposal. Used to draping herself in diamonds she has to return at the end of the night, "I keep thinking [the ring] is borrowed and I have to give it back at some point." 
In fact, if she's being truly honest, she's been operating in a bit of a dreamlike state since that perfect spring day. "Everyone said, 'Try to be present because it'll happen so quickly,'" she told People. "Which I didn't listen to at all and blacked out and I barely remember. We both blacked out and were like, 'What? Did we say yes? Is this happening?'" 
After enduring such a long and winding journey to lasting happiness, she can be forgiven a few pinch me moments. 
So now she's trying to hold on tight to each success with both hands, whether that's the 2017 release of her second album Places, her successful summer tours or the appointments and celebrations that make up the planning of her upcoming vows. 
"This is just such a great time of life, like with the tour and with being engaged," she told E! News in June. "I'm just really grateful and very happy."