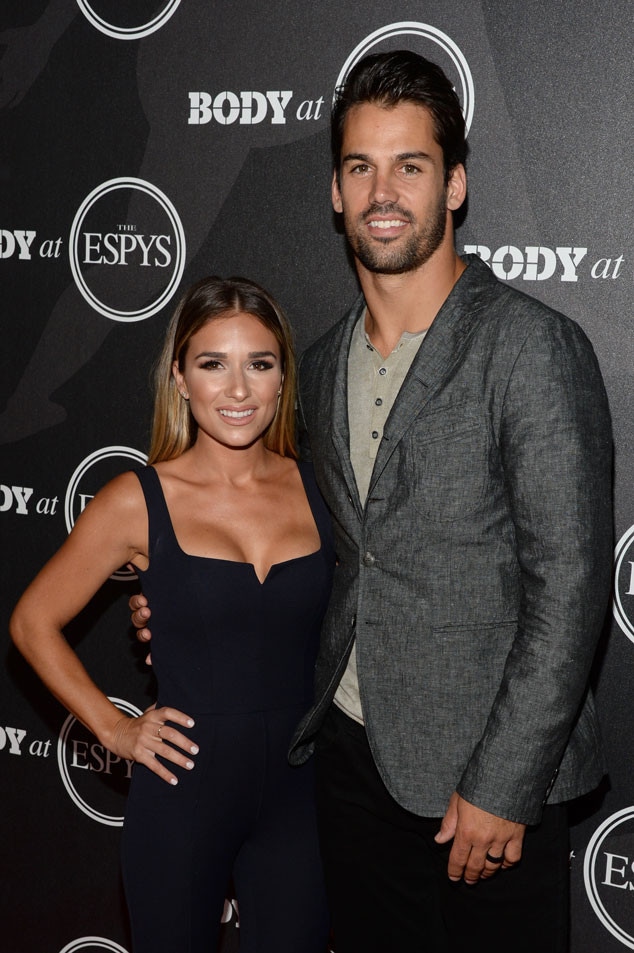 Michael Kovac/Getty Images for ESPN
Jessie James Decker remains her husband's biggest fan.
One day after Eric Decker announced his retirement from the NFL, his wife is expressing complete support in the decision.
"Yesterday was an emotional day. My amazing hubby decided to retire from playing football and I couldn't be more proud of him and his decision. I cried, smiled and ultimately respected his choice to finish this chapter to start another," Jessie wrote to her Twitter followers. "I loved every minute cheering him on in the stands, meeting amazing friends along the way, bringing our new babies and toddlers to the games as they chanted 'daddy football daddy football' in the car on the way to the stadium each Sunday."
She continued, "From training camps login the babies in the wagons and seeing them run into you on the practice field to get that 30 minutes a day to see daddy. I have loved every moment of the last seven years watching my husband kick some serious ass! It's a career he should be proud of."
During his career, Eric played for the Tennessee Titans, New York Jets and was most recently signed with the New England Patriots.
Perhaps the highlight of his career was during his time with the Denver Broncos where he soared as a wide receiver.
"It has been my childhood dream and my passion to play the game of football. I was very fortunate and blessed to have had the opportunity to have those dreams fulfilled and to have played with such extremely talented and hard-working teammates, coaches and staff," Eric shared on Instagram when making his announcement. "This has been a passion inside of me since I was a little boy but I know now it is time to hang my helmet up and start a new chapter in my life."
He added, "I love football and always will. It will continue to be a part of my life."
The proud dad said he hopes to spend more time with his wife and children. As for Jessie, she can't wait to see what life has in store for her main man.
"Can't wait to share the next adventure with you babe and the amazing things you will do in the future! I love you so much my lover!!!" she shared online. "PS you said you were going to drive that beat up old Chevy Tahoe u got in college and ride it through the ground until you finished playing football, can we please get a new one now? Lol."
Congrats Eric on an amazing football career!