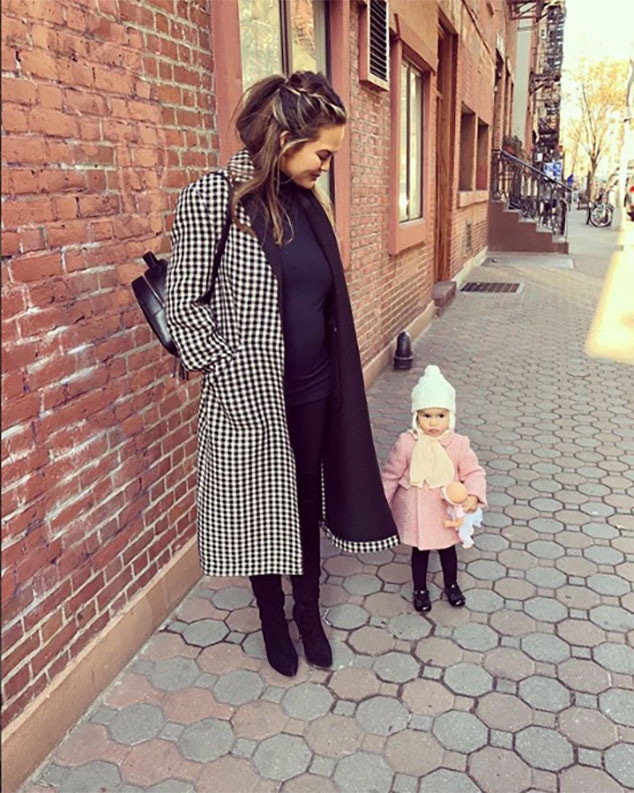 Instagram
Chrissy Teigen had an unforgettable experience and it involved her daughter, Luna, and the blockbuster hit, Crazy Rich Asians. 
It's been less than two weeks since John Chu's rom-com premiered in theaters and simultaneously took the box office by storm in the number one spot. With a sequel already in development, the film's impact has been undeniable, especially as the first modern story distributed by a major Hollywood studio with an all-Asian cast and Asian-American lead in 25 years. 
The significance was certainly not lost on Teigen, who saw the film with her famous husband, John Legend, and their 2-year-old firstborn over the weekend. Teigen then shared her feelings about the film by penning a lengthy letter to fans about what the movie meant to her as an Asian American, mother and person. 
"What can I really say about this movie that hasn't been said by absolutely everyone who has seen it. I've been excited to see this since production was announced but I could have never imagined how wonderful it would be. I planned on seeing it, making a few jokes about how it checked all the boxes for me...but the feeling I got during the credits, watching John dance with my little black asian mashup baby bear luna tunes, was a feeling I haven't had at the end of any other movies," Teigen wrote. 
Watch:
Awkwafina Shares the Impact of "Crazy Rich Asians"
The star went on to describe how her toddler reacted to the characters she saw on the screen. "Luna, aside from being blown away by the general movie-going experience (yep she's 13 now, time flies) looked up at @constancewu's mother and yelled 'yāy!' ('Grandma' in thai) because she saw someone who looked like her yāy. Someone beautiful and aspirational. It was something that simple that made my heart just...warm. That made me happy," the Lip Sync Battle co-host continued. "It made me happy to see this over the top story done from so many angles, some I could totally understand because of my own confusing Asian American upbringing."
"I loved it all, from the quieter moments of talking around the table of sacrifice and past hardships to the spectacle of the bachelor party. Finding that I could cry watching the most over the top aisle walk on the planet," Teigen concluded. "You never know how much you miss being represented on screen until you actually see what it's like to be represented. And represented by all different types of characters with all different types of personalities, just like any other great movie. Also aside from all that, it's just colorful, fun and big as f--k. God I love a rom com. God I loved it all. Thank you guys for making this movie."
The post garnered tons of attention with thousands of fans and friends weighing in on Teigen's remarks in the comment section. It was there that author Kevin Kwan, who penned the 2013 novel of the same name that the film is based on, shared an exciting note. 
"Does your husband know he's in my second book China Rich Girlfriend?"
"W H A T," Teigen replied. "Now he does!!!"
The cherry on a cinematic sundae, indeed.