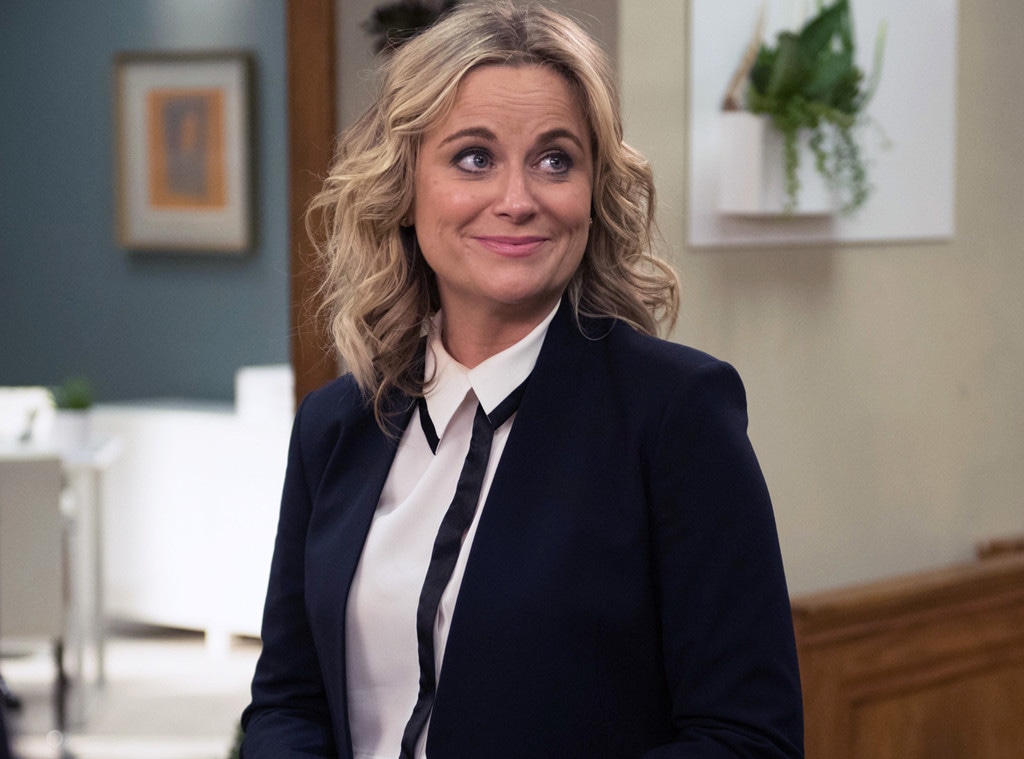 NBC
You always know what you're going to get with Amy Poehler.
It's not that she or her jokes or her writing are predictable, per se, but it's more of a vibe you know you can always count on. If Amy Poehler's involved, you can expect to feel sort of like you're getting a much-needed hug from someone you trust, or at least an arm around the shoulders and a general feeling that someone else is right there with you. Maybe she's shouting "Really?!" with Seth Meyers on SNL or hosting the Golden Globes with Tina Fey, or encouraging young women through Amy Poehler's Smart Girls, or even letting a dog suck on her fake breast in Mean Girls. Whatever she's doing, she's here for all of us.  
Poehler's whole attitude is probably captured best by her 2013 memoir, Yes, Please. She wrote it in the midst of her divorce from Will Arnett and in the midst of having no idea how to write a book, which she freely admits many, many times throughout the book. Many reviews criticized Poehler's lack of book-writing know-how, saying things like "even smart, hilarious people…sometimes can't write."
Danny Feld/NBC/NBCU Photo Bank via Getty Images
But for the fans who worship Poehler and who view Yes, Please as a sort of bible full of empowering advice, that's part of the point of the book, and part of the point of most things Poehler does: Seeming perfect is overrated.
"You have to care about your work but not about the result," she wrote. "You have to care about how good you are and how good you feel, but not about how good people think you are or how good people think you look."
Poehler didn't create Parks and Recreation, but she was a producer, writer, and star of the 2009 NBC series. Parks started off a little shaky, but once it found its footing in seasons two and three, it became one of the most positive, most pro-trying shows on TV, thanks to Leslie Knope. The (extremely) small-town politician tried so much harder at every single thing she did than anyone ever needed her to—from building parks to simply being someone's (very intense) friend. She didn't always succeed, but she never ever stopped, and now Leslie Knope is an icon, both for her politics and her attitude towards friendship and waffles.
"We need to remember what's important in life: friends, waffles, work. Or waffles, friends, work. Doesn't matter, but work is third."
In 2014, Broad City premiered on Comedy Central, with Poehler as an executive producer alongside creators Abbi Jacobson and Ilana Glazer. It's a show about two stoner best friends in New York, worlds away from Pawnee, Indiana, but with a few similar ideas about friendships. Abbi and Ilana aren't quite killing it in terms of jobs or living situations, but as long as they've got each other, who cares? They're best friends who love each other unconditionally to the point where it's weird, and while Poehler is only an EP, you can feel her influence. Abbi and Ilana may not be perfect, but that couldn't matter less.  
Poehler was also an executive producer on Hulu's Difficult People, a "dark" comedy Billy Eichner and creator Julie Klausner, another show about two friends who are obsessed with each other. In this case, they hate everyone and everything else, and can't stand it when people try too hard. It's a show about two cynics trying to survive on each other and pop culture after the 2016 election, but as Poehler herself said, "one hopes that you keep watching it because it's a story of friendship."
This fall, Poehler's name comes attached to NBC's I Feel Bad, a comedy about a working mom (Sarayu Blue) learning to be OK with not being perfect in her quest to "have it all." The show comes from creator Aseem Batra and many of the stories come directly from her life, but the show also feels right at home with the Poehler we know from Yes, Please. Women don't have to be perfect all the time to be worthwhile or happy, and "having it all" is kind of a scam anyway.
"This is a lens in which to tell a working woman's story that I haven't quite seen before, which is this idea that whenever we're doing 'it all,' there's about two or three things on that list we feel like we're giving 10% to," Poehler said during the NBC portion of the TCA 2018 summer press tour. "I think Leslie [Knope, of Parks and Rec] would be a fan of the show."
Currently, Poehler can be seen on screen on Making It, an NBC competition show where contestants make crafts, and Poehler makes puns. She fully admits at the beginning of every episode that she has no skills at making things, but she's there to support other people making things, alongside cohost and former Parks and Rec costar Nick Offerman. She wears overalls and makes jokes, Offerman offers a few bits of advice, and they mostly spend their time getting to know the contestants and riffing on/admiring their creations. It's like The Great British Bake Off, but somehow even more chill and ridiculously uplifting.
Poehler's role on the show mirrors the rest of her post-Parks and Rec career so far. She hasn't been the one doing most of the making or the starring, but with help from her production company Paper Kite Productions, she's been right there to support and encourage the people who are, and to foster the things that may make us happy while many people are afraid of what's happening in the real world. Poehler may be one of those people herself, based on the way she chose to answer questions from The Hollywood Reporter like "Guilty pleasure?" with "Let's not forget over 4,600 people have died in Puerto Rico."  
There may be a lot of real life to deal with right now, but for when we've got the opportunity to escape into television, let's all be thankful we've got Amy Poehler.
I Feel Bad airs Thursdays starting Oct. 4 at 9:30 p.m., with a special premiere Wednesday, Sept. 19 at 10 p.m. on ABC.
E! and NBC are both part of the NBCUniversal family.