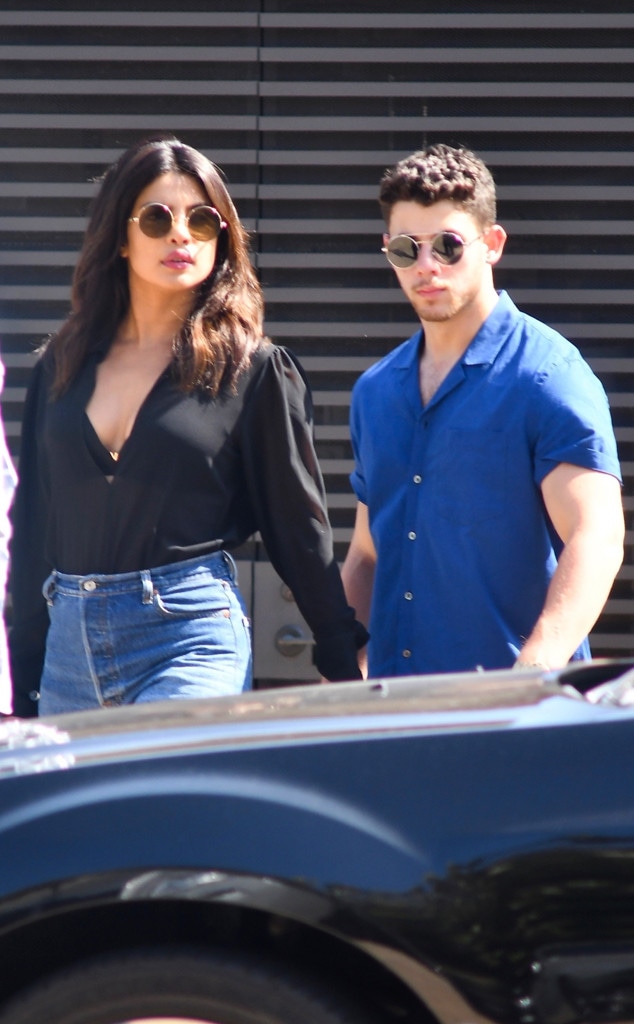 CLICKSNAP / BACKGRID
Priyanka Chopra and Nick Jonas are back in the States after a trip abroad to Mumbai, India.
The couple, who just confirmed and celebrated their engagement, enjoyed a brunch date at noted celebrity hangout Nobu in Malibu. The Quantico star wore high-waist jeans with a black shirt tucked in while her fiancé wore a blue shirt and brown pants.
Last week, Chopra, Jonas and their families gathered in Mumbai for pre-wedding festivities, including a traditional Roka ceremony.
Kevin Jonas Sr. posted many pictures on Instagram of the family gathering. "What an amazing day of celebration for @nickjonas and @priyankachopra engagement and Indian culture," he wrote in a slideshow of photos from the various events.
Jonas Sr. wrote in another picture that the Jonases are welcoming their son's fiancée "into our family with love and excitement."
Word spread about their engagement on July 26 after having dated for about two months. The actress showed off her engagement ring, which cost about $200,000, in an Instagram picture with her friend Raveena Tandon.
WP Diamonds president Andrew Brown told E! News at the time that the ring weighs about 4 carats. The "Jealous" singer apparently closed down a Tiffany&Co. store in London in order to have as much privacy as possible while finding the perfect ring for his sweetheart.
Nick's father wasn't the only parent gushing about future in-laws. Chopra's mom, Madhu Chopra, praised her daughter's beau and called him "calm and mature." She told After Hrs, "He's so polite and respectful towards elders. What more can a mother want!"
While in Mumbai, the soon-to-be newlyweds visited an orphanage, where Chopra danced in front of a crowd. "My heart is full," Jonas wrote in an Instagram video of the visit.
On Friday, the former Jonas Brothers member released a song with Robin Schulz called "Right Now" and may or may not have some hidden messages to his bride-to-be. "And I swear, the next time that I hold you / I won't let you go nowhere / You'll never be alone, I'll never let you go," Jonas sings. 
Neither Jonas not Schulz has said anything publicly on the inspiration of the song, but it sounds a little bit like one part of a wedding ceremony: to have and to hold from this day forward.