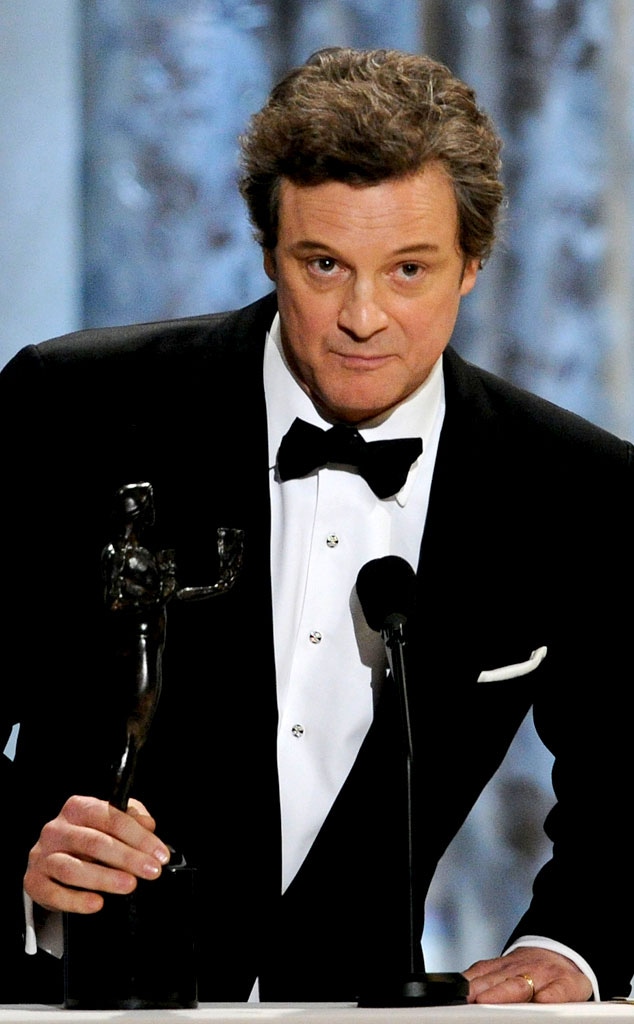 AP Photo/Mark J. Terrill
At 58 years old, Colin Firth may be one of the biggest heartthrobs in the world.
Since he emerged from the lake in BBC's Pride and Prejudice mini-series and plunged straight into our hearts, the multitalented actor has won us over time and time again with his English charm and good looks.
After his beloved stint as Mr. Darcy in the Jane Austen-inspired television series, Colin continued playing the parts of dreamy love interests with his roles in hit rom-coms like Bridget Jones's Diary, Love Actually and Mamma Mia!. Whether acting as an uptight lawyer, a frustrated author or a kind-hearted banker, Colin has us falling head over heels for him no matter the role.
Even off screen, the British actor is known for his endearing dry sense of humor, his impressive modesty and his romantic gestures. As one of the most adored men on the silver screen, Colin is also, of course, happily married. He and his wife, Livia Giuggioli, have been together for more than 20 years and built the sweetest family-of-four with their children, Luca, 17, and Matteo, 15.
In honor of the rom-com king's birthday today, take a look at all the times Colin left his mark on our hearts both on and off screen.
1. Stepping Out in Pride and Prejudice: It was the scene that changed everything for the British hunk. After diving into Lyme Park's lake in Cheshire, Colin's character, Mr. Darcy, emerged from the water in a soaked-through, white cotton shirt before bumping into his future wife, Elizabeth Bennet. With his six-pack on full display beneath the dripping cloth, viewers got their first taste of Colin's romantic chops in these iconic few minutes.
Surprisingly enough, the lake scene was not initially meant to be sexy. The writer of the mini-series, Andrew Davies, admitted in an interview with New York Times, "It was simply meant to be an amusing moment in which Darcy tries to maintain his dignity while improperly dressed and sopping wet." He would have never imagined that a 12-foot commemorative statue would be standing in the same lake almost two decades later.
Larry Busacca/Getty Images
2. Learning Italian for His Wife: The Kingsman star wasn't immediately welcomed into his wife's family with open arms. In an interview on CNN's Piers Morgan Tonight, Colin revealed he learned Italian to impress her family, admitting, "I had a lot of strikes against me. I was 10 years older nearly, English, didn't speak the language. Already had a child. I was an actor. I mean, the list really does get very, very bad—So I had to fix the language. It was one thing I could deal with."
Now fluent in Italian, the famed actor also attained dual British-Italian citizenship in Sept. 2017. And considering his long history with the country, including marrying his wife and having his two children in Rome, it only makes sense that the Englishman sought out an Italian passport.
3. Proclaiming His Love in Bridget Jones's Diary: Colin will forever be known in the chick flick world for his role in the Pride and Prejudice-inspired film. Again playing the role of Darcy, when Colin's character first meets protagonist Bridget Jones, he finds her vulgar and unimpressive. But, in classic rom-com fashion, he comes around by the end of the movie with a charmingly awkward declaration of love:
"I don't think you're an idiot at all. I mean, there are elements of the ridiculous about you. Your mother's pretty interesting. And you really are an appallingly bad public speaker. And, um, you tend to let whatever's in your head come out of your mouth without much consideration of the consequences... But the thing is, um, what I'm trying to say, very inarticulately, is that, um, in fact, perhaps despite appearances, I like you, very much. Just as you are."
If that's not a swoon-worthy attempt at confessing love, we don't know what is.
4. Committing to Charity Work: In his free time, the classy Englishman works extensively as a low-key humanitarian. As of 2010, Colin was the co-founder of Café Progresso, a fair trade coffee chain whose profits go to coffee growers in Honduras, Sumatra and Ethiopia, and also co-owns Eco Age, a shop that sells artisan-made, ethical, fair trade and green goods. In addition, he helped prevent the deportation of African refugees as an ambassador for Oxfam international and also launched Brightwide, a website that showcases international films about social and political issues.
Despite his extensive philanthropic work, Colin is reluctant to take credit for his charitable triumphs. When he was awarded the BAFTA/LA Humanitarian Award in 2009, the acclaimed actor sheepishly confessed in his speech, "I try to resist the soapbox. I think the more you speak out, the chances are greater that you will lose your credibility, so I try to be as strategic as possible. The people who do the real work are more deserving, but they don't get heard. I'm just a communication device."
We can't imagine a more modest celebrity!
5. Proposing to Aurelia in Love Actually: In the classic Christmas romance, Colin stars as Jamie, a heartbroken writer who decides to work on his novel in a secluded French cottage. His only company is a Portuguese housekeeper named Aurelia, who can't speak English. By the end of the film, Jamie learns Portuguese to overcome the language barrier, returns to France to propose and finds Aurelia in a crowded restaurant with all of the townspeople watching behind him.
In one of the most memorable proposal scenes in chick flick history, Colin's character proclaims his love for Aurelia in broken Portuguese. And, of course, in aww-worthy fashion, Aurelia replies, "Yes," in English.
6. Singing "Our Last Summer" in Mamma Mia!: When the British star auditioned for the hit musical movie, he wasn't asked to sing a single song. In an interview with Lorrie Lynch from USA Weekend's Who's News Blog in 2008, Colin admitted he was shocked, saying, "I thought, 'They're being reckless here. What do they think they're doing?' I had to sing and dance. They didn't ask Patrick Swayze, John Travolta or Kevin Bacon, people who've had a record of being able to do all those things.  They cast me, Pierce Brosnan and Stellan Skarsgaard without asking any of us if we could sing."
Even without any prior experience belting out ABBA songs, Colin skillfully serenaded audiences everywhere with his rendition of ABBA's "Our Last Summer" on a boat with Amanda Seyfried's character, Sophie.
Some might not be fans of the silver fox's singing voice, but that won't stop his musical prowess. He laughed in an interview with The Talks in 2012, "I'm afraid this causes a lot of tension between me and the rest of the world, you know my enthusiasm for singing and the rest of the world's enthusiasm for me not singing. I sang at my wife's birthday the other day to cries of 'less,' but I loved it."
Whether or not Colin has a future as a pop star, we'll always be fans of his smooth British voice.
Alberto E. Rodriguez/Getty Images
7. Staying Humble Despite His Heartthrob-Status: Colin may have fans swooning left and right, but he personally doesn't consider himself all that dreamy. In an interview with Mirror, when asked how it feels to be seen as a sex symbol, he said, "All I can say is that I'm glad people feel that way but I don't feel it when I look in the mirror! I don't get chased down the street, nor has anyone ever thrown their underwear at me. I've certainly never seen myself as a sex symbol."
The A-list celeb also readily admits that his family does not consider him the smooth gentlemen he plays on screen, and when asked about his classic scene from Pride and Prejudice, he laughed, "I've spent years trying to figure out why Mr. Darcy's fully clothed swim in his breeches and shirt caused such a sensation. My wife certainly wouldn't go weak at the knees if I came home in a sodden shirt!"
Happy birthday Colin! After watching him evolve into the romantic icon he is today, we know that this British star will keep charming us for years to come.