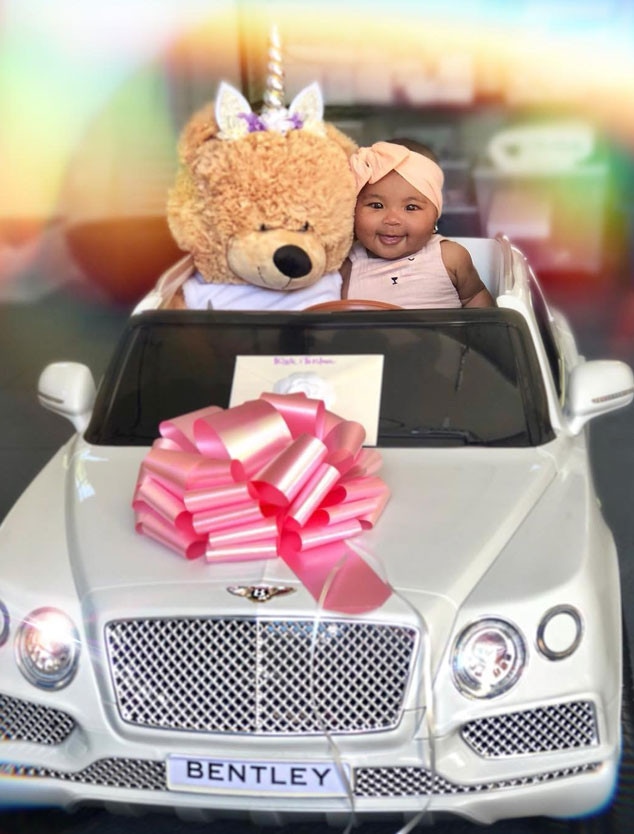 Instagram
Baby's first Bentley!
Khloe Kardashian just shared the most adorable photo of her baby girl True Thompson sitting in a mini Bentley car, a new gift from her "auntie" Kimora Lee Simmons. "I'm not sure what's cuter, the cute teddy bear driving the Bentley truck or True's cheeks and smile," Khloe captioned the super sweet Instagram picture. "Thank you Auntie Kimora and family for the precious gift!"
The Keeping Up With the Kardashians star also revealed on her Instagram Story that Kimora also gifted toy Bentley cars to Kylie Jenner's baby girl Stormi Webster and Kim Kardashian's youngest daughter Chicago West.
"Oh my God! I just came back from the gym and look what Kimora Lee sent to the girls!" Khloe said in one Instagram Story video. "This one is for Stormi, this is for Chicago, this is for my True mama. Oh my God! Thank you, thank you."
She then shared a photo of the three toy cars with the caption, "Ahhh I'm dying over this!!!"
In the comments of Khloe's Instagram post of True in the mini Bentley, one social media user wrote, "She should of receive a cross or a bible so this child grows closer to God as opposed to embedding materialism in her brain."
In response, Khloe clapped back, "We read children's bible stories everyday and we say prayers every single night but you should not pass judgement either way. Why be so negative if you are a child of God?"
"She's a baby who received a beautiful sweet gift and I was SOOO excited to put her in it and take a picture!" Khloe continued. "I'm enjoying every single moment I can with my sweet angel! The angel GOD gave me!"
The E! star also tweeted Thursday, "I don't want to be one of those moms that only posts pictures of her kids but I can't help it LOL I feel like my Instagram should be a Khloé/True Instagram page. Ugh she's just so sweet I can't control myself sorry in advance guys lol."
Khloe and boyfriend Tristan Thompson welcomed their daughter back in April.