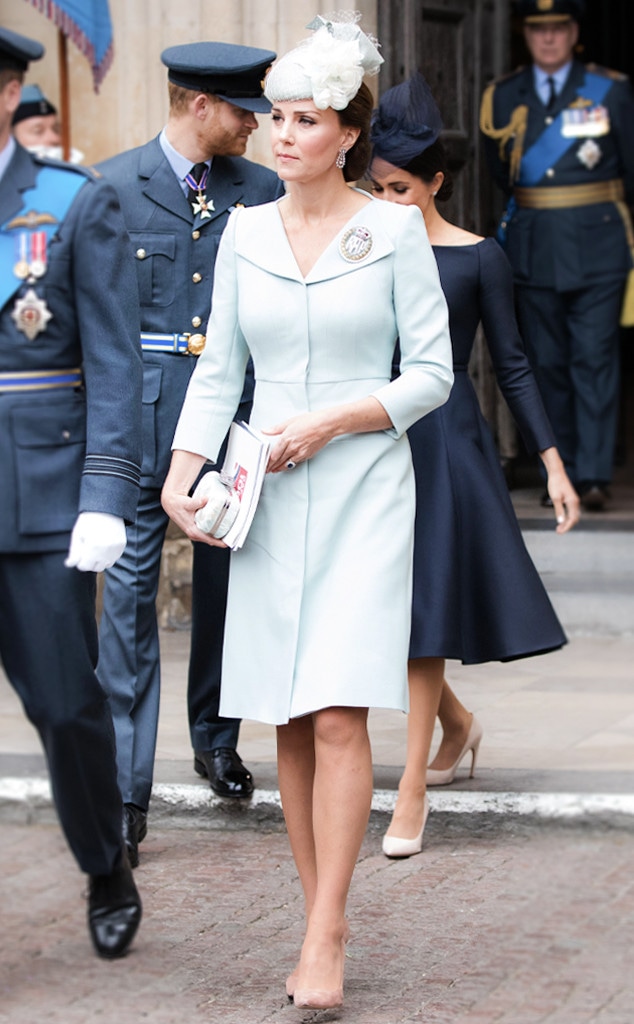 Vianney Le Caer/Shutterstock
Just in: Kate Middleton has a super affordable solution to an age-old problem.
With all of her royal engagements, there are occasions that require the Duchess of Cambridge to be on her feet for long periods of time. And, for the majority of those high-society commitments, she wears closed-toe pumps. Gianvito Rossi 105 Suede Pumps, Jimmy Choo nude pumps, L.K. Bennett Fern Pumps—while her shoe wardrobe may be heavy with designer names, her footwear does not have a reputation for being comfortable. 
Cue the John Lewis Barely-There Non-Slip Tights. The £5 (or $7) hosiery provides a "bare leg look" and comes in three different shades: nude, nearly black and natural tan. According to Cosmopolitan, they're Kate's go-to.
For one, both Kate and Meghan Markle are required by royal tradition to wear tights. 
"They are at liberty to choose whatever color tights they wish, and indeed often opaque colors work well with outfits," Chief Executive Alexandra Messervy of The English Manner, a leading etiquette consultancy firm in the UK, told InStyle. "I think the only reason they have chosen 'nude' in recent years is because they have become so much more fashionable, and the 'bare legs' look became the craze."
However, beyond meeting her royal fashion duties, the tights have a special feature that keep her feet in place: built-in, non-slip pads along the soles of the feet. These help her avoid the ultra-painful experience of crushed toes.
For $7, your toes will be forever grateful.