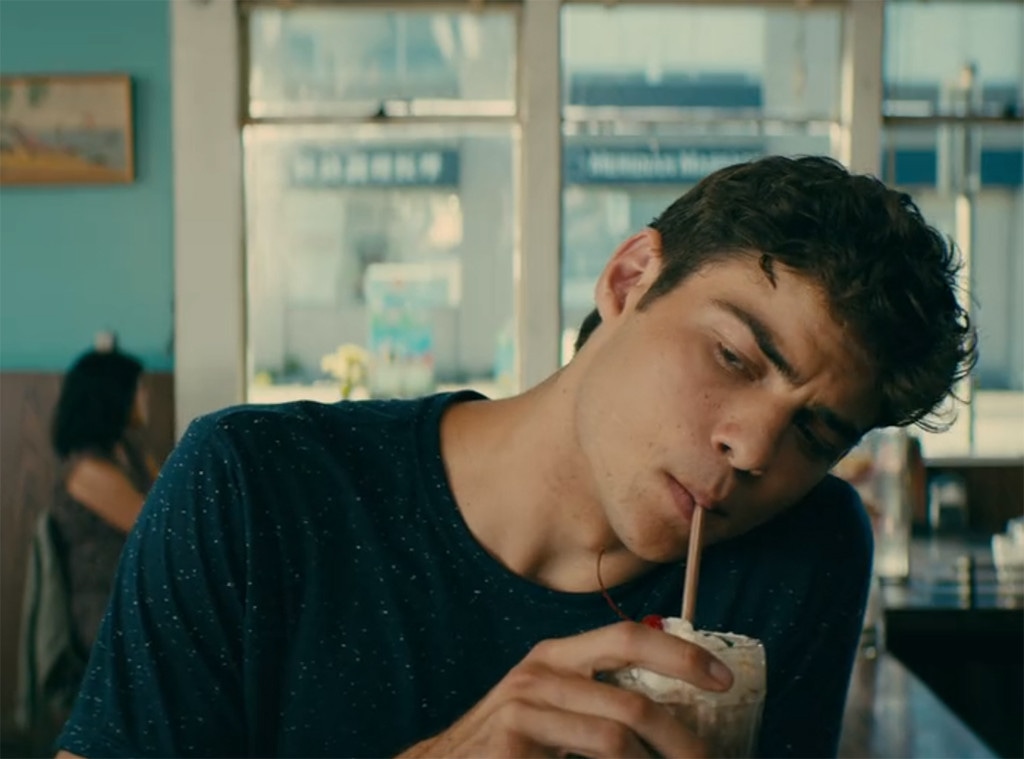 Netflix
Hey, you. Yes, you over there, googling "Noah Centineo age." 
We see you, and we feel for you, and for everyone who has fallen in love with To All the Boys I've Loved Before since it was released on Netflix on August 17. It's a very google-worthy cast, as well as just a pretty great movie in general that we've already watched more than once and plan to watch several more times while writing letters to all the boys we've loved before (we will shred/burn them before our little sister can send them out, however). 
To maybe save you some time you can use for your own letter-writing, we've compiled all the most important questions about the movie's cast and did our best to answer them, just for you. 
So how old is Noah Centineo (who plays Peter Kavinsky)? 
He is 22, an adult. 
Is he Mark Ruffalo's son?
Nope! You probably best know him from Freeform's The Fosters where he played Jesus Adams Foster, the role originated by Jake T. Austin. He'll appear in the spinoff Good Trouble.
Are you sure?
Yes. We are sure, but he gets it all the time. "Ever since I can really remember auditioning in L.A., people — even if I was too inexperienced — they'd be like, 'Yeah, he's a little green, but you remind us of Mark Ruffalo.' And I think it's great," Centineo told Vulture. "I guess it's just my mannerisms, like the way I talk, the way my eyes move around maybe when I'm thinking …? I don't know!"
You may also recognize Centineo from Camila Cabello's "Havana" music video, or perhaps one of his early roles, like Austin & Ally or Shake It Up. He's also in Netflix's Sierra Burgess Is a Loser, set for release on September 7. 
Why am I so obsessed with the way he drinks that milkshake? 
IDK but we're personally so obsessed that we made it into a GIF, so...
Where do I know Lana Candor from?
She made her debut as Jubilee in X-Men: Apocalypse, which came out in 2016. That was the X-Men that also starred Jennifer Lawrence, Sophie Turner, Oscar Isaac, James McAvoy, and Michael Fassbender.
And where can I see her next?
The 21 year-old will star in the Robert Rodriguez movie Alita: Battle Angel, which comes out later this year, and will star in the Syfy series Deadly Class, which is set to premiere in 2019. 
What if I'm Team Josh though? 
No judgment here. Israel Broussard is 24 and most recently starred in Happy Death Day. He also appeared in a couple episodes of Fear the Walking Dead in 2016, and starred in The Bling Ring in 2013. 
I instinctively don't trust Margot. Why?
Because that's Janel Parrish, she of Pretty Little Liars fame. She played the scheming, never entirely trustworthy Mona on the series and will appear in the spinoff The Perfectionists. You've also seen her in Rosewood, Hawaii Five-0, The Mysteries of Laura, Heroes, The O.C. and even Baywatch, which is her first credited role.
Why does John Corbett having three kids make me feel a little old?
Because you likely know him from Sex and the City, as furniture designer Aidan Shaw. He was the guy who made us all sure that we were destined to be with a hot furniture designer. Aidan later went on to get married and have three children post-Carrie Bradshaw, so if Dr. Covey were a furniture designer instead of a gynecologist, we'd be a little suspicious. 
Corbett is also known for United States of Tara and Parenthood, so he's been playing a dad with multiple kids for a while. This old feeling is our own fault, we guess. 
Should I recognize Peter's ex-girlfriend Gen?
If you're a Riverdale fan, yes. Emilija Baranac played Midge, a Jingle Jangle-loving gal with very different hair. Midge was tragically murdered by the Black Hood just before she made her stage debut as Carrie in Carrie: The Musical. 
Do I know Peter's friend from Vine (RIP)?! 
Yes. Greg is played by Andrew Bachelor, also known as King Bach. He was so good at the now dead social media platform that he was once declared the King of Vine, and has since appeared in episodes of The Mindy Project, Key & Peele, Workaholics, and Angie Tribeca. 
Tell me I've seen Chris and Lucas somewhere before. 
Lara Jean's two very helpful best friends, played by Madeleine Arthur and Trezzo Mahoro, have appeared in all your favorite genre shows. Both have been in a few episodes of The Magicians and The X-Files. Mahoro is also known for Van Helsing and an episode of iZombie, and Arthur has also appeared in episodes of Legends of Tomorrow, The Tomorrow People, and Supernatural. 
And last but not least, little sister Kitty is definitely a Disney kid, right? 
She is! Anna Cathcart, who is 15, appeared in Descendants 2 and will appear in Descendants 3, but she also appeared in two episodes of Once Upon a Time and stars in the PBS Kids show Odd Squad. 
To All the Boys I've Loved Before is now streaming on Netflix.