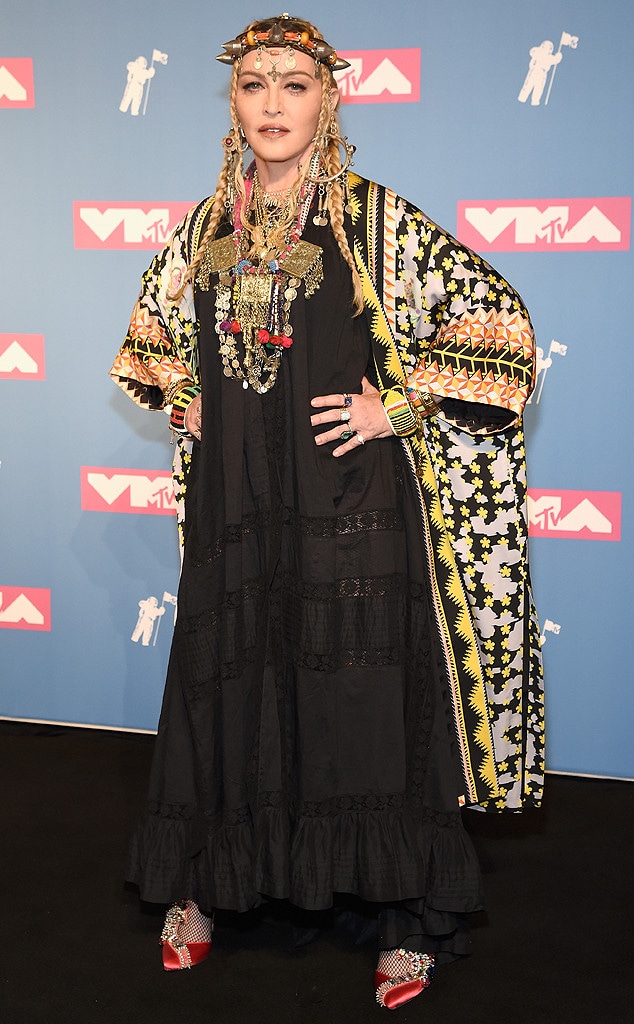 Kevin Mazur/WireImage
Who was Madonna's tribute for, anyway?
That's the question many people on Twitter were asking after the Material Girl honored the Queen of Soul at the 2018 MTV VMAs in New York City last night. Madonna took to the stage toward the end of the broadcast to honor Aretha Franklin, who died last week at age 76. But, in doing so, viewers accused the 60-year-old pop icon of seemingly paid tribute to herself. And Madonna, who recently celebrated her milestone birthday in Malawi and Morocco, wore traditional African attire, leading some viewers to accuse the singer of cultural appropriation.
Madonna spent much of her time onstage talking about the early days of her career, briefly mentioning how Franklin had—unbeknownst to the R&B diva—played a tiny small in her success. "Aretha Louise Franklin changed the course of my life. I left Detroit when I was 18. Thirty-five dollars in my pocket. My dream was to make it as a professional dancer. After years of struggling and being broke, I decided to go to auditions for musical theater. I heard the pay was better. I had no training or dreams ever, ever becoming a singer, but I went for it. I got cut and rejected from every audition. Not tall enough. Not blend-in enough. Not 12-octave-range enough. Not pretty enough. Not enough enough. And then one day, a French disco sensation was looking for backup singers and dancers for his world tour. I thought, 'Why not? I could go back to getting robbed, held at gunpoint and being mistaken for a prostitute in my third-floor walk-up that was also a crack house,'" Madonna remembered. "That's right, I'm a rebel heart."
"I showed up to the audition, and two very large French record producers sat in the empty theater, daring me to be amazing. The dance audition went well. Then they asked me if I had sheet music and a song prepared. I panicked. I had overlooked this important part of the audition process. I had to think fast. My next meal was on the line," she said. "Fortunately, one of my favorite albums was Lady Soul by Aretha Franklin. I blurted out, 'You make me feel.' Silence. 'You make me feel like a natural woman.' Two French guys nodded at me. I said, 'You know, by Aretha Franklin.' Again, mmhmm. They looked over at the pianist. He shook his head."
Madonna told him she didn't need sheet music, as she knew "the song by heart" and would perform it a capella. "I could see that they didn't take me seriously, and why should they? Some skinny-ass while girl is going to come up here and belt out a song by one of the greatest soul singers who ever lived? A capella? I said, 'Bitch, I'm Madonna,'" Madonna said, as the audience cheered. "No, I didn't. I didn't say that. Because I wasn't Madonna yet. I don't know who I was."
"I don't know what came over me," she said. "I walked to the edge of the pitch black stage and started singing. When I was finished and drenched in nerve sweat. You know what that is, right? Nerve sweat? They said, 'We will call you one day. Maybe soon.' Weeks went by and no phone call. Finally, the phone rang, it was one of the producers, saying, 'We don't think you are right for this job.' I'm like, 'Motherf--ker, why are you calling me?' He replied, 'We think you have great potential. You are rough around the edges, but there is good rawness. We want to bring you to Paris and make you a star. We will put you in a studio with the great Giorgio Moroder.' I had no idea who that was; I wanted to live in Paris and I wanted to eat some food."
"So, that was the beginning of my journey as a singer. I left for Paris, but I came back a few months later, because I had not earned the life I was living. It felt wrong. They were good people, but I wanted to write my own songs and be a musician, not a puppet," she said. "I needed to go home and learn to play guitar, and that's exactly what I did. The rest is history."
Sensing she might be losing the audience's interest by that point, the "Borderline" singer said, "You are probably all wondering why I am telling you this story. There is a connection, because none of this would have happened—could have happened—without our Lady of Soul. She led me to where I am today. And I know she influenced so many people in this house tonight. In this room tonight. And I want to thank you, Aretha, for empowering all of us. R-E-S-P-E-C-T."
Madonna was done talking about Franklin—but not about herself. "Another anecdote I would like to share: In 1984, this is where the first VMAs were, in this very building. And I performed at this show. I sang 'Like a Virgin' at the top of a cake. And on my way down, I lost a shoe, and I was rolling on the floor and trying to make it look like it was part of the choreography, looking for the missing stiletto, and my dress flew up, and my butt was exposed—and oh my God, quelle horror!" the singer recalled. "After the show, my manager said my career was over. LOL!"
"So," Madonna said, "I would now like to present the nominees for the Video of the Year."
After clips of the nominees' videos played, Camila Cabello's "Havana" was named the winner. "My hands are literally shaking. I'm never going to forget this moment. Madonna, I love you so, so much," Cabello said. "I've seen every single music video of yours, I've seen every single documentary of yours, and you've inspired me so, so much. For that reason, this is a surreal moment, and I love you." At the end, the singer said, "I want to thank my family, who inspired this music video, and I want to thank my fans again. And honestly, I dedicate this to Madonna!"
As the show aired coast-to-coast- some fans were in disbelief:
Meanwhile, other fans were disappointed:
Madonna shared an Instagram photo with Cabello Tuesday, saying she's "so proud" of the up-and-coming singer. "And just to clarify: I was asked to present video of the year by MTV! And then they asked me to share any anecdotes I had in my career connected to Aretha Franklin! I shared a part of my journey and thanked Aretha for inspiring me along the way. I did not intend to do a tribute to her! That would be impossible in 2 minutes with all the noise and tinsel of an award show. I could never do her justice in this context or environment," the "Like a Prayer" singer wrote. "Unfortunately most people have short attention spans, and are so quick to judge. I love Aretha! R.E.S.P.E.C.T. I Love Camilla! Congrats! I LOVE my dress! AND. I love-L O V E!! And there is nothing anyone can say or do that will change that. #vmas #postivevibes."