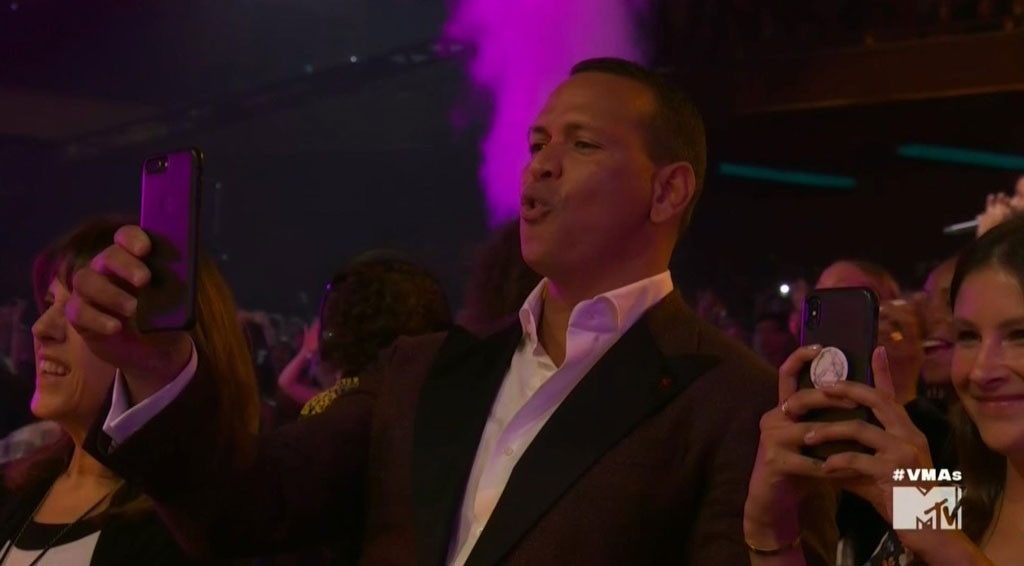 MTV
Jennifer Lopez could not be more loved. 
The mother-of-two and newly-minted Michael Jackson Video Vanguard recipient rocked the socks off the audience when she performed at the MTV Video Music Awards. And it was no surprise that her family was comprised the biggest fans in the crowd, especially Alex Rodriguez. The former baseball player was spotted with his phone in hand, proudly taking pictures of the artist, before he took his seat with Lopez' son Max in his lap. 
Meanwhile, Max's twin sister, Emme, sat with her grandma Lupe in the crowd and clapped as her famous mom danced to her biggest hits. 
After accepting her award from Shawn Mendes, the "Dinero" singer thanked her kids for inspiring her all these years. "It wasn't until I had two little angels come into my life, that everything changed. I knew I had to be better. I knew I had to go higher and be stronger than I had been before," she said. 
Lopez, who shares the 10-year-old's with ex-husband Marc Anthony, shared that after their births her "whole life became clearer in every way. Now, today, I stand here stronger and better than ever. So thank you, Max and and Emme... the future is brighter now because of you."
Not only did she thank her children, but she thanked her "twin soul" and super fan, Alex, for helping her "realize that every day, the sky is not the limit. The universe is infinite, as what we can accomplish together, with love, trust and understanding."
Congratulations to the honoree!