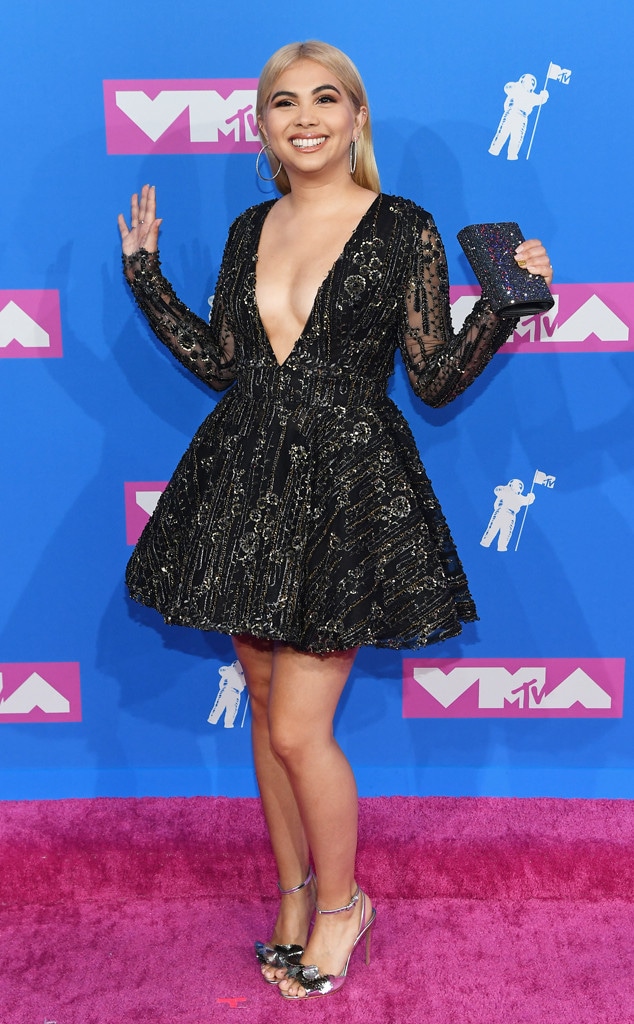 Nicholas Hunt/Getty Images for MTV
Remember this name: Hayley Kiyoko!
Before the 2018 MTV Video Music Awards kicked off, viewers got to watch a few lucky artists earn a moon person a bit early.
During the network's official pre-show, Terrence J was happy to give Hayley the award for Push Artist of the Year.
"I'm so happy! You make me cry! I haven't even met the famous people yet and my makeup's going to be messed up," she shared with the audience while holding back tears. "Oh my gosh, there's Blake Lively."
Hayley continued, "This validates any queer woman of color that you can follow your dream and I love my fans! My fans gave this to us! We did it, 20GayTeen! 2018!"
This marks Hayley's first VMA win. In fact, tonight's award show at Radio City Music Hall marks the  singer's first appearance at a VMA show. So how does one prepare for such a special night that also includes a performance?
"I had a nice salad from Sweet Greens," she shared with her fans while wearing a STELLO dress. "I had a burger, a little heavy, that's okay."
Perhaps the fun is just beginning. During the pre-show, Terrence announced that the Best New Artist award presented by Taco Bell is either going to Haley or Cardi B. Spoiler alert: The "What I Need" singer couldn't be more excited and thankful.
"I just want you to know that I've been doing this for 13 years and I'm literally this kid sitting in my apartment trying to get people to listen to my music and have the opportunity and the fact that I'm even, like, Cardi B? What? It's insane," she shared. "Two years ago, I was playing for like 50 people. This is insane. Hi Mom! Hi Dad!"
Congratulations Hayley on one unforgettable evening.