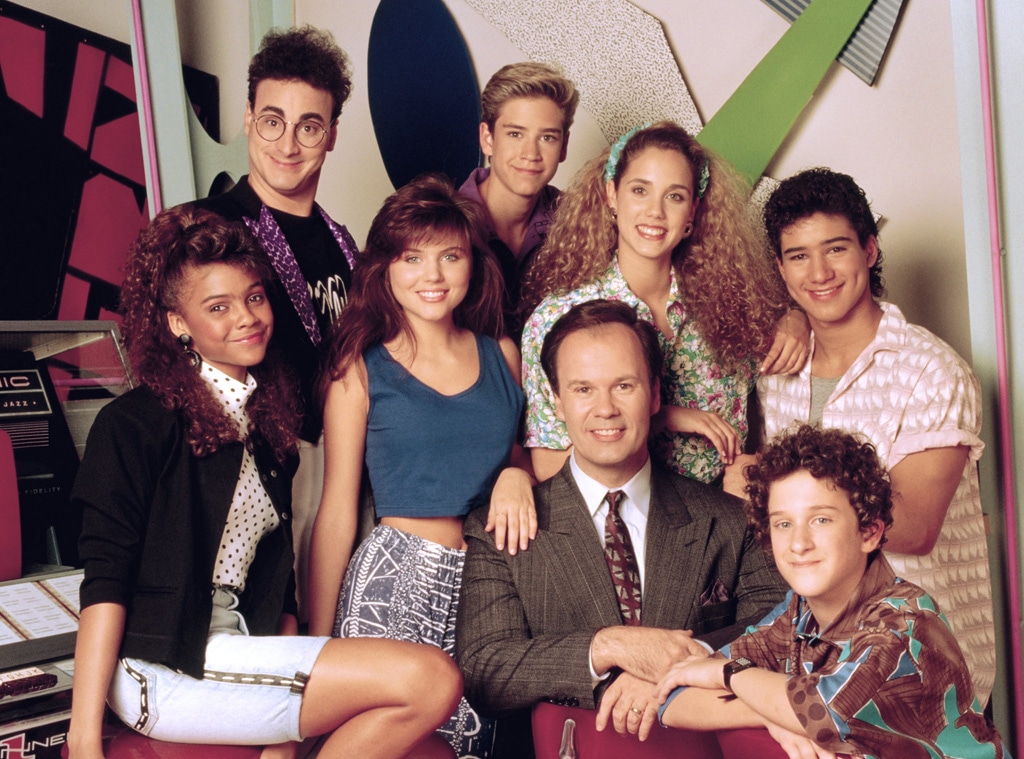 NBCU Photo Bank
What was Saved by the Bell, exactly?
A low-budget, corny, loud patterns- and stonewashed-jeans-flaunting sitcom that, if you were a kid growing up in the 1990s, was always just...on, whether it was Saturday mornings on NBC or every day after school on TBS.
And, needless to say, it's a downright national treasure.
A pilot was shot in 1987 for a series that was originally intended for prime-time—but ultimately the rest of it unfolded on weekend mornings in 1988 as Good Morning, Miss Bliss, with o.g. Parent Trap star Haley Mills as one of apparently only three teachers at a middle school whose pupils included the already cocky at 13 Zack Morris (Mark-Paul Gosselaar), shopaholic Lisa Turtle (Lark Voorhies) and nerdy Screech (Dustin Diamond). They were the only students to make the leap, along with Principal Richard Belding (Dennis Haskins), to Bayside High and Saved by the Bell in 1989.
Down the road in syndication, that one season of Good Morning, Miss Bliss would air as episodes of Saved by the Bell, with high school Zack showing up to reminisce and thereby introduce a chapter from his middle school days.
Haskins, for one, first got an inkling that his days playing Mr. Belding weren't over when the prop master on Good Morning, Miss Bliss told him they'd been asked to preserve the sets.
"And the wardrobe guy, Nelson, came up to me one day and he goes [lowering is voice conspiratorially], 'Hey, Dennis, they just told me to keep your suits. Yeah!'" Haskins tells E! News. "That's how I knew they'd bought the rights to Mr. Belding to do Saved by the Bell and the rest is history."
As for rounding out the cast, Haskins recalls the show bringing in three actresses: Elizabeth Berkley, Tiffani Thiessen and Jennie Garth. Berkley and Thiessen were actually trying out for the same part, but producers made the "inspired" choice of shuffling the character profiles and casting both.
Garth, of course, would get her chance to play another classic Kelly on Beverly Hills, 90210 barely a year later. "She was a fine actress, it was just all about the fit," Haskins says. "...You can do your absolute best, you can knock it out of the park and not get it, 'cause it didn't fit with everything else going on."
Mixing in the junior high days as flashbacks wasn't the only timeline illusion pulled off before our eyes like a signature Max magic trick (Ed Alonzo was only a regular for one season, though doesn't it feel as though he was always there?). 
Berkley and Thiessen (then Tiffani-Amber Thiessen) were set to leave the series at the end of season four. The gang's graduation from Bayside—the series finale— was already shot when they got an order for 11 more episodes. But Berkley and Thiessen were long gone, so they brought in Leanna Creel to play the leather jacket-wearing Tori Scott. The 10 Tori episodes (in one of which she and Zack deliver Mrs. Belding's baby in an elevator) aired from Sept. 19, 1992, until Nov. 28, 1992—after which, Jessie Spano (Berkley) and Kelly Kapowski (Thiessen) were magically back for graduation. Guess Tori just had to hop on her bike and head into the wind...
But you know, part of the magic of Saved by the Bell was that no questions were ever answered. Filling the gaping holes in the plot wouldn't be any fun, now would it? How else then would Kelly and Zack be happily reunited in time for the 1994 TV movie Saved by the Bell: Wedding in Las Vegas, and he never had to explain to her that half hour where he was all of a sudden nuts about Lisa...?
(Well, according to executive producer Peter Engel, Zack and Kelly would be divorced now and married to other people. But we won't give any further credence to such a preposterous notion.) 
"I'd be game [to get back into the Saved by the Bell game] if there was something that peaked our interest in a way," Gosselaar told E! News at Fox's Television Critics Association event earlier this month, where he was teasing his upcoming Fox horror drama The Passage. "A lot of that [speculation is like], 'could we do a Fuller House version of Saved by the Bell?' Not really, because we're not in high school."
He's a fan of a reboot done right, though, complimenting the YouTube series Cobra Kai, which has brought the 1980s classic The Karate Kid into the now.
"If there was a way to make a show like that..." he mused seriously, "I'd be interested in seeing it."
The no-longer-in-high-school aspect seemed to be his sticking point, though. "It's a tough nut to crack," Gosselaar admitted. "Somebody will eventually do it, and I wouldn't be opposed to hearing the pitch."
Judging by the popularity of Saved by the Max, a fully operational restaurant in West Hollywood, Calif., that's tricked out to be a spot-on homage to the gang's favorite hangout... the nostalgia train has not bypassed Saved by the Bell.
Chris Haston/NBC/NBCU Photo Bank via Getty Images
There were valiant efforts to prolong the show's good name in the form of Saved by the Bell: The College Years and Saved by the Bell: The New Class (which lasted even longer than the original), but nothing could recapture the magic of the four seasons where Zack, A.C. Slater (Mario Lopez), Kelly, Jessie, Lisa and Screech did their thing—whether that was being friends one minute and frenemies the next, dating and breaking up, punching each other in the face, holding down part-time jobs, running for class president, hanging out at The Max, making a disturbing number of wagers that involved winning a girl's affection or being the super-star members of Zack Attack in a Behind the Music-esque episode featuring Casey Kasem.
You can't make this stuff up. And never forget when The Sprain beat The Preppies and The Spandex Twins at the dance contest. (Also hosted by Casey Kasem.)
There were also some very special episodes, including the one where Jessie started taking caffeine pills to stay up to study and have energy for her new girl group, only to get "SO EXCITED" and "so scared" when she finally realized she needed help.
Engel, in his 2016 memoir I Was Saved by the Bell: Stories of Life, Love and Dreams That Do Come True, wrote that he envisioned the substance being speed, but that it had to be watered down. "I insisted that we needed to start dealing with more important issues than we had in the past, and that speed was a vehicle not only for exploring drug use but also the pressure that kids put on themselves to achieve," Engel wrote. "But [NBC] Standards and Practices wasn't budging...I wasn't pleased about it—after all, the average caffeine pill was the equivalent of a cup of coffee, if that, so we might as well have had Jessie get addicted to earl grey, or breaking into the Max to snort coffee grounds. But hey, we had to start somewhere."
Ultimately he was pleased with how over-the-top the "I'm so excited!" meltdown scene was, and "Jessie's Song" became the most referenced Saved by the Bell episode ever.
There was even the Saturday-morning version of a DUI episode, when Zack drove Lisa's mom's car with the gang all piled in after drinking at a party...and crashed, but faced no consequences other than their parents' utter disappointment. No Saved by the Plea Deal. (The difference between a.m. and p.m. shows: When Brandon Walsh got a DUI on Beverly Hills, 90210, he was arrested and had his license suspended.)
And the reason there was a whole episode devoted to the death and subsequent "burial by flush" of Slater's pet chameleon? It was supposed to be a dog. 
"They though, again 'cause it was Saturday morning, that a puppy dying would be too hard on to the kids," Lopez recalled on Today in June. "So they changed it to a chameleon, because apparently nobody is sensitive about reptiles. So that's a fun fact."
"I should've taken all the six kids to college," Engel lamented to The Wrap in 2016. "I should've insisted we take them all and I didn't. It was my decision and I made a mistake."
No offense to Leanna Creel, but there was obviously something inherently appealing about the six actors viewers had practically grown up with—Gosselaar, Diamond, Lopez, Thiessen, Berkley and Voorhies—staying together.
That chemistry did, in fact, translate off-screen. Hanging out together after shooting wrapped for the day "created a bond," Haskins remembered, "that I think showed up on the show."
And sometimes the who's-dating-who-wait-I-thought-they-were-dating shenanigans weren't confined to just the show, either.
"When you're young you don't think, 'This is something I'm going to cherish forever,'" Thiessen told People in 2009. "But I spent a lot of formative years on the show. We had a lot of firsts together."
Added Gosselaar, "All of us dated at one point or another—it was incestuous! Sometimes the girls would gang up on the guys. Tiffani and Elizabeth would hate me, and then they'd hate Lark because Lark was talking to me, and Mario was supposed to side with someone. All that stuff you did in high school, like, 'How could you talk to him?'"
"Did we have crushes on our costars? Absolutely," Thiessen put it more modestly. "But we were so young!"
"It's a good bunch of people," Gosselaar said, looking back. "It makes me proud."
Recalling the lack of scandal that arose in the moment from the Saved by the Bell set, which was coursing with hot teenagers and their hormones, Gosselaar explained to the Washington Post in 2008, "We didn't have the new media and the access to people in the industry that we have nowadays—paparazzi, bloggers, camera phones...all that wasn't around when I was a young actor. Did I have fun as a teenager? I did, but it wasn't documented. But then again, I didn't abuse the privilege of being a somewhat public figure."
He also said he was "pretty much still friends" with all of his former castmates.
Haskins recalled Mario Lopez taking guest star Tori Spelling (she played Screech's similarly nerdy love interest Violet) to a movie—or she took him, picking him up from the set in her BMW convertible. After which, they apparently couldn't remembered where they had parked. "That's the kind of stuff that was going on. It wasn't all the gossip stuff—it was pretty simple," Haskins remembered what was, in fact, an easier time for young stars to have a little privacy. "Listen, you got your hearts on your sleeve, you end up being [together] with people for awhile. Yeah, you're going to have crushes, you're going to date each other. But nothing serious."
Peter Engel told TV Line in 2016, when asked the inevitable "where are they now?" question, that—aside from Kelly and Zack being divorced for some unfathomable reason—"Zack would probably be the host of a game show or talk show, or he'd be managing a hedge fund; Slater would be a high school football coach; Screech would be Bill Gates; Jessie would have just lost to Donald Trump; Lisa would probably be Vera Wang, or a buyer at Neiman Marcus; and Kelly would be married with children and have a cooking show on the Food Network, which [Thiessen] has— and I watch!"
In reality...
The rest of the '90s were a bit of a TV-movie wasteland for Gosselaar, but he surged back at the turn of the century, co-starring on NYPD Blue, Commander in Chief, Raising the Bar and Franklin & Bash, which enjoyed four seasons on TNT, and Pitch. This fall he'll be starring in The Passage. And, aw, he also appeared twice on Dinner at Tiffani's. On a personal note, he has four children from his two marriages—and his first wife went on to marry Survivor host Jeff Probst.
Alice S. Hall/NBCU Photo Bank; Steve Granitz/WireImage
"Right off of Saved by the Bell, [Mark-Paul] made a real point" not to do anything reminiscent of his Zack Morris role, Dennis Haskins, ever proud of the Bayside graduates, told E! News. "He went right to dramatic work and developed that, and now look at him. He has a great show coming up, oh my goodness."
NBCU Photo Bank; Broadimage/REX/Shutterstock
Berkley's biggest splash, figuratively and literally, came in 1995 playing an exotic dancer with dreams of making it big on the high-brow topless circuit in Showgirls—which endures to this day as a so-bad-it's-a-keeper cult classic. But she's been acting consistently all these years as well—and in 2015 she too was on Dinner at Tiffani's. She's been married to artist and actor Greg Lauren since 2003 and they have a son.
Thiessen made the move to prime-time vixen on Beverly Hills, 90210, joining the cast after Shannen Doherty left, then she popped up on numerous series, most notably starring on White Collar with Matt Bomer before her successful run on the Cooking Channel. Now she's playing the quintessential concerned mom on the family-friendly Netflix series Alexa & Katie.
Alice S. Hall/NBCU Photo Bank; Astrid Stawiarz/Getty Images
Rather adorably, Thiessen's husband, Brady Smith, with whom she has two children, is good buddies with Gosselaar, who told E! News that he and Smith are constantly sending each other Instagram videos.
Lopez kept acting but really had a resurgence as himself after he competed on Dancing With the Stars in 2006. In 2008 he made his Broadway debut in A Chorus Line, put out a fitness book and started co-hosting Extra, which he's been doing ever since along with stints as the host of America's Best Dance Crew and The X Factor and making numerous cameos as himself on the likes of Jane the Virgin, Nashville and Major Crimes. He dated Ali Landry for years and then was infamously married to her for barely four weeks. But he's since settled down with wife Courtney Lopez (they appeared together on Dinner at Tiffani's) and they have two children.
Paul Drinkwater/NBC/NBCU Photo Bank; Getty Images
Also adorably, Lopez said on Today in June that he probably keeps in touch with Berkley the most of all his castmates. Reminsicing about his "aggressive" mullet and favorite moments, he said, "We always just laughed on set a lot, off camera. As far as on camera...what did we do?" he looked up inquiringly. "Did we kiss? Did we make out? I can't even remember." 
Lark Voorhies and Dustin Diamond have had more complicated journeys since their Saved by the Bell days.
After The College Years fizzled out, Diamond joined the cast of Saved by the Bell: The New Class in its second season and stayed for the duration, with Screech serving as Mr. Belding's assistant. After that ended in 2000 he started to make a career out of spoofing himself in stuff such as the otherwise-unfortunate Vince Vaughn-Jon Favreau reunion Made and 2003's Dickie Roberts: Former Child Star. He put out a sex tape, on purpose, in 2006 called Screeched, but he says it wasn't actually him in the video. In 2016 he was sentenced to four months in jail for disorderly conduct and carrying a weapon after being accused of stabbing a man in a late-2014 bar fight in Wisconsin; he was released a month early on good behavior credits. He insisted he was defending his fiancée and that he barely nicked the guy with his pocket knife.
After he got out of jail, he told Lopez on Extra, "It's pretty daunting, it's pretty scary going into that environment. I found that as long as you follow the rules and stay with the system, it works. You can get in and out unscathed." Weeks later he was arrested again for an alleged probation violation.
Diamond also claimed that he didn't actually write the 2009 purported tell-all Behind the Bell, which had nothing particularly nice to say about his castmates. Gosselaar's Franklin & Bash co-star Breckin Meyer said on HuffPost Live in 2014, "That guy is such a d--k. I need to say it. The Dustin thing is just so silly. It's just so negative and it always bums me out."
The former Zack Morris himself said about it: "My experience on the show was very positive and that's why when people say, 'Oh, you don't like talking about it.' It's like, No, I don't mind talking about it, I just don't really remember that time, and also everything I do remember was extremely positive."
Diamond told Lopez that his ghostwriter had a field day and, before he knew it, the book was being published as it was. "Imagine how I feel, I haven't talked to Marc-Paul or Elizabeth or Tiffani in ages, so I can't imagine what they think, and I'm hoping this will clear it up," Diamond said in 2016. "It wasn't me, I didn't write this. I was just as shocked and appalled."
NBCU Photo Bank; Keipher McKennie/WireImage
After Zack and Kelly's 1994 wedding, Voorhies went on to The Bold and the Beautiful and then spent a few seasons on LL Cool J's sitcom In the House. She also never entirely disappeared, but her personal life has long since overshadowed her increasingly sporadic onscreen appearances.
Voorhies was married to actor Miguel Coleman from 1996 until 2004. She and Diamond reunited on the set of an indie horror film called Little Creeps and, Diamond told People, "The person who said hi to me when she first showed up on-set was not the same person at the end of the night. It was like talking to two different people."
In 2012, Voorhies's mother, Patricia, told People that her daughter had been diagnosed with bipolar disorder—an assertion Lark told TMZ she found "comical." The actress also denied to People having any issues with drugs or mental illness, but said, referring to herself and the interviewer, "We met at a very powerful moment. It's like carrying on the interview in a hurricane."
When she was noticeably absent from the Tonight Show sketch that reunited Gosselaar, Thiessen, Berkley and Lopez in February 2015 (Diamond had just pleaded not guilty in his bar fight case), her publicist told E! News, "Lark would have loved to be part of the Jimmy Fallon skit (as she is a big fan of the show), however due to an intense work schedule she was not available."
A few months later she married Jimmy Green in Las Vegas and that turned into a whole...thing, with the new husband claiming he was working on an album his wife was recording. In July 2015, after Voorhies' mom filed a restraining order against Green, they sat down with ET to insist their marriage was real, and not some stunt. She also again denied being bipolar but said she had struggled with clinical depression.
Voorhies filed for divorce in October, however, and to make everything more complicated rather than less, she claimed that an Instagram rant she went on about her ex (stranger things have happened) was not written by her, that her account was hacked.
Though Gosselaar, Lopez, Berkley and Thiessen have mainly sought to put their Bayside years behind them so they could move on to being known for other things, nostalgia and Jimmy Fallon's infectious enthusiasm proved too much to say no to in 2015, when the foursome recreated Saved by the Bell for The Tonight Show, featuring their previously overlooked classmate, "Jimmy Fallon."
As it turned out, Mario Lopez could still rock a unitard at 41. 
Aside from the four of them looking eerily like their 1990s-era selves, the uncanny familiarity with all the characters and their style, from Zack's massive cell phone and Slater's cinched-waist jeans to Jessie's headband and Kelly's cheerleader uniform, as well as the wink-wink inclusion of the "I'm so excited" scene, was testament to the show's staying power, decades after the final bell.
"Wow! God!" Emmanuelle Chriqui, Gosselaar's co-star on The Passage, squealed to E! News when she found out that what we know today as Saved by the Bell premiered in 1988. "That makes me feel so old!"
Gosselaar, smiling, quipped back, "Yup, how do you think I feel?"
For more on the inside story of Saved by the Bell, watch E! News tonight at 7 & 11 p.m.