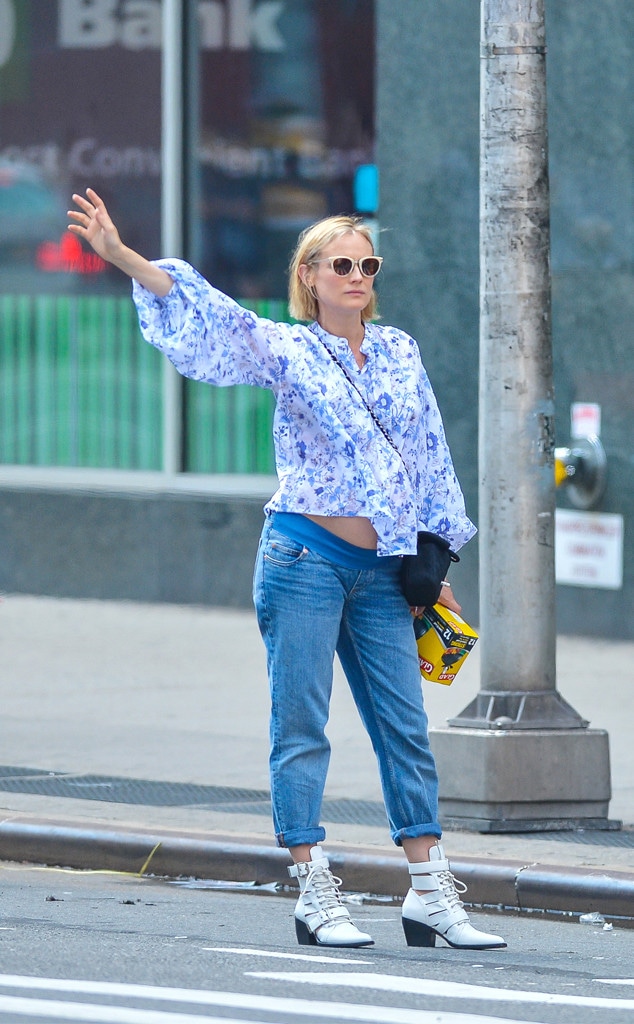 TheImageDirect.com
Diane Kruger is finally showing off her baby bump.
The German actress was spotted in New York City hailing a cab with her pregnancy on full display. Kruger wore a floral top, jeans and white boots.
News of her pregnancy first broke in May, and it was confirmed after suspicions started brewing during the 2018 Cannes Film Festival. This is the first child for Kruger and her boyfriend Norman Reedus. A source confirmed to E! News that the Inglorious Basterds star was 4-5 months along in her pregnancy.
The Walking Dead star and Kruger made their first red carpet debut together at the 2018 Golden Globe Awards, but rumors swirled about their romance back in Feb. 2017. In Sept., the couple was seen kissing and taking selfies together at the U.S. Open.
Kruger and Reedus "complement each other very well," a second source tells E! News. "Norman is very free wheeling and relaxed and fun and Diane is much more analytical and thoughtful."
Reedus also has an 18-year-old son, Mingus Reedus, with his ex-girlfriend Helena Christensen. The couple recently reunited to celebrate Mingus' high school graduation in June.
Kruger and her ex Joshua Jackson broke up in 2016 after dating for 10 years. The couoke met back in 2015 while filming the movie Sky together. According to E! News' source, "They are very good for each other and are really happy. Norman is genuinely a really good person and he works really hard."
Congratulations to the parents-to-be!