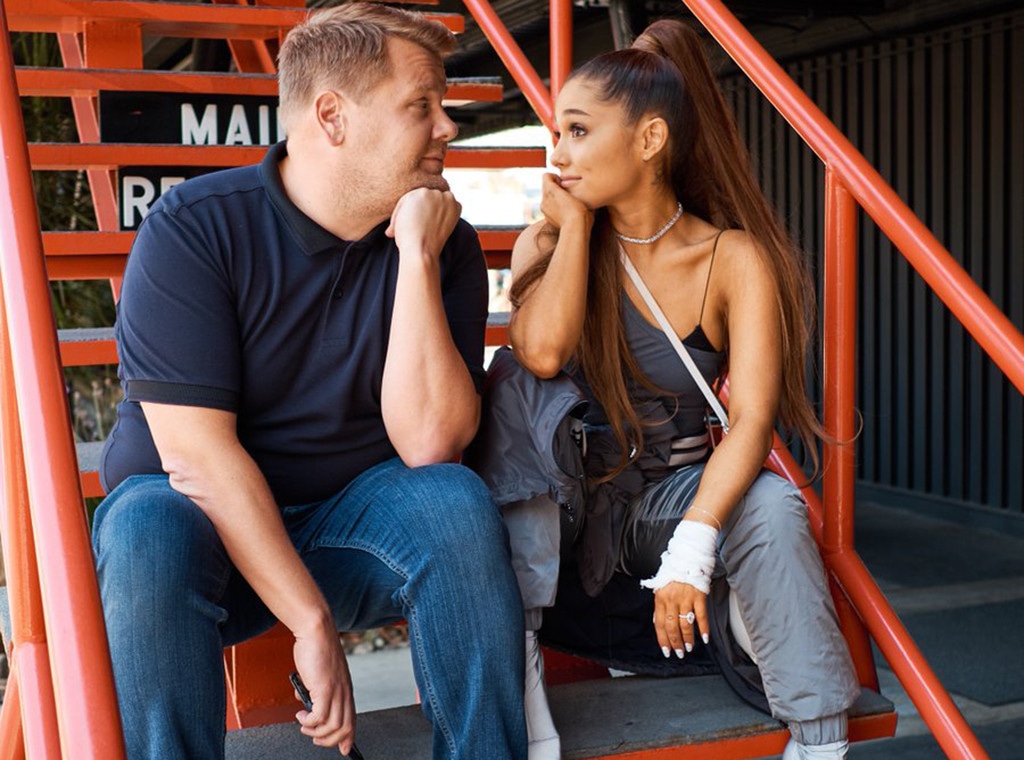 CBS
Ariana Grande demands to be carried! 
The pop star joined James Corden for some Carpool Karaoke tonight, and while they definitely showed off their harmonizing skills with some of Ariana's biggest hits like God is a Woman, Dangerous Woman, Side to Side, and No Tears Left to Cry, James also took a moment to find out what the tabloids have gotten most wrong about her. 
While many claim she's pregnant "every other week," one rumor persisted that Grande demands to be carried around by her security team. 
Grande explained that she posted one picture of her tour manager carrying her when her feet were in pain from shooting a video in pointe shoes, and that she'd never demand to be carried. 
Then Grande and Corden stopped for some Starbucks, but the singer didn't walk into the store like a regular person. She of course had to be carried on Corden's back, from which she ordered a¡—surprise surprise—grande soy latte and declared to the confused customers that if they ever see her anywhere, she definitely didn't walk there herself. 
"That is just the kind of pop star I am!" 
Grande also revealed that she scared other kids away with a Jaws-themed birthday party at two years old and proved once again that she does a seriously impressive Celine Dion impression, while also showing off her love of Broadway. 
Grande's fiancé Pete Davidson was never mentioned, but perhaps James and Ariana's new Broadway cover band should plan to perform at the wedding reception. 
The Late Late Show with James Corden airs weeknights at 12:35 a.m. on CBS. 
Sweetener, Grande's latest album, comes out on Friday.