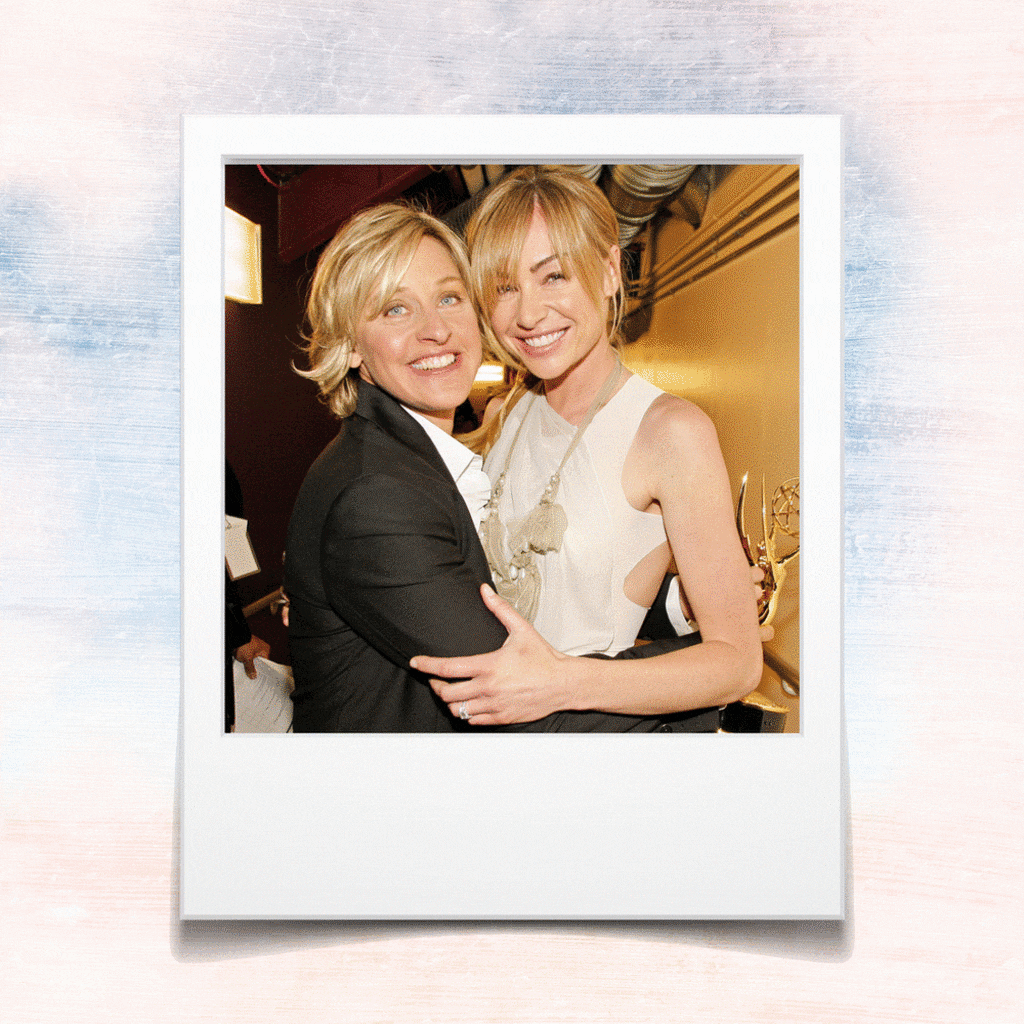 E! Illustration
For Portia de Rossi, being in the presence of Ellen DeGeneres was like a love song come to life. 
"She took my breath away," de Rossi recalled of running into her future wife at a 2004 photo shoot in an interview with The Advocate a year later. "That had never happened to me in my life, where I saw somebody and [experienced] all of those things you hear about in songs and read about in poetry. My knees were weak. It was amazing. And it was very hard for me to get her out of my mind after that."
Technically, they had met about five years earlier in 2000. According to de Rossi's version of the story, "there was definitely a lot of chemistry between us, but I didn't allow myself to think of being with her just because of the place I was at." 
That place was as an actress skyrocketed to fame on Ally McBeal. In the midst of all her stardom, the popular Australian native was guarding a personal secret. "It's the kind of dream job that actresses pray they get. And yet I was terrified of being exposed as gay," she later told Good Morning America's Robin Roberts. 
However, when a photographer captured de Rossi with her then-girlfriend Francesca Gregorini and outed her without the actress having to say a word, there was a silver lining to the invasion of privacy. 
"She forced me to come out to my family, she forced me to live a more honest and more open life," de Rossi told Roberts. 
Perhaps part of that was acknowledging her burgeoning feelings for DeGeneres. "I really never stopped thinking about her, because I just haven't felt that kind of energy with anyone in my life," she described to The Advocate of first meeting her eventual life partner.  
The two officially became a couple just as the year turned 2005. Shortly after they crossed paths backstage at VH1's Big in '04 awards in December 2004, the budding couple reportedly shacked up at the comedian's Hollywood home. 
"When I saw her again that night [at the VH1 awards show] we started talking and that's that. We just were kind of supposed to be together," de Rossi put it to The Advocate. The sentiment was echoed by DeGeneres in a People sit-down three months later.  "It's the first time that I've known in every cell of my being that I'm with somebody for the rest of my life," she declared. 
Yet, as is unfortunately the case in many grand love stories, this tale includes some broken hearts. After all, de Rossi had been dating Gregorini and the daytime talk-show host was in the midst of her own years-long relationship with photographer Alexandra Hedison.  
Jay L. Clendenin/Lara Porzak Photography via GettyImages
"She had a girlfriend and I had a girlfriend, but it wasn't like, 'Oh, we're going to have an affair,'" DeGeneres explained to the magazine in 2005. "We were just supposed to be together. It was a tough decision. I was physically getting sick because I was trying not to say anything. So I told Alex and she told Francesca. It was really hard to uproot everything."
"I really, really hated all the pain I put Francesca through, and I really didn't want to hurt her," the Arrested Development star reiterated to The Advocate. "But I just couldn't ignore the feelings I had for Ellen."
Those feelings have now endured 13 years—a decade of those married. If DeGeneres had had it her way, they would have wed back in 2005. "If it were legal, we would be married, but it's not legal," she told People then.
It was not until June 16, 2008 when the Supreme Court of California ruled a ban on same-sex marriage unconstitutional that the two could officially tie the knot. Exactly two months later, they committed to a lifetime together in front of close friends and family in a ceremony at their Beverly Hills estate. 
10 years later, those vows remain in tact as the couple has not only defied the Hollywood odds, but also become one of the most beloved twosomes in Tinseltown. 
"I think someday people will look back on this like women not having the right to vote and segregation and anything else that seems ridiculous like we all don't have the same rights," DeGeneres said on the 2008 Emmys red carpet.
Still, it takes more than sparks to keep any marriage alive. For the two women, their work in the same industry and shared love of animals certainly helped build their bond. Then, there's the simple fact that they just really like each other. 
"We're just really good friends and we talk about everything and we never ever lie to each other, like not even the tiniest lies and she's the only person I want to hang out with. She's my best friend. I just want to be with her all the time," de Rossi told ET in 2016. "She's just so awesome. Who wouldn't want to be with Ellen all the time?" 
Still, they haven't been immune to speculation and baseless suspicions in the press. But, with every sporadic new report alleging divorce is looming for the pair, their responses remain a version of the same thing: there is no split in sight. 
"We really don't almost break up. We don't fight. We are madly in love," DeGeneres told Howard Stern in 2015. "We think the same things. We are so similar and yet we're different enough."
Plus, there was a silver lining in the lies. "The divorce rumors came and then we really knew the perceptions had changed," de Rossi explained to Us Weekly. "I'm not kidding. I know it sounds ridiculous, but when that started happening I thought, 'Oh, now we're finally accepted.' We get the same shit as every celebrity couple."
Still, there are few celebrity couples like this one—not every member of a famous pair has gifted the other a gorilla campus in Rwanda for their 60th birthday. 
When that milestone arrived for Ellen in January, her longtime love knew precisely what to surprise her with. "This gift had to be really special and it had to represent who you are and what you really care about," Portia explained on an episode of her wife's eponymous show.
"Not just now, but what you've always cared about. What you were influenced by and what has made you the amazing person that you are today. So, I combined that and questions when we first met like who's your idol? And what would you do if you weren't a talk show host?" The result: The Ellen DeGeneres Wildlife Fund and The Ellen DeGeneres Campus of the Dian Fossey Gorilla Fund. 
"Ellen, you will carry on Dian's legacy by giving them a permanent home in Rwanda. Now, you will join Dian as a protector and champion of these amazing animals, the mountain gorillas," de Rossi declared. 
While DeGeneres called the gift "one of the highlights of my life so far," we have a feeling that marrying each other will always be the greatest highlight of all. 
As DeGeneres wrote to her lifetime partner on their anniversary a year ago today, "Being her wife is the greatest thing I am."