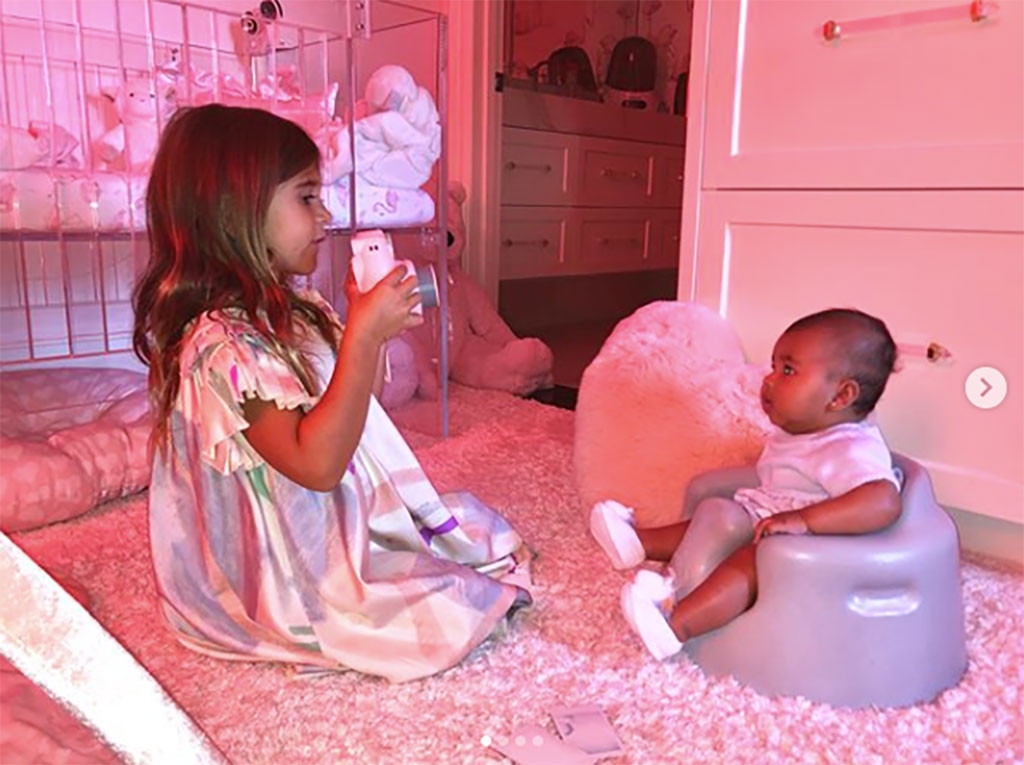 Instagram
This really is a picture perfect moment. 
As if we didn't need any more cuteness on our social media feeds, Khloe Kardashian delivered with a few shots of her 4-month-old daughter, True Thompson, hanging out with her older cousin and Kourtney Kardashian and Scott Disick's only daughter, Penelope Disick. 
The 6-year-old took the youngster under her wing as she held an impromptu photoshoot for her baby cousin. Of course, Penelope served as photographer while True served face from a pint-sized seat. Naturally, the adorable interaction melted Khloe's heart. 
"These are the moments I've been waiting for!!!" she wrote on social media while posting the photos. "How blessed am I?!?! P is an incredible photographer! And True is a very good baby model lol (she sort of had no choice)."
Kardashian even shared the results of the shoot and Penelope definitely captured every angle of little True. 
Back in July, the True, Penelope and cousin Dream Kardashian even got to take a baby class together, where they sang and danced to nursery songs. 
Since Khloe returned to Los Angeles in June from Cleveland, where she gave birth to True, the infant has been able to spend quality time with many of her older cousins. 
"The whole family is thrilled that Khloe is home and that they will get to be close by and an every day part of True's life," a source previously told E! News.
Not to mention, it's all the more touching to see the nieces and nephews that Khloe has always been so close to get to know her own daughter. 
"I'm a really fun aunt, so I hope I'm going to be a fun mom!" Kardashian told Refinery29 back in 2015. "I like to have fun and be silly and not take myself too seriously with the kids, so I hope that will translate when I actually have my own."
It definitely has!