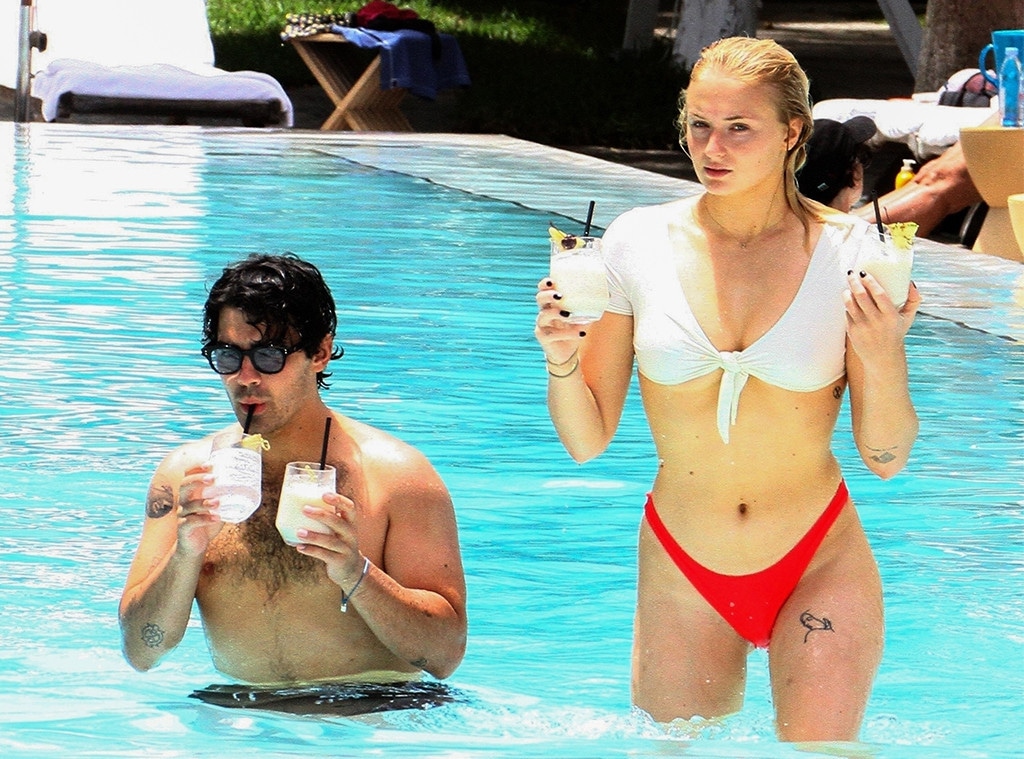 FAMAPRESS / VEM / BACKGRID
It appears that Joe Jonas and Sophie Turner enjoy piña coladas and getting lost in the...pool.
The former Jonas Brothers front man and Game of Thrones star canoodled and sipped on frozen beverages while hanging out at a hotel pool in Miami. The couple—who announced their engagement on Oct. 15—relaxed in Miami ahead of Jonas' 29th birthday on Aug. 15. Although, it wasn't all sitting at the pool and lounging. According to reports, the middle Jonas had a lavish birthday celebration at a Miami night club.
While hanging pool-side in Miami, Turner wore a white short-sleeve top that tied in the front and red bottoms. She was also sporting a gold "J" necklace. Jonas and Turner swam, double-fisted piña coladas and made out a lot. These two really are not shy about their adoration for each other.
The lovebirds not only show love on their sleeve, but on their skin, too. Back in July, both Turner and Jonas posted photos to Instagram documenting new tattoos. The pictures were posted a day apart and each revealed the new body ink was for a special someone: their respective grandfathers. 
FAMAPRESS / VEM / BACKGRID
Jonas' tattoo on his arm shows his grandfather inside a stamp, with the words "PaPa." He captioned the photo: "For PaPa Miller." Turner's ink on her finger is a bit more subtle, but its message is grand. "For my grandad, my hero," she wrote. Mr. K of New York's famed Bang Bang Tattoo did the skin art for both.
Matching tattoos is just one of many aspects of their relationship that gives us all major envy. In Sept. 2017, Jonas and Turner adopted a Siberian Husky with icy blue eyes and named her Porky Basquiat. The dog may look familiar to some Game of Thrones fans. This isn't the first Husky pup in Turner's life. A few years ago, she adopted a dog named Zunni, who just happened to play Sansa Stark's dire wolf, Lady.
The 22-year-old actress discussed her engagement with Marie Claire in their May 2018 cover story. While Turner greatly enjoys being engaged, she finds more meaning in her work. "There's this weird misconception that being married is the greatest thing that'll ever happen to you. But I've always found that my career is something I work for, and when I achieve something, there's a sense that this is the greatest thing I'll do in my life," she told the magazine.
But she doesn't mind her relationship status too much: "It's lovely to be engaged."