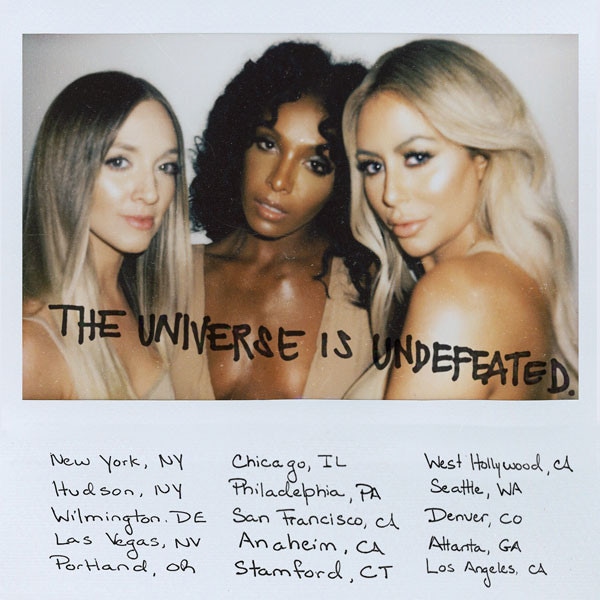 DK3
DK3 is back together!
Aubrey O'Day, Dawn Richard and Shannon Bex of Danity Kane have reunited and will be hitting the road together for a new tour starting in September. The group, which started with five members, was originally called Danity Kane after being formed on Making the Band in 2005. But after some ups and downs and twists and turns over the years, Aubrey, Dawn and Shannon performed as a trio in 2014, releasing their album DK3 in October of that year.
After an incident during a group meeting led to a second Danity Kane breakup, Aubrey and Shannon went on to form Dumblonde while Dawn embarked on a solo career. But now, they're back as a group and ready to go on a new journey together with The Universe Is Undefeated Tour.
"We have been through a journey of a lot of ups and downs but on any journey, ya know, it requires the people involved to not be willing to let go of each other and that's what we're on so, we're super grateful to be back in each other's lives," Aubrey tells E! News. "To have survived the last round and truly come together as sisters and do it for ourselves and also for the fans."
"The conversations started because I think Aubrey and I wanted to touch base cause we hadn't in a long time and I think we both, ya know, had feelings of feeling like we needed to have that conversation," Dawn tells us. "We're sisters at the end of the day and I think if you go through life you still remember like I really want a relationship with these girls even though you go through things, you really want that comradery and so Aubrey and I had a great conversation."
Vincent Sandoval/Getty Images
So what can fans expect from this tour? "We're actually doing a combination of our solo project which is Dumblonde, we have our second album coming out soon, so we're doing a combination of our album. Dawn is going to be doing her solo performances from her solo album and then together we're going to come back together, DK3, and also be performing Danity Kane songs that all the fans love," Aubrey explains. "So you're getting the best of all of our worlds, solo worlds and group worlds."
So will there be any new DK3 music? "You never know," Aubrey teases. "They'd have to come to the show, but there will be new performances on the show."
As for what they're most looking forward to now that they're touring together again, Shannon tells E! News, "Just being back on the stage with the girls, honestly. The chemistry is pretty incredible and you can't make that stuff up so just enjoying the fans and being back together as a family, fans included."
Aubrey, who has been caught in the middle of political headlines this year, also tells E! News that she's currently single and "learning how to be in love with myself for the next person that comes around."
As for those headlines, Aubrey shares, "Our new album is written in regards to, in reflection to two different loves I've had in the past that were pretty significant."
"They were significant to my heart and a lot of the experiences of them are going to be in the music," she continues. "Some of the experiences I was singing about in the Danity Kane music prior and didn't even know."
"One thing about all three of us as women is that we are probably more career-oriented than we ever were," Aubrey adds. "We have an entrepreneurial spirit we've literally taken every relationship we've had and put it into our music and into the writing and into the passion of the way that we tell our story in life and we do that through our music."
The Universe Is Undefeated Tour will kick off on Sept. 7! You can check out all of the tour details HERE.