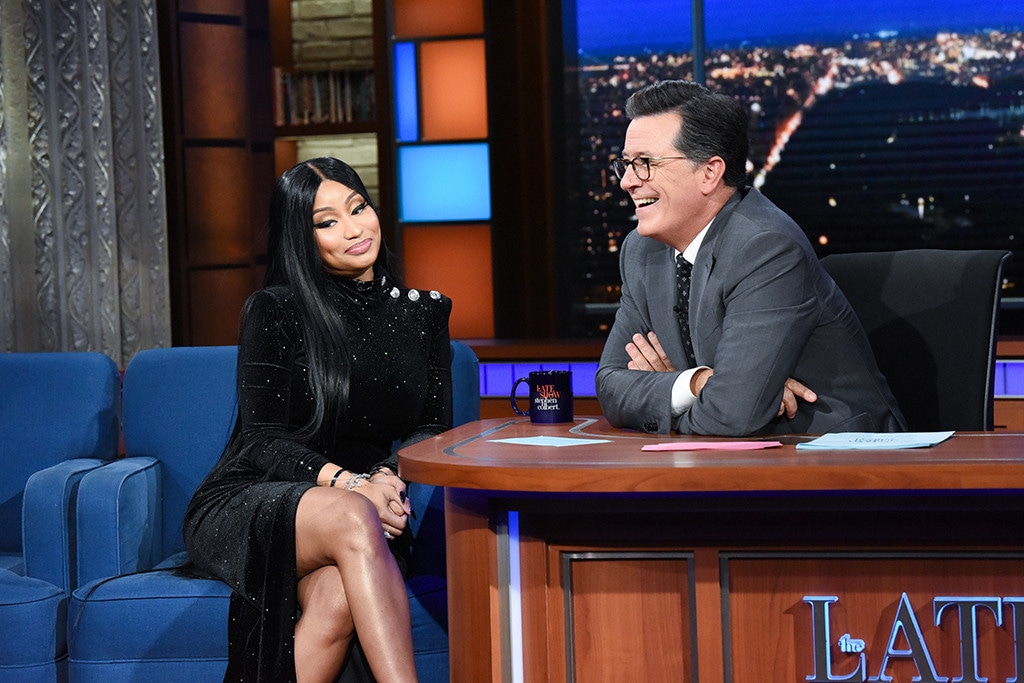 Scott Kowalchyk/CBS
Nicki Minaj has quite an effect on men.
The 35-year-old rapper appeared on CBS' The Late Show last night to promote her recently released album, Queen. Host Stephen Colbert complimented his guest on one of the tracks, "Barbie Dreams," which he noted has received "a lot of attention" for calling out 50 Cent, Drake, Eminem, DJ Khaled, Meek Mill and other famous men. "You, in no uncertain terms, describe the reasons why these men would not be able to, as the kids say, 'get with you.' But I noticed I'm not on the list of men. It's pretty comprehensive...I'm just curious: If I were to make the list, how might you inform me?" Colbert wondered. "What lines might you drop about me?"
As luck would have it, Minaj knew exactly how she would incorporate Colbert into the track. "I might f--k Stephen after the show / He gon' come back to work with a magical glow," she freestyled. Blushing, Colbert buried his face in his hands and asked, "Are we still broadcasting?"
"I wasn't done, Stephen!" the flirty rapper said, batting her eyelashes. "And then the ending says, "But when you see us please, f--king don't stare / Just me address as Queen Nicki Colbert."
"It's all downhill from here," Colbert said.
Her eyes widening, Minaj asked, "Are you married?"
As Colbert hid his wedding ring under the desk, he asked, "What?"
"Why, yes. Yes, I am," he said after a beat. "Yes, I am. I'm married."
Apparently disappointed, the rapper responded, "Shout out to her."
"Absolutely. Shout out to you, darling," Colbert said to camera. "It's all show business!"
The host's sexually charged conversation with Minaj left him at a loss for words. "Now is there, uh, is there a form...I don't know where to go from here, actually. I just don't know what to do," Colbert confessed. "I just don't want to pass this moment. I just want to linger here for so long."
Giggling, Minaj said, "I know. It's so good. It's such a good moment. It feels right."
After Colbert regained his composure, he asked Minaj whether she'd heard from any of the men she name-dropped in the song. "I did get a call from one person; I'm not going to say who. It wasn't Drake; it was someone else. Actually, two people on that list approached me about it. I'm not going to snitch on anyone! I'm not! I'm not telling you. Only one person so far got a little irritated, but then I explained to him how much I love him, and he understands now," the rapper revealed. "And then one person, he was just laughing. He was texting me, and it was kind of a mix between cursing me out and laughing at it. I just kept putting the crying face emoji so that it can, like, you know, make things not as bad...I figured that would, like, pacify him. And it did."