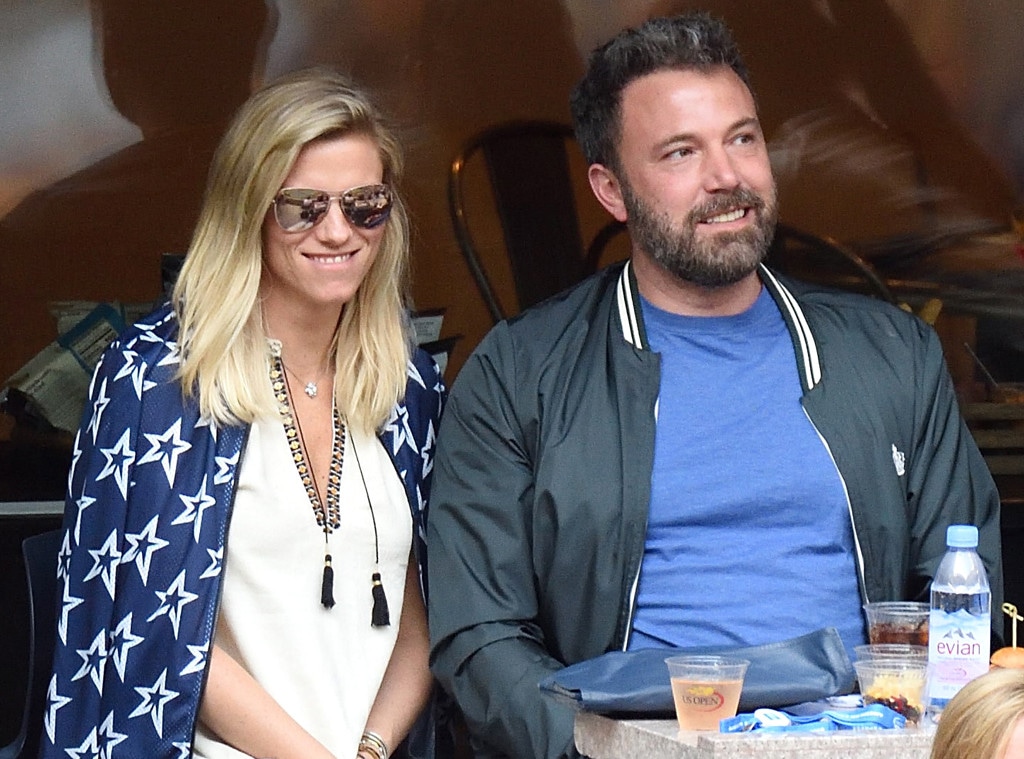 Ron Asadorian/Splash News
More than three years have passed since Ben Affleck and Jennifer Garner announced they were ending their marriage.
But for at least the first two of those, fans were holding out hope that the affable Batman v Superman star and the wholesome Alias alum would find their way back together. Each openly spoke about their ongoing affection, with Garner even labeling Affleck "the love of my life." They coparented their three children like champs and even took vacations together. So it was easy to craft a fan fiction of sorts that saw the former Daredevil costars reigniting their nearly decade-long union in the backyard of their ranch in Pacific Palisades, Calif.—perhaps meeting halfway between the family's main six-bedroom spread and the guest house Affleck had occupied for months. 
But right around this time last year, the couple delivered a one-two gut punch: First, they officially filed for divorce, then, months later, Affleck stepped out on the arm of Saturday Night Live producer Lindsay Shookus, signaling what seemed to be a death knell for the relationship. 
For Affleck it was more of a rebirth. The previous few years had been understandably rough for the Boston native, with one source saying he "felt very alone" with his newfound single status, and he hadn't fared much better in the first half of 2017, what with the March revelation he had checked into rehab in an effort to get a handle on his alcohol addiction. But shortly after completing treatment he reconnected with Shookus, the talent coordinator turned producer he'd first encountered during his second of five hosting stints on the venerable sketch comedy show, and felt that old spark. As a source told E! News at the time, "Having someone and a new relationship is exciting." 
More than a year in, it's still a thrill. He's managed to check off a series of milestones (see: meet the parents, test out cohabitation) with his new love, while still remaining on solid footing with his old. Yes, their divorce proceedings have become increasingly protracted, but at least one insider predicts they'll land on a resolution before year's end. In the meantime, says the insider, they're "getting along really well." 
Well, how do you like them apples? 
In the 38-year-old veteran producer, the two-time Oscar winner has found someone who makes him laugh and challenges him enough to go round-for-round in thought-provoking conversations. As he celebrates his 46th birthday today, "Ben doesn't really know what the future holds," admits the source, "but he's very happy with where things are." 
And how far they've come. The fledgling couple's first battle was one with public perception as reports emerged painting Shookus as Affleck's former mistress—one he felt free to reunite with once they took the official steps of filing for divorce. A source insists the reality was a lot simpler—they were longtime friends who connected after their respective marriages unraveled—but adjusting to the sudden media glare was a challenge for the former civilian.
At SNL since graduating college in 2002, the Williamsville, N.Y. native has spent her entire career around celebrities (Jon Hamm is a close pal and Kristen Wiig has bragged about their dancing skills during nights out), but becoming a bold faced name herself felt strange, she recently admitted to Elle.
"My entire career has been behind the camera, and that's definitely where I'm most comfortable. I'm a producer, I'm a mom, a friend," the University of North Carolina journalism grad explained—in a May piece titled "Who is Lindsay Shookus?" Accepting a world where she's considered a public figure "honestly makes me laugh." 
But while having to ensure she was paparazzi camera ready before meeting her boyfriend for a dinner date was strange, she could roll with it. As she put it to Elle, "Someone thinks about you for one minute and then says, 'What do I want for lunch?'"
The duo found their footing in the public consciousness, enjoying bi-costal date nights, vacationing together in Maine and even making an appearance at the Emmys, with Affleck holding Shookus' purse so she could help accept SNL's trophy for Outstanding Variety Sketch Series. But the Justice League star faced other challenges. That July he dropped out of Netflix series Triple Frontier to give himself more time to focus on wellness and he continued to seek outpatient treatment with an insider telling E! News he was in "a place right now where he is very committed and wants to see this through."
He had quite the team cheering him on. Shookus, naturally, was in his corner, but so was his estranged wife. Not one to root for an ex to fail, Garner has been a model of support, sources reveal. As one insider told E! News, "She wants to see him healthy and at his best. She knows that's what's best for the kids and the family."
In fact, another source says one of the reasons for the prolonged nature of the split is that Garner was affording Affleck the chance to focus on his health before they got down to the business of sorting out custody of kids Violet, 12, Seraphina, 9, and Samuel, 6. The trio adore their father, says a source (he attributes some of that to his association with Wonder Woman herself, Gal Gadot), so Garner remains a fan as well. "You should see their faces when he walks through the door," she told Vanity Fair by way of explanation. "And if you see your kids love someone so purely and wholly, then you're going to be friends with that person." 
Affleck meets her halfway, even abiding by her request that Shookus not yet be a major part of the kids' lives. Though she spent time with Affleck over Thanksgiving weekend and in late December, she didn't join the family for their turkey dinner in L.A. or the Christmas getaway in Montana. 
She did, however, receive a different type of invite from Affleck. With SNL on hiatus for the summer, the New Yorker agreed to spend the season on the West Coast with Affleck in his newly purchased $19 million pad, just down the road from Garner and the kids. Fresh off an April vacation in Hawaii (where Affleck was shooting the on-again Triple Frontier, reworked as crime flick), she flew out to L.A. to join him. "He has asked her to help with a lot of the decor and decisions and she has gladly put in her two cents," a source revealed to E! News at the time, adding she was thrilled to have so much together time with him after months of long-distance dating. 
While they respected Garner's request to not involve the kids, she wasn't shy about introducing her 5-year-old daughter Madeline into the mix. (Much like Garner and Affleck, she and ex-husband Kevin Miller, who met on their first day of work at SNL, are friendly with Shookus even throwing the Late Night With Seth Meyers supervising producer a 40th birthday party.) The kindergartner "has spent a lot of time with Ben and gotten to know him," an insider told E! News. "Lindsay wants Ben to be a part of her everyday life."
In addition to hanging with Madeline (the source says she's "really gotten to know Ben") and spending time at her New York apartment (the duo's shared East Coast home base), that meant inviting her mom Christine and dad Robert out for a California getaway.
Affleck easily won the New Yorkers over, says the source, "Her parents are crazy about Ben and think he is so smart and charming. They are totally captivated by him."
Must run in the family. "Lindsay is crazy about him," says the insider. "She is very happy about where things are going." 
And after an indescribably tough few years, Affleck is pretty happy with his lot as well. Shookus is successful (The Hollywood Reporter named her one of its up-and-coming execs in 2015 and she's twice appeared on Billboard's Women in Music list), established and the kind of person friends describe as "down-to-earth" and inherently kind. 
"Lindsay is the girl next door," details one pal. "She's completely unpretentious. She is fiercely loyal to her friends. She's a rock to them and her family. She's the friend that is there during good and hard times and she's the first person to show up next to your side."
Which sounds exactly like the type of person Affleck needs in his life. No surprise, then, that an insider reports he's "really happy" in his growing relationship. "He thinks she is very witty and charming and loves her company."
Should he be interested in enjoying more of it, Shookus is ready. As one insider reveals, "Lindsay is crazy in love. She would marry Ben in a heartbeat."