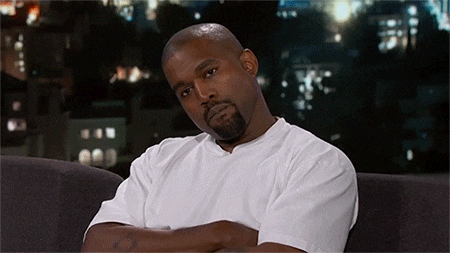 ABC
Kanye West wants to clarify why he totally paused during last week's Jimmy Kimmel Live! interview after being asked a question about his support of President Donald Trump.
Host Jimmy Kimmel, who has often criticized the Republican and U.S. leader on his show, cited the separations of migrant families at the border with Mexico, saying, "There are literally families being torn apart as a result of what this President is doing, and I think that cannot forget that, whether we like his personality or not, his actions are really what matter. I mean, you so famously and so powerfully said, 'George [W.] Bush doesn't care about black people.' It makes me wonder what makes you think that Donald Trump does, or any people at all."
Kanye was seen pausing for a few seconds, after which Kimmel called for a commercial break.
"On Jimmy Kimmel we had a great time having a dialogue. I'm reading that I was stumped by a question. Let me clarify the click bait," the rapper tweeted on Saturday. "I wasn't stumped. I wasn't given a chance to answer the question."
Kimmel responded, "Not every question warrants an immediate answer. Some answers need to be considered and a talk show with time constraints is a difficult place to do that. I know how much Kanye cares and I am so impressed by what he is doing quietly and without fanfare to help those who need it."
"The question was so important I took time to think," Kanye continued. "And then I was hit with the let's go to commercial break. That interview showed strong personalities with different opinions having a civil conversation."
He also said, "I was so happy when I saw Jimmy walk out in the Yeezys. That was an olive branch. He lead with love. I appreciate Jimmy and his team. You guys are Jedi's. much love."
In 2013, Kimmel sparked a short feud with Kanye by airing a spoof of an interview he had given to BBC Radio One, during which he had called himself "the No. 1 rock star on the planet." The rapper responded with a series of tweets, with one containing two hashtags that would later spur parodies of their own: "SHOULD I DO A SPOOF ABOUT YOUR FACE OR YOU F--KING BEN AFFLECK…#NODISRESPECTTOBENAFFLECK #ALLDISRESPECTTOJIMMYKIMMEL!!!!" Kanye soon appeared on Jimmy Kimmel Live! to make peace.
Kanye's appearance on the show last week was his first since then. During that interview, Kanye talked about his support of Trump.
"Everyone around me tried to pick my candidate for me," he said. "And then told me every time I said I liked Trump that I couldn't say it out loud or my career would be over, I'd get kicked out of the black community...So, even when I said it right before I went to the hospital and I expressed myself... When I came out I had lost my confidence. So I didn't have the confidence to take on the world and the possible backlash. And it took me a year and a half to have the confidence to stand up and put on the hat. No matter what the consequences were."
Kanye and Trump have met in person in the past and have often said positive things about each other publicly. The President praised the rapper again on Friday after his Jimmy Kimmel Live! interview, tweeting, "Thank you to Kanye West and the fact that he is willing to tell the TRUTH. One new and great FACT - African American unemployment is the lowest ever recorded in the history of our Country. So honored by this. Thank you Kanye for your support. It is making a big difference!"