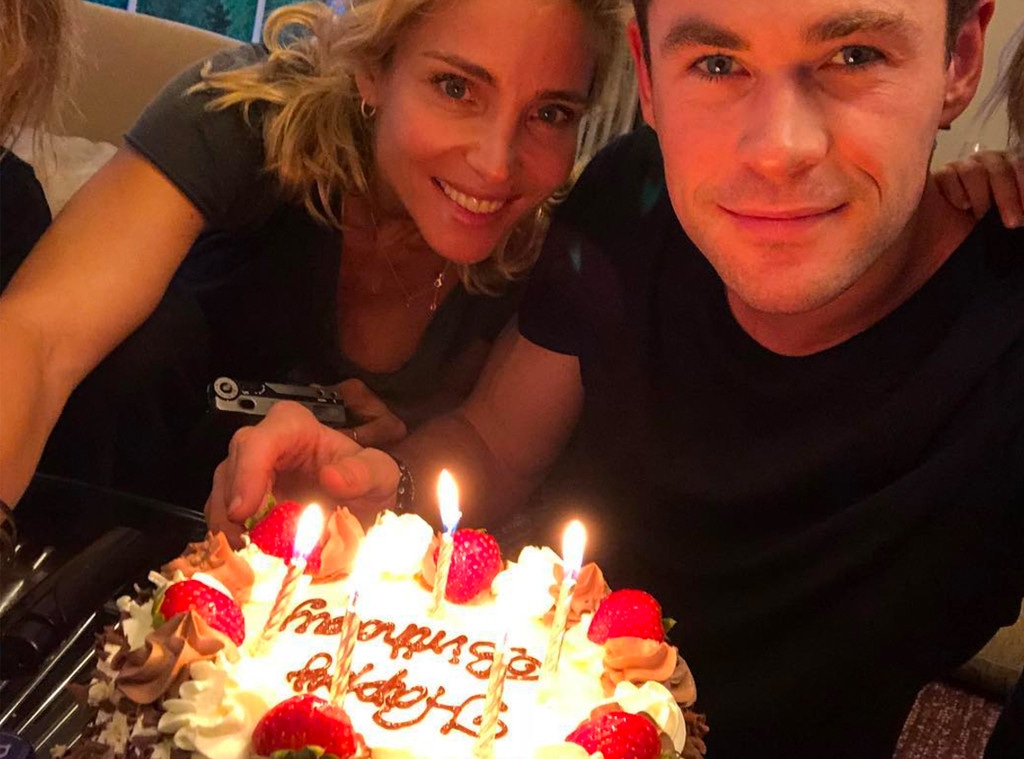 Instagram
Hollywood's biggest superheroes joined forces on Saturday to wish Chris Hemsworth a happy 35th birthday.
Chris Pratt was just one of the action stars to send a special birthday message. "Happy birthday buddy!!!!" the Guardians of the Galaxy star wrote underneath a photo of Hemsworth and his wife, Elsa Pataky.
The tributes even stretched beyond the Marvel Universe. Wonder Woman's Gal Gadot wrote "happy happy birthday" and Justice League's Henry Cavill commented "happy birthday mate!" Even a villain couldn't resist the goodwill. Josh Brolin, who played Thanos in Avengers: Infinity War, wrote "happy 12th birthday, babyface" in the comments section and sang Hemsworth a birthday tune in a separate post. The Thor star clearly appreciated the gesture and wrote "glorious just glorious."
However, Hemsworth didn't just receive messages from his fellow action stars. He also received birthday posts from Dwayne Johnson, Jessica Chastain and Liam Hemsworth.
"Happy birthday @chrishemsworth," the younger brother wrote. "I remember the first time I ever threw a knife at your head, there was this look of pure fear in your eyes. You've come a long way from that scared little kid...proud of you. You're my hero. Love u heaps and heaps."
The Snow White and the Huntsman star celebrated his big day with his family. However, one of his children pulled a prank on their dear old dad. Hemsworth shared the story alongside a photo of him holding a birthday cake with Pataky.
"Immediately after this shot was taken my son viciously attacked me from behind (due to his ninja training) and slammed my face into the flaming candles , I'll now be playing Deadpool if @vancityreynolds pulls the pin," he wrote, taking a playful jab at Ryan Reynolds. However, he didn't let this ruin his day and included the hashtag #BestBirthdayEver.
Hemsworth has twin sons, Sasha and Tristan, so it was unclear which little one did the deed. He also has a daughter named India Rose.
Here's to many more happy years!