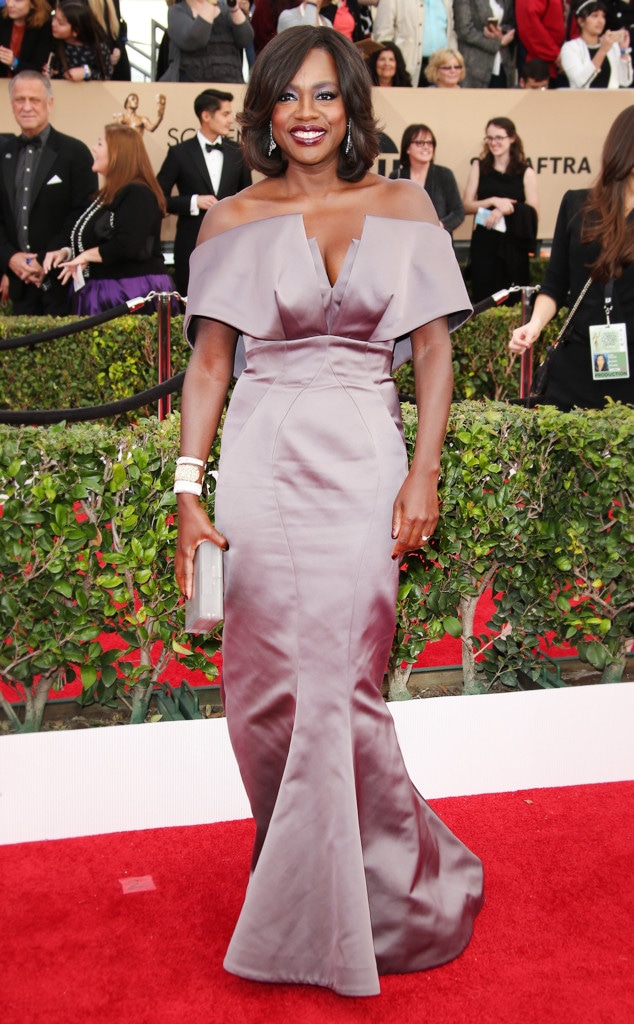 Dan MacMedan/WireImage
To say Viola Davis has come a long way may just be the biggest understatement of the summer.
Born in South Carolina, Viola and her family found themselves living in rat-infested apartments and struggling to make ends meet.
And instead of being a normal kid, the actress had to worry about where her next meal would come from more than anything else. She would even eat from dumpsters, or go days without food.
"I was always so hungry and ashamed, I couldn't tap into my potential," she recalled to Glamour. "I couldn't get at the business of being me."
But as the award-winning actress celebrates her 53nd birthday today, Viola proves that with hard work and determination, dreams can come true. And yes, any obstacle can be overcome.
During her childhood, Viola found a needed outlet through performing, a passion she discovered thanks to local youth programs in Central Falls, Rhode Island. She went on to study acting at Rhode Island College, and then moved on to the drama division at the famed Juilliard School.
For Viola, success in the acting world didn't come right away. She didn't get her big break for years after graduating from Juilliard in 1993.
Her first credited role was as a nurse who passed a vial of blood to a doctor in The Substance of Fire, for which she got her SAG card.
A major success for Viola was when she landed the role of Tonya in the Broadway production King Hedley II in 2001. Her performance was widely acclaimed, and she picked up the Tony Award for Best Featured Actress in a play.
Even after her big award win, Viola still struggled to find parts as an African American woman in Hollywood, and says she had to accept supporting roles as "third girl from the left."
Her true breakout role didn't come until 2008, with her performance in Doubt, an adaptation of the 2004 play. In the film, she played the mother of an African-American boy being molested by the priest at a parish school. Although she only had one scene in the film, it left quite the impression on audiences and critics alike, earning her first Oscar nod.
Perhaps more importantly than just getting a nomination, the role opened more opportunities for Viola to prove that she is more than a background character.
When discussing her first roles as supporting characters, Viola emphasized to CNN, "I'm not longer doing that. I'm not hustling for my worth. I'm worthy."
Knowing her worth had been a long time struggle for the actress. But when she finally had the realization that she was worthy, her whole life changed.
"One day my therapist asked me a pivotal question: 'What if nothing changes—your looks, your weight, your success—would you be okay?' For the first time, I thought, 'You know what? Yes, I would. I really would,'' she explained to Brené Brown.
Finding love with husband Julius Tennon, who she wed in 2003, also helped the actress live up to her potential.
Viola explained, "I also got married to an amazing man who really saw me. He was my gift for working so hard on myself. He was kind and I was finally vulnerable and open to that."
Kevin Winter/Getty Images
She fully embraced her strength with perhaps her most iconic role to date, as lawyer Annalise Keating in How to Get Away with Murder, a show produced by Shonda Rhimes. Playing a powerful African-American woman on primetime television was revolutionary.
For her performance, Viola became the first black woman to win an Emmy for Best Actress in a Drama Series in 2015.
During her historic acceptance speech, the winner powerfully stated, "The only thing that separates women of color from anyone else is opportunity. You cannot win an Emmy for roles that are simply not there."
Viola has been an advocate both in and out of Hollywood. She often speaks about the importance of equal pay in the entertainment industry, not just between men and women, but between Caucasian actors and people of color.
Viola estimated that actresses of color get paid "probably a tenth of what a Caucasian woman gets," which, she also pointed out, "is half of what a man is getting paid."
Even after she found mainstream success, she still says, "I have to constantly get on that phone" to "hustle for my worth."
Another issue close to her heart is childhood poverty. It's not enough for her to overcome poverty herself—she is now committed to changing the situation for Americans in a similar position.
"This is the richest country in the world. There's no reason kids should be going to school hungry. Food is something that everyone should have. It just is," she told Glamour matter-of-factly.
Jonathan Leibson/Getty Images for Paramount Pictures
Viola has stepped up as an ambassador for Hunger Is, a charitable program that aims to provide breakfast in school to all children.
Her passion for helping children led her to becoming a mother herself. She adopted an infant daughter, Genesis, in 2011. Parenthood has proven to be a welcome challenge for Viola, whose biggest priority is making sure her daughter realizes her worth.
"I tell my daughter every morning, 'Now, what are the two most important parts of you?' And she says, 'My head and my heart.' Because that's what I've learned in the foxhole: What gets you through life is strength of character and strength of spirit and love," the mom explained.
Finding comfort within herself has been a long time coming for Viola, and thankfully, she has finally found her peace both professionally and personally.
Perhaps she summed it up best in her powerful speech at the 2016 Critics' Choice Awards, saying, "I truly believe that the privilege of a lifetime is being who you are."