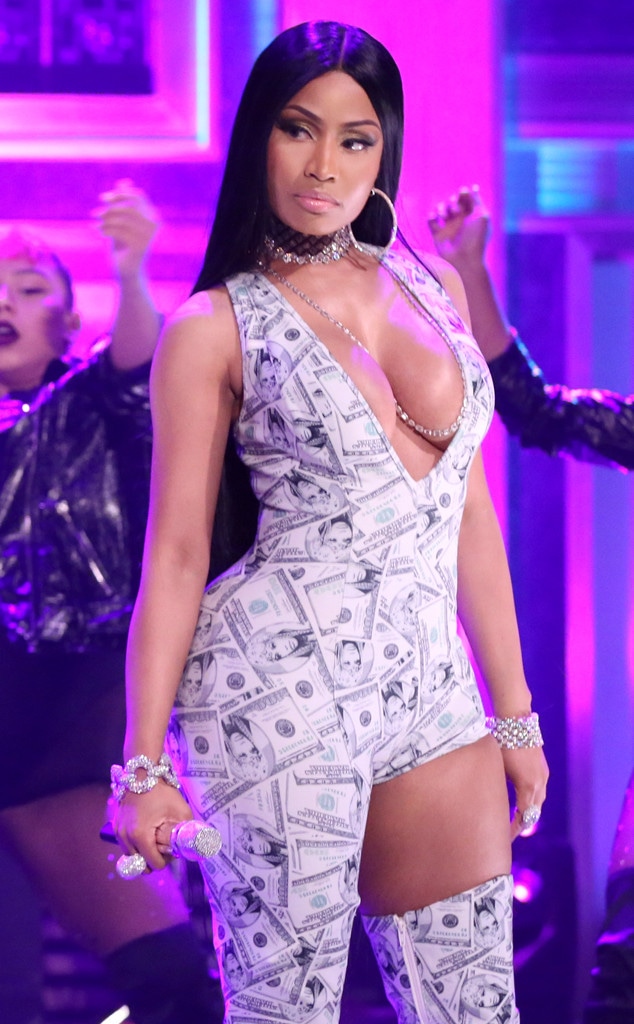 Andrew Lipovsky/NBC
Did you hear that? With the surprise release of Nicki Minaj's fourth studio album, Queen, that's what we call shots fired.
The undisputed current queen of rap has had the internet buzzing since the new tracks made their way to streaming services on Friday, Aug. 10, thanks, in part, to standout track "Barbie Dreams," which sees Minaj call out a laundry list of men in the rap game in ways that truly must be heard to be believed. And while her many hilariously pointed jabs at the likes of Drake, DJ Khaled, 50 Cent, and more have been explained away as some "funny s--t," as Minaj explained on her Beats 1 radio show—"I love them. I said things about people who I know can take a joke and won't be emotional about it."—there's an extra layer to the track that just might point to an extension of one of her career's most enduring feuds.
For those Minaj fans who maybe might not have the strongest grasp on the history of hip-hop, there's a reason why the rapper starts the track off with the shout out, "RIP to B.I.G. Classic s--t." That's because the beat and concept for the track are lifted from The Notorious B.I.G.'s 1994 track "Just Playing (Dreams)." In that track, found on the late rapper's album Ready to Die—his only release before his murder in 1997—Biggie rattles off a list of all the women in R&B whom he'd like to have sex with. It's a funny song—albeit slightly misogynistic by today's standards—and it's not hard to see why Minaj would want to put her own very audacious spin on it, flipping the script on all the rap dudes who've apparently tried to bed her.
"This is culture, this is BIGGIE!!!!! New York!!!! This is FUN," Minaj tweeted after the album dropped and the song became one of the day's longest-lasting trending topics on Twitter. "Light hearted fun FUN."
It also let's Minaj take one more jab at one of her oldest foes: Lil' Kim.
You see, not only was Kim discovered by Biggie back around the time he released "Just Playing (Dreams)," but she also was the first female rapper to put their own spin on the track. On her debut album Hard Core, released in 1996, Kim rapped over that familiar beat about all the R&B dudes she wanted a little action from on a track called—you guessed it—"Dreams." (For the record, one of Minaj's early targets in "Barbie Dreams," 50 Cent, released a very dark spin on the track of his own with the 1999 song "How to Rob," where he raps about wanting to, you know, rob everyone in hip-hop, including Kim.) And if you've listened to "Barbie Dreams" yet, you know that Minaj does not take the opportunity to nod to Kim's history with the track at all.
It's a curious choice on Minaj's part. While it seems only natural for the Queens-raised rapper to want to pay tribute to one the Big Apple's most revered rappers, it comes along with some hefty baggage considering Kim has been complaining that Minaj's has jacked her sound and style from the start. Dating as far back as the 2007 release of Minaj promo photos that bore more than a little resemblance to an infamous album cover of Kim's (think bikini-clad squat), the two have been embroiled in a war over how much of Minaj's career was an homage versus a rip-off and whether Minaj showed Kim the deference she believed she was owed. You know, the age old story of two successful females being pitted against one another as if there's only room for one of them in the game. (Spoiler alert: There's always been room for both, and then some.)
For her part, it seems as though Kim has begun to realize how petty this feud had really been. Just a day prior to Queen's release, during an interview with Real 92.3, Kim turned the tables on the interviewer when asked about Minaj, questioning the motive behind the prompt clearly designed for her to throw shade and go viral. "Why isn't this about Kim? If we gon' mention one female [rapper] we need to mention them all," she said. "We need to bring everybody [into the conversation], and we need to give everybody love."
"God bless her, I wish her the best. I'm past that I'm over it," Kim added, before admitting that she didn't care that Minaj named her album Queen despite some still considering Kim to be the rightful queen of rap. "I was named that, I never named myself that. It's a difference."
As Kim argued, by constantly being asked about Minaj, "That automatically puts females against each other. Let each female shine."
It's a noble sentiment from Kim, one that shows a refreshing change of pace after years of bitter back-and-forth between the equally talented emcees. But will she still be singing the same tune once she gets a listen to "Barbie Dreams"? That remains to be seen.