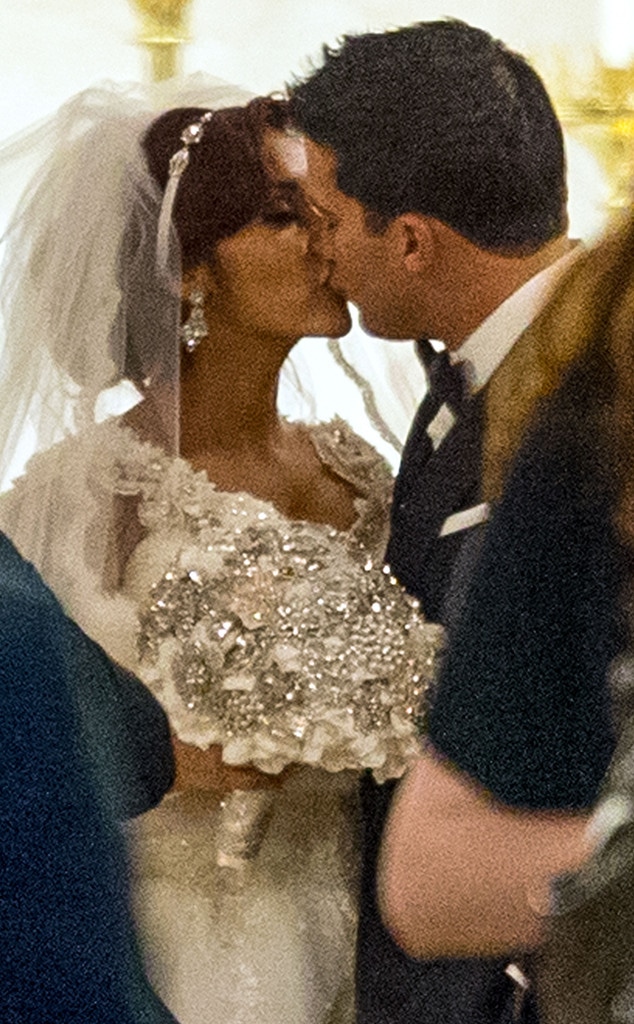 Splash News
There was no shortage of fist pumping at Nicole "Snooki" Polizzi's wedding—and now we have the video to prove it!
Nearly four years after her nuptials, the Jersey Shore star finally shared her wedding video with fans...and it's exactly as over the top as you would expect from the standout star. 
Back in November 2014, the mother of two finally got her wish of marrying an Italian guy with a last name ending in a vowel when she wed longtime love Jionni LaValle with a party fit for New Jersey royalty. As shown in the heartwarming video of their special day, the couple became husband and wife in a traditional church ceremony, where they exchanged vows before dozens of family and friends before making their way to The Venetian in northern New Jersey for a lavish, '20s-themed celebration with hundreds of guests. 
The day began with the bride and groom surrounded by their bridesmaids and groomsmen as they gussied up for the milestone event. The footage even included adorable moments between the soon to be Mr. and Mrs. and their son, Lorenzo, and daughter, Giovanna. 
While getting ready, the two separately read cards and opened presents from each other. Snooki sweetly gifted her man an engraved cigar cutter. "You can have your victory cigar tonight, husband," she wrote to Jionni. 
Her outspoken personality took center stage during the mass when, in total Snooki fashion, she told Jionni to look at her while they were exchanging their vows and went in for a second kiss after they said "I do."
Once they were officially husband and wife, the couple danced the night away with help from a DJ, live band and singers. Along with cocktail hour and speeches, guests could partake in a photo booth or watch a painter capture the night on canvas.  
Not to fret, MTV fans! Several of Snooki's fellow Jersey Shore pals were included in the wedding, like Jenni "JWoww" Farley and Samantha "Sammi Sweetheart" Giancola, who were bridesmaids, as well as Deena Cortese, Ronnie Magro-Ortiz and DJ Pauly D. Of course, the group was captured toasting with shots during the party. 
The guys even sent the bride a gift ahead of the main event. "Dear Snooks, Congrats—we are so happy for you and Jionni. We couldn't be more proud, but if he ever does you wrong, we got you. Love ya, Pauly and Ronnie," she read out loud. "I love them!"
And we loved this video! Watch it for yourself above.