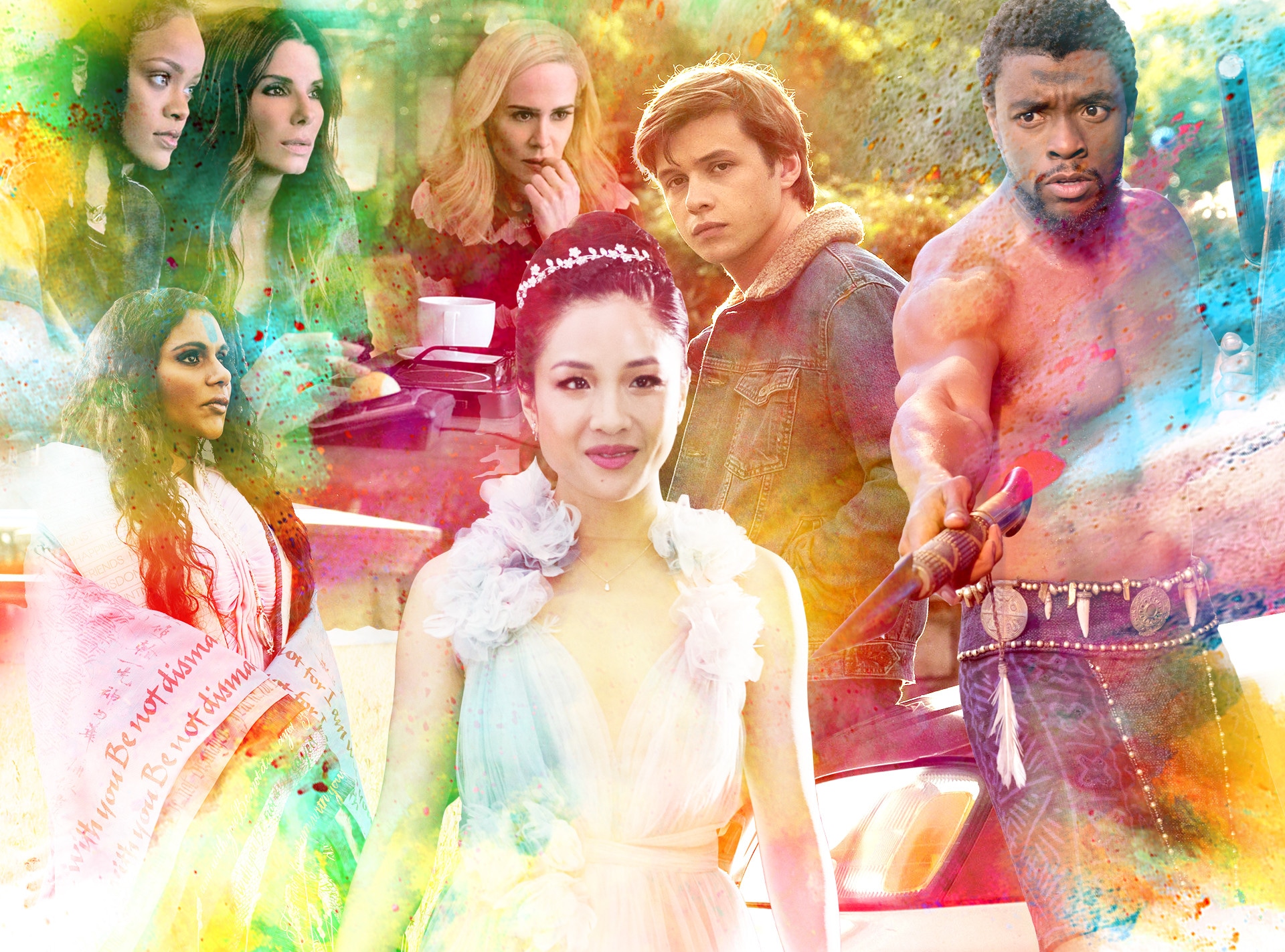 Melissa Herwitt/E! Illustration
"This is more than a movie, it's a movement."
That's how director Jon M. Chu has taken to describing his upcoming film Crazy Rich Asians. And while it's a lot to ask of any one film, even one that's certainly a watershed moment in terms of Asian representation at the movie theater, it's a sentiment that's become, perhaps, the defining story of Hollywood in 2018.
Beginning with Black Panther's game-changing blockbuster release at the top of the year, 2018 is proving to be a transformative year for an industry that's generally loathe to change. And with the drumbeat for greater representation of traditionally marginalized communities in cinema only growing louder thanks to the year's undeniable successes, it certainly feels as if there's no going back now. It's about damn time.
Before Marvel took audiences into Wakanda, and subsequently took their breath away, back in February, there was much handwringing over whether their big gamble on bringing Black Panther and its unprecedented-for-a-comic-book-movie cast to the big screen would pay off for the powerhouse studio. But beyond Marvel's reputation, the film came to represent a make-or-break moment for a community who'd long been told by Hollywood that their stories weren't quite universal enough to warrant a place in the modern-day blockbuster machine. If the world saw Chadwick Boseman's T'Challa roar into theaters and simply shrugged at his arrival, it would've been used by studio heads as rationale for keeping their tentpole films lily-white for years to come.
Luckily, the minute tickets became available for pre-sale, all those doubts and fears were immediately proven unfounded. 
Within 24 hours, the film had the highest number of ticket pre-sales ever for a Marvel film on Fandango. In its first weekend in theaters, it would take in $242 million domestically and rank as the highest grossing President's Day Weekend opening of all time. Worldwide, Black Panther ultimately grossed $1.346 billion, becoming the highest-grossing solo superhero film ever and the ninth highest-grossing film of all time, easily giving director Ryan Coogler the highest-grossing film by a black director in the process. And its nine total People's Choice Awards nominations, including one in the highly coveted Movie of 2018 category, ain't too shabby, either.
(While a sequel has yet to be formally ordered—likely due to the twist ending involving T'Challa at the end of Avengers: Infinity War—Marvel Studios president Kevin Feige has admitted that there are plans for a second in the works. So, blame the delay on Thanos and not audience demand.)
"At the end of the day, what this represents for the future generation, for these kids that are going to be watching this, for people all over the world to start this dialogue and conversation, that's what I'm more excited about," Michael B. Jordan, who dazzled as the film's villain, Erik Killmonger, and earned two People's Choice Awards nominations, told E! News earlier this year. "Seeing how many more of these Black Panthers we'll see…I'm more curious seeing the effects of this movie in the industry and how that's going to change minorities in film and television."
Hollywood's next test case for representation came almost immediately after Black Panther's release with the arrival of Ava DuVernay's adaptation of Madeleine L'Engle's A Wrinkle in Time. With an estimated production budget of over $100 million, making the celebrated director the first woman of color to helm such a tentpole film for a major studio, and a remarkably diverse cast of empowered females (newcomer Storm Reid, Reese Witherspoon, Mindy Kaling, and Oprah freaking Winfrey), there was a lot of pressure placed on the film.
For DuVernay, the film represented the opportunity to "explore some real black girl magic onscreen," as she told Vulture last year in a joint interview with Coogler, and "challenge the idea of who gets to be the hero."
"To be able to make a film where a little black girl gets to fly, when I always wanted to do that," she told E! News. "...All kinds of people deserve to see themselves in these films, and that's what we're trying to do."
Though the box office returns, $132 million worldwide against a total production and promotional budget estimated around $250 million, were ultimately considered a disappointment for Disney, the film opened in the No. 2 spot just behind Black Panther, giving the industry its first weekend with films directed by African-American filmmakers in the top two spots probably ever. With DuVernay becoming the first African-American female director with a film earning more than $100 million domestically, it's a bit hard to stomach A Wrinkle in Time being labeled a disappointment. And the reasons it didn't soar quite as high as Disney had hoped are likely more a mixture of poor reviews and the diminishing box office returns for kid-oriented movies overall rather than its commendably diverse storytelling. And for the little girls getting to see themselves in Reid's Meg, without a doubt a first in their young lives, those box office numbers hardly matter at all. (The film is nominated for six People's Choice Awards, including Movie of 2018 and Family Movie of 2018.)
Ben Rothstein/20th Century Fox
Hollywood's spring of representation marched along when, just a few weeks later, Love, Simon hit theaters. The Greg Berlanti-directed teen rom-com, an adaptation of Becky Albertalli's novel Simon vs. The Homo Sapiens Agenda, had the distinction of being the first film from a major studio (20th Century Fox, to be exact) to tell the story of a gay teenage romance. Starring Nick Robinson as the titular Simon, a closeted high school student juggling family and friends as he comes to terms with his sexuality, the film was heralded for the way it tenderly made a coming-out story feel groundbreakingly familiar. 
For Berlanti, who also helped usher in an LGBT first on TV 18 years ago when he fought for Dawson's Creek to include the first romantic gay kiss in primetime, his position of power in Hollywood left him with a "responsibility," as he told MTV, "to say, 'What can I do to put something there that wasn't there before?'"
"I wish that there weren't many firsts left, but there still are, and representation in movies is where representation in TV was when we were making those shows and doing some of those firsts, but that was 18 years ago," he continued. "Major studio films have to catch up."
Thanks to Love, Simon, they just might. Working off a budget estimated to be somewhere between $10 and $17 million, the film went on to gross $66 million worldwide, making it a respectable success story. And in perhaps an even bigger indicator of its cultural success, the film took home Best Kiss at this year's MTV Movie & TV Awards for its swoon-worthy smooch between Simon and love interest Bram (played by Keiynan Lonsdale). The film is also nominated for three People's Choice Awards, including one for Comedy Movie of 2018.
As spring turned to summer, all eyes were on Warner Bros.' all-female Ocean's 8, the buzzed-about continuation of the wildly popular Ocean's franchise with Sandra Bullock taking center stage as Debbie Ocean, sister to George Clooney's Danny. Flanked by an all-star ensemble consisting of Cate Blanchett, Anne Hathaway, Mindy Kaling, Sarah Paulson, Helena Bonham Carter, Rihanna, and Awkwafina, the conversation surrounding the film leading up to its June 8 release was what its success (or failure) would mean for the idea of a female-fronted franchise.
With the sting of the female-fronted Ghostbusters landing with a thud just two years earlier—thanks in part to some truly heinous trolling from crybaby men and the fact that the Paul Feig-directed comedy was, in the end, simply good and not all-caps great—still lingering, what proved to be an exceptionally slick and fun heist film suddenly had a lot of weight on its shoulders.
"I hope that we don't have to have these conversations anymore," Blanchett remarked to Refinery 29, when asked about the film's role in this #MeToo era.  "I am really done with talking about how amazing it is that we've got an all-female cast. Because in the end, it's a heist movie, and you don't want this sort of political climate on a human issue to eclipse the fact that this is just a fun film. The timing is actually completely coincidental. Fantastic, wonderful, but completely coincidental."
Despite the film's lukewarm reception from critics, it opened to $41.6 million in its first weekend—higher than all three "all-male" Ocean's films to come before it, without adjusting for inflation—and as of press time, has grossed $275.5 million worldwide against a production budget of around $70 million. Has it put the final nail in the coffin on the relentless debate over whether female-fronted films "work"? No, probably not. But it should. (Taking home any of its four People's Choice Nominations at this year's ceremony probably wouldn't hurt.)
Sanja Bucko/Warner Bros. Entertainment Inc.
That, of course, brings us to Crazy Rich Asians. Making its way to theaters on Wednesday, Aug. 15, the Warner Bros. adaptation of author Kevin Kwan's hit novel of the same name, the film holds the distinction of being the first Asian-American-focused studio film in 25 years. And the fact that the film is a contemporary love story full of all the glitz and glamour of the blockbuster rom-coms to have come before it makes it all the more significant—and important.
"We can sugarcoat it all we want, but the moment you bring up an Asian-led movie, there's one example to point to, and that'll be us," Chu told The Hollywood Reporter. "To be on the biggest stage with the biggest stakes, that's what we asked for." He's not kidding. Before ultimately going with Warner Bros., Chu and Kwan turned down a massive payday and guaranteed trilogy from Netflix to ensure that the film played on the big screen and had box office receipts to back-up its performance.
"Jon and I both felt this sense of purpose," Kwan told THR. "We needed this to be an old-fashioned cinematic experience, not for fans to sit in front of a TV and just press a button."
Chu added: "We were gifted this position to make a decision no one else can make, which is turning down the big payday for rolling the dice [on the box office] — but being invited to the big party, which is people paying money to go see us."
For Fresh Off the Boat star Constance Wu, who plays the film's leading lady, Rachel, the film is important because it's been "far too long" for it to even happen in the first place.
"And because I know that the only thing that's separating Asian-Americans or Asian-British, anyone who is not the dominant culture who is otherized, is opportunity," she told E! News. "And sometimes you don't get opportunity unless you see possibility. So we are putting possibility on the screens out there to show everybody that Asian-American stories are worthy of their own stage, and hopefully we'll hear very many that are different than ours, you know?"
With Asian-Americans making up only six percent of the American population, the film's domestic success will rely upon it having a broad appeal. But if this year's groundbreaking films have taught us anything, it's that when you commit to an honest portrayal of an historically ignored walk-of-life, when you finally shine a light on a marginalized community in a way that celebrates them, the audience will be there. More often than not, with tears in their eyes. (The film has grossed over $162 million worldwide to date and earned three People's Choice Award nominations, including one for Comedy Movie of 2018.)
"It's been 25 years," Awkwafina, who also stars in the film, told Daily Pop's Carissa Culiner and Morgan Stewart during a recent appearance. "That's a full-grown adult, if you think about it, that's been walking around without representation, so it matters. Representation matters."
Let that be the lesson of 2018 that Hollywood simply can't afford to forget.
(This story was originally published on August 10, 2018 at 3:00 a.m. PST.)