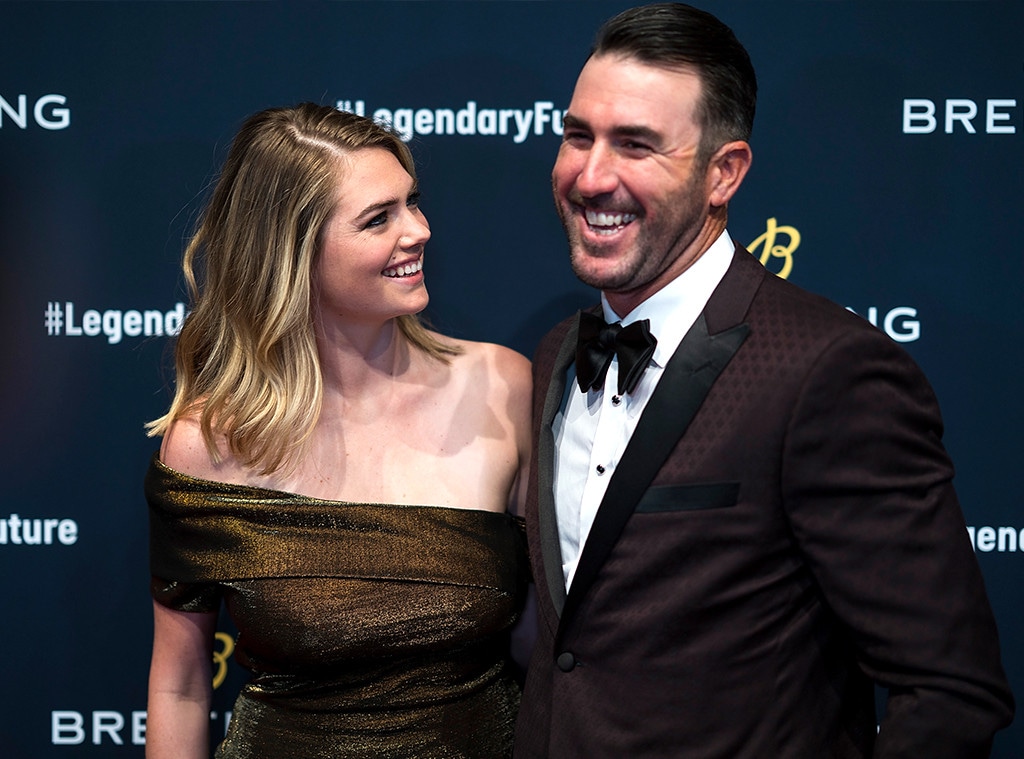 Michael Stewart/WireImage
Houston Astros pitcher Justin Verlander got candid about how his wife Kate Upton helped him through some of his hardest moments.
In an interview with Bleacher Report (B/R) Mag, Verlander explained his struggles and rise back to prominence all with the help of Upton by his side. "Who knows if I'm even here if it wasn't for her?" the World Series-winning pitcher told B/R.
Verlander and Upton met in 2012, about a year before he suffered from a severe injury. The Astros pitcher wounded his groin, which also revealed another injury in his abdominal muscles. While he recovered from surgery in Philadelphia, the Sports Illustrated Swimsuit model visited him and kept him company by playing hours and hours worth of board games, namely Yahtzee. 
In 2014, when Verlander pitched for the Detroit Tigers, personal and physical struggles continued. "Just a hot f--king mess," he called the season. Verlander dealt with continuous pain in his shoulder and arm, which quickly led to a decline in his performance. Both he and Upton were trolled on social media, and Verlander was even booed by his own home team fans. 
There was one moment in particular when the pitcher felt extremely down. Verlander's coach pulled him from a game against the Pittsburgh Pirates after one inning and insisted he get an MRI. Verlander cried thinking that his career could be over, especially if he needed surgery. "I really thought that was the end," he said.
This is where the model really stepped in and helped her boyfriend at the time get through it all. "She was instrumental in me not…like, jumping off a bridge," he admitted. 
Verlander admitted he was "depressed" and Upton empathized with his emotional state. He said he was, "just upset at the world and trying to hide my own s--t."
For the pitcher, opening up about his injuries and pain was also emotional. "I don't like to talk to people about being hurt. As athletes, you're not supposed to. It's an excuse. … But she was someone I could talk to," he told B/R. In fact, Upton served as "basically a therapist."
Other than listening to Verlander's worries and "overall s--ttiness of it all," the model related to also being in a career field with a tight window for active years. She took him to see a physical therapist who, alongside Upton, helped Verlander understand his body as a whole, rather than just his pitching arm.
In 2015, a year after his MRI (which revealed "basically every type of tendinitis, tendinosis" but no major structural damage), Verlander's game began improving again.
Verlander joined the Houston Astros in 2017, but much of his accepting the trade revolved around Upton. "If she had been anything less than enthusiastic, I probably wouldn't have done it," he said.
2017 ended up being a pretty significant year for the couple, because they got married immediately after the Astros beat out the Los Angeles Dodgers in game 7 of the World Series. 
Their future looks even brighter together because now the couple is expecting their first child together.