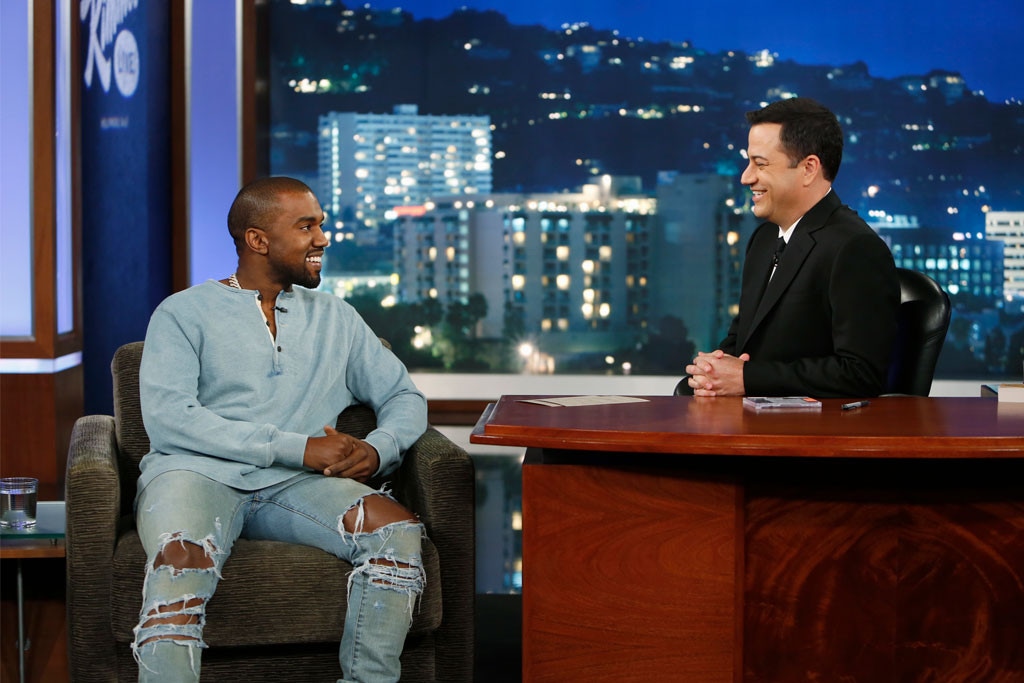 Randy Holmes/ABC via Getty Images
A category 5 storm is heading to Jimmy Kimmel Live! tonight and its name is Kanye West.
Jimmy Kimmel prefaced the show's episode in a tweet that barely touches the surface of their relatively tempestuous relationship: "On Thursday night HURRICANE KANYE strikes."
In order to properly prepare for the rapper's appearance on Kimmel's show tonight, it's required that we take a quick trip down memory lane back to 2013. In September of that fateful year, The Life of Pablo rapper told BBC Radio 1 in an interview that he believes he is "the no. 1 rock star on the planet." 
He also told radio host Zane Lowe about his ambitions and goals: "I know how to make perfect, but that's not what I'm here to do. I'm here to crack the pavement and make new grounds sonically...and culturally."
Needless to say, Kimmel found some comedic material with West's interview. What then ensued was a Twitter storm and insult-strewn sparring match filled with many caps lock phrases.
In one of his first tweets, the Yeezy designer threw shade at the host for daring to even parody it. "JIMMY KIMMEL IS OUT OF LINE TO TRY AND SPOOF IN ANY WAY THE FIRST PIECE OF HONEST MEDIA IN YEARS," he wrote. He continued, "I DON'T TAKE IT AS A JOKE."
The Ye artist even gave a half-hearted attempt at empathy, but it didn't last very long. In a very Kanye-esque addition to his previous tweets, he penned, "JIMMY KIMMEL PUT YOURSELF IN MY SHOES...OH NO THAT MEANS YOU WOULD HAVE GOTTEN TOO MUCH GOOD P---Y IN YOUR LIFE..."
The insults kept on going as Kanye attacked Kimmel's appearance: "YOU CAN'T PUT YOURSELF IN MY SHOES. YOUR FACE LOOKS CRAZY...IS THAT FUNNY?"
Then, the tweets implied Kimmel was somewhat of a backstabber to Kanye. "I LIKE YOU, YOU KNOW ME, I WENT TO YOUR FAMILY'S WEDDING," he exclaimed.
In another jab at Kimmel's personal life, Kanye brought up the late night host's ex-girlfriend, Sarah Silverman. In an additional Internet burn, he said, "SARAH SILVERMAN IS A THOUSAND TIMES FUNNIER THAN YOU AND THE WHOLE WORLD KNOWS IT!!!"
Kimmel, being Kimmel, took a very sarcastic and comedic approach to the newly-ignited feud. "Apparently @KanyeWest is VERY VERY ANGRY with me," he tweeted. The comedian even turned the tables on Kanye: "I swear @kanyewest one more of these I WILL unfollow you #warning #Goshdarntt."
About a month after the mean tweets, Kanye appeared on Jimmy Kimmel Live! in October 2013 to clear the air. The rapper told Kimmel, "For me, I'm a creative genius, and I know you're not supposed to say that about yourself. I say things the wrong way a lot of times, but my intention's always positive. For me to say I wasn't a genius, I would be lying to you and myself."
In a February 2018 cover story for GQ, Kimmel reminisced on the Internet dispute five years later and what it all meant to him. "I live for moments like that," he told the magazine. "When I got in a Twitter battle with Kanye, I was so happy."
But will Kanye join the ranks of fellow artists Ty Dolla $ign and Lil Wayne in reading mean tweets about themselves? We'll only know once Hurricane Kanye strikes.