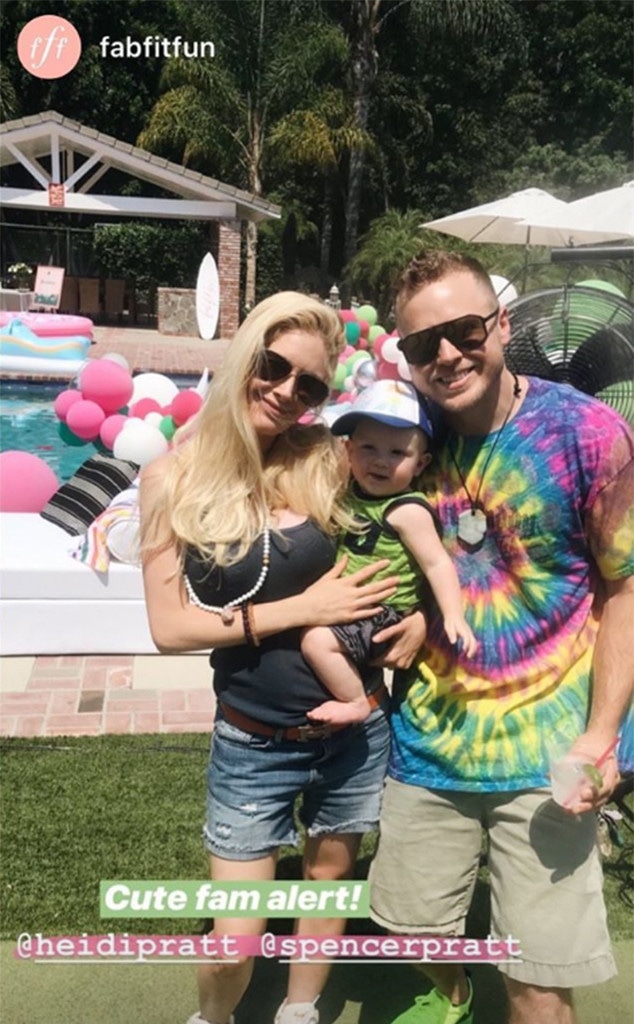 Instagram / FabFitFun
If there's ever a solid plan for TV reunion of The Hills, Heidi Montag and Spencer Pratt are down for it.
In June, there were rumors of talks of rebooting the popular '00s MTV reality series, following the success of the recent Jersey Shore: Family Vacation reboot. The cable network has not commented.
"If that's something that would happen, we would love to be involved in it, obviously," Heidi told E! News exclusively.
"Spencer's been trying to get The Hills reboot since it ended," she added, laughing.
Heidi and Spencer spoke to E! News on Wednesday at the FabFitFun Summer House Pool Party, hosted by DJ Rocky Barnes.
Spencer had joked on the Kyle & Jackie O Show in July, when asked about a Hills reboot or reunion, "I've been calling the network every day for eight years. They know. I have my own line there."
The Hills, a spinoff of Laguna Beach: The Real Orange County, aired from 2006 and 2010 and focused primarily on Lauren Conrad's journey towards a fashion design career in Los Angeles. Montag was a friend-turned-frenemy and met and fell in love with Pratt, the show's main antagonist.
Some of the former co-stars have reunited off-camera over the years and have expressed interest in reuniting on TV. Conrad has not been enthusiastic about the idea. Lo Bosworth seems downright appalled.
Kristen Cavallari, the main star of Laguna Beach who currently has her own E! series Very Cavallari, told E! News in June that a reunion project was in the works at E! but that it was put on hold because "Heidi and Spencer signed an overall deal with MTV," adding, "They're such a crucial part to The Hills, you can't do it without them." The Pratts have not commented.
Watch:
Kristin Cavallari Talks New E! Show & "Hills" Reunion
Heidi and Spencer wed in 2008 and are parents to 10-month-old son Gunner. Most of the other cast members also started families; Conrad and husband William Tell  have a son who recently turned 1, while co-star Audrina Patridge has a daughter who is 2. Kristin and husband Jay Cutler have three children. Whitney Port and her husband share a 1-year-old son. Jason Wahler and his wife have an almost 1-year-old daughter.
"I've stayed in touch with Kristin and Audrina," Heidi told E! News. "But definitely with kids right now, I have certain questions for them so I've always stayed in touch with them but I do continue to keep up with them. And obviously we love Very Cavalleri, that show is amazing and we watch it every Sunday. Well I usually watch it on Mondays because it's on too late. But yeah that's amazing. And Jason Wahler, we actually have been in touch with him and I'm friends with his wife Ashley. And Stephanie [Pratt], and on and off a little bit with Whitney. Spencer talks to her more than I do, but her and I were never really friends but she's really nice and we get along."
Heidi holds fond memories from her time on The Hills, which was chock full of drama.
"I loved season one because that was just the magic and the beginning of it all and not knowing where it's going, so for me that's always nostalgic," she said. "And then season two was a little...intense. And fun because that's when [Spencer and I] started meeting and then there's a lot of fun memories in and out. Getting married, obviously."
Heidi and Spencer will celebrate their 10-year wedding anniversary on November 20.
"We are going to renew our vows. We'll have Gunner there and it'll be really fun!" she told E! News.
"Hopefully we're going to Cabo and having lots of skinny margaritas," Spencer said.
"If we do it in Colorado, which we're thinking about maybe doing, then we do it in September," Heidi said. "But if not then, we'll do it in Cabo."
Meanwhile, they are enjoying watching Gunner grow up.
"He is starting to scoot, so that means like when he's standing and holding something he's doing side steps," Heidi said. "So he'll probably be wanting to walk pretty soon, sooner rather than later. He's crawling a lot. He can say 'Mama' and 'Dada' and 'Ninja,' which is our dog."