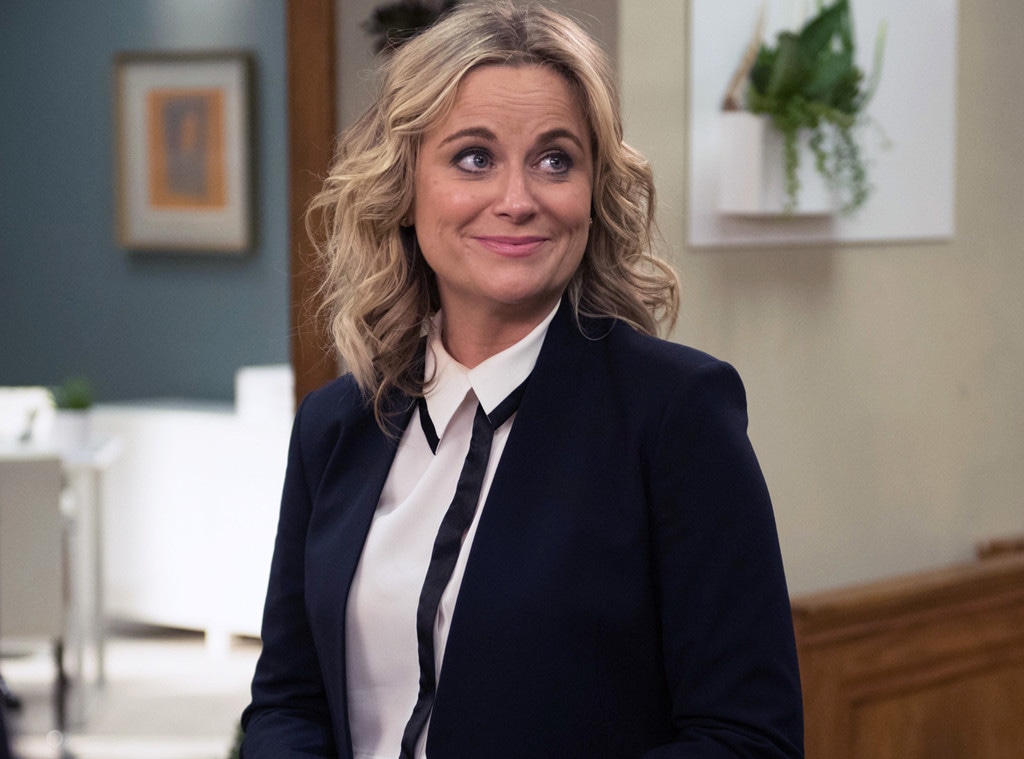 NBC
Amy Poehler is busy, but maybe not too busy for a certain revival.
The Parks and Recreation star, who can currently be seen hosting NBC's Making It alongside Parks costar Nick Offerman, has a new Netflix movie, Wine Country, coming out and is executive producing NBC's new comedy I Feel Bad. However, she's "avail" for a Parks and Recreation revival.
"Yeah! Any time," Poehler told a small group of reporters at the 2018 Television Critics Association press tour about bringing back Parks and Rec and Leslie Knope. "I'm avail, I'm tech. avail."
As for a timeline, well, that's anybody's guess. "Oh god, I have no idea…Everybody has my number…It's kind of common knowledge, but we all have a text chain and we talk to each other almost every day, so I think everybody would be excited to do some version of it," Poehler said. "Hopefully on ice!"
Parks and Recreation lives on thanks to streaming, with Poehler and her character Leslie Knope being immortalized in GIF form.
"It's so cool! It's so amazing. The internet was a huge part of why Parks stayed on the air, because of people like you wrote about it and people who cared about it and now that it's streaming now people can watch it for the first time, it's amazing. To be turned into a GIF is pretty cool," Poehler said.
However, Poehler doesn't have control over who uses GIFs. The NRA used a GIF of Leslie Knope in February 2018.
"That's the thing about the internet, you really don't have control over who appropriates what and why and how, but I think most times the character of Leslie is used for the power of good and that's pretty cool."
Poehler is executive producing I Feel Bad, a new comedy from Aseem Batra starring Sarayu Blue and Paul Adelstein, about a young mother balancing work and home and everything in between. Poehler said the producers and writers have "really good conversations" about the struggles everybody faces.
Paul Drinkwater/NBCUniversal
"Like I said, just the idea of working hard and loving what you do and balancing little kids and all that stuff. There's nothing specific that I could tell you that isn't what everybody else feels. There's not like some special thing that only I've experienced. It's the usual time management, figuring out how to balance your day and not beating yourself up too much.
As for where we might see Poehler pop up next, that's anybody's guess. Could it be NBC's The Good Place? The comedy hails from Parks co-creator Mike Schur and stars Ted Danson and Kristen Bell.
"Well, I don't know. Mike Schur is one of my most favorite people ever," Poehler said. "Kristen Bell is divine on that show. One of my sister wives, Maya Rudolph, was just on it. That's a huge, amazing cast there, so I love that show."
I Feel Bad airs Thursdays starting Oct. 4 at 9:30 p.m., with a special premiere Wednesday, Sept. 19 at 10 p.m. on ABC.
(E! and NBC are both part of the NBCUniversal family.)