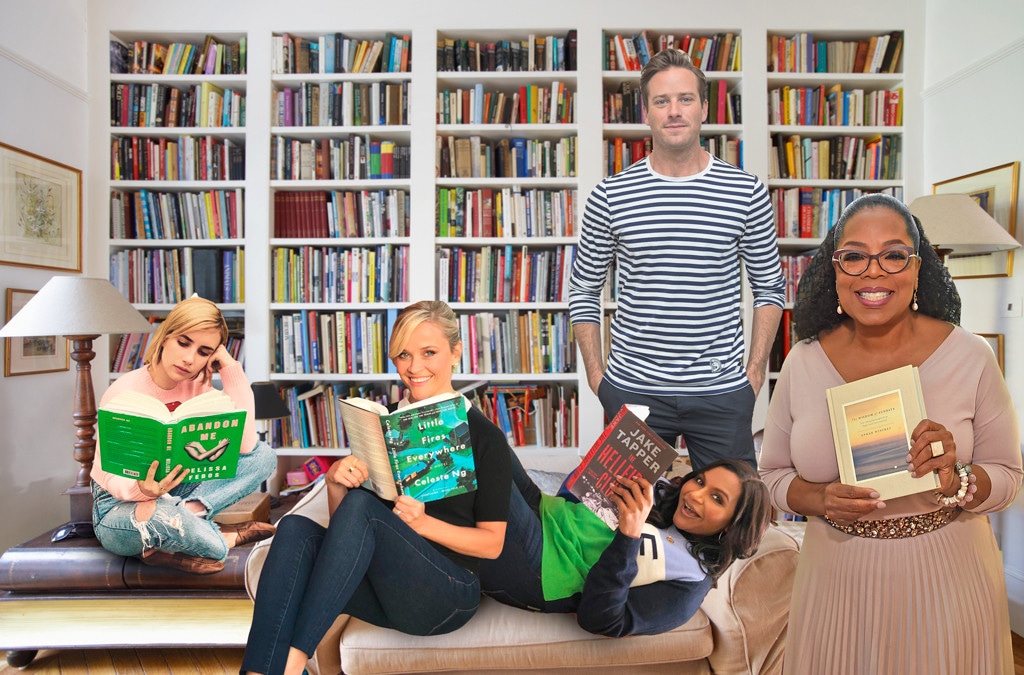 Getty Images/Shutterstock; Melissa Herwitt/E! Illustration
What's a summer vacation without a good book?
There's nothing better than a holiday in a warm, tropical place and a great read to tuck into as you lounge your life away. But with the days left in summer quickly becoming fewer and fewer, there's not much time left to bury your face in a book before fall arrives and its business as usual. What's a good book lover to do?
May we suggest you pick up one of these late summer book recommendations from some of Hollywood's most literate luminaries? It is National Book Lovers Day, after all! So, let's see what the stars are reading...
Emma Roberts' Pick: The Incendaries, by R.O. Kwon
Did you know that the American Horror Story star has her own book club, Belletrist, that she runs alongside Karah Preiss? Well, she does. And for the month of August, their pick is this debut novel that tells the fractured story of wo young people looking for something to believe in while attending the prestigious Edwards University. As Kwon told Bustle, her debut novel was inspired by her own experiences growing into—and then out of—religion. And if you're looking for a hint on where this thing goes, we point you to the, err, explosive title.
Reese Witherspoon's Pick: Still Lives, by Maria Hummel
Why did Witherspoon pick Hummel's newly released novel as her book club's latest selection? Allow her to explain: "It's the ultimate mystery set in LA. An artist goes missing at the height of her controversial career, and the plot keeps you guessing who's responsible. Was it a stunt or is she in danger ? You won't know who to trust, and that ending… I won't say any more—you'll have to read it..."
Lena Dunham's Pick: My Year of Rest and Relaxation, by Ottessa Moshfegh
OK, so the Girls creator didn't so much suggest reading Moshfegh's latest page-turner as she encouraged her followers to read the author's entire bibliography. But a great place to get started on that is with the book Dunham's holding in the photo. Released earlier this year, the novel follows an unnamed protagonist who gradually escalates her use of prescription medication in hopes of sleeping for an entire year. That the book reaches its climax in September of 2001 should give you a hint about where this whole thing is going.
Jennifer Garner's Pick: A Place for Us, by Fatima Farheen Mirza
The Alias star recently shared a snap of herself reading Mirza's latest after another bookworm on this list, Sarah Jessica Parker, spent a good chunk of her summer beating the book's drum. And it's not hard to see why. The novel tells the story of an Indian-American Muslim family, unfolding their lives as they gather together in their California hometown for the wedding of eldest daughter, Hadia. The momentous occasion sees youngest sibling Amar reunite with his family after three years, forcing parents Rafiq and Layla to contend with the choices and betrayals that led to such an estrangement.
Oprah Winfrey's Pick: The Sun Does Shine, by Anthony Ray Hinton
Fiction not your thing? Then Winfrey's latest endorsement, a memoir about Hinton's time on death row after a wrongful conviction, might be more your speed. Allow the Queen of All Media to explain her choice: "Book Club friends, I'm SO passionate about my next pick. The Sun Does Shine by Anthony Ray Hinton. A man you should know. This unimaginable memoir is Anthony's story of being falsely convicted and released from death row after 30 YEARS!"
Armie Hammer's Pick: Outside the Wire, by Jason Kander
Keeping on the non-fiction train, the Call Me By Your Name star's latest recommendation is this memoir from the Afghanistan combat veteran and former Missouri Secretary of State. Why? "He is straight forward, self deprecating, and to be honest he seems like the antidote for the current political situation we are dealing with," Hammer wrote. "He is so honest and real, it's shocking he has any political career at all... but that's exactly what appears to be lacking in most people holding public office. I've loved reading this book and I can't wait to see what he does in the future."
Sarah Jessica Parker's Pick: Things Fall Apart, by Chinua Achebe
While promoting PBS' The Great American Read, which allows book lovers to vote for their favorite novel among a master list of titles that have helped shape us all, the Divorce star advocated for her pick, this 1959 novel from Nigerian novelist Achebe. The story chronicles pre-colonial life in the south-eastern part of Nigeria and the arrival of the Europeans during the late nineteenth century.
Emma Watson's Pick: Milk and Honey, by Rupi Kaur
As with most celebs on this list, Watson runs her own book club, Our Shared Shelf, and for July/August, they chose poet Kaur's 2014 collection of poetry and prose. "I am loathe to say Rupi has made poetry 'accessible"'because while this is the truth (Rupi's poems and illustrations fit well into those famously square shaped Instagram frames), there is nothing easy or accessible about what Rupi chooses to talk about," Watson wrote. "In fact, the topics she chooses, are audacious."
Mindy Kaling's Pick: My Life as a Goddess, by Guy Branum
Why did Kaling write the forward to this hilarious memoir from comedian and former The Mindy Project writer Branum? "Because that's what goddesses do for one another," she wrote on Instagram. This collection of hilarious personal essays tells Branum's story as only he can. If you're a fan of Kaling's books, you won't want to miss this one.
Happy reading, book lovers!