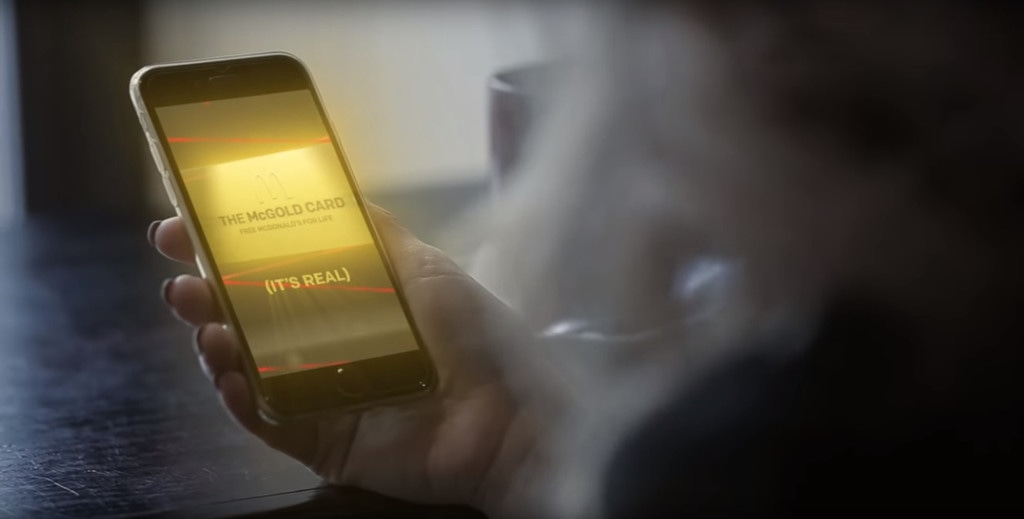 McDonald's/YouTube
Does a lifetime of Chicken McNuggets sound like a saucy dream come true? What about sinking your teeth into an Egg McMuffin most mornings for the foreseeable future? You can even make your nightcap a refreshing swirl of vanilla soft serve. But how?
Sound the alarms: McDonald's is about to change one Big Mac fan's life with the chance to win free food for life from the fast food joint.
The home of the Quarter Pounder posted about the mysterious way to end up victorious in the company's latest sweepstakes. "Legend becomes reality when one person wins FREE McDonald's for life!" the company tweeted. 
If you want to be that lucky winner, there's one way to go about it: ordering food through their mobile app. According to their announcement, the window for ordering via cell phone is August 10-August 24. Time to head to the app store.
McDonald's didn't only just tweet about this new competition. The news also comes with a video that resembles a movie trailer mixed with some true crime docuseries vibes. In a dramatic opening, the narrator—who sounds eerily similar to the narrator we all know well in movie theater trailers—says, "For millennia, tales of ancient secrets have captivated mankind." These "ancient secrets" the McDonald's narrator speaks of include "the Lost City of Gold, the Treasure of Montezuma, and the McGold Card offering free McDonald's for life."
The home of the Big Mac assures us that the McGold card is legit. In one shot, a mysterious person holds a cell phone with the app on it and at the bottom of the phone screen, it says, "(It's real)." 
In a turn from movie trailer to mockumentary, a New Age-looking "Ancient Astronaut Theorist" with a mullet only the 1980s would be proud of explains, "This isn't some bedtime story. It's real...Like aliens."
The narrator once again tells the viewers that the free McDonald's will be awarded to "one fortunate soul." 
In an attempt to remind us this isn't a hoax or conspiracy theory (it's real), we see a shot of Big Foot running away holding a bag of McDonald's. Is he the lucky winner?
According to the narrator, "only the most luminary individuals hold the card and the truth." There's even confirmation of this theory. Rhonda McDougal, "Professor of McDonald's History and Fry Law," tells us that McDonald's is "raising the bar."
While this enticing offer is available for the next two weeks, there's a catch (because after all, it's real). McDonald's official rules state the winner will receive up to two meals per week for 50 years. In addition to the weekly Happy Meals, the lucky victor will also receive a gold phone case.
May the odds be ever in your mcfavor.