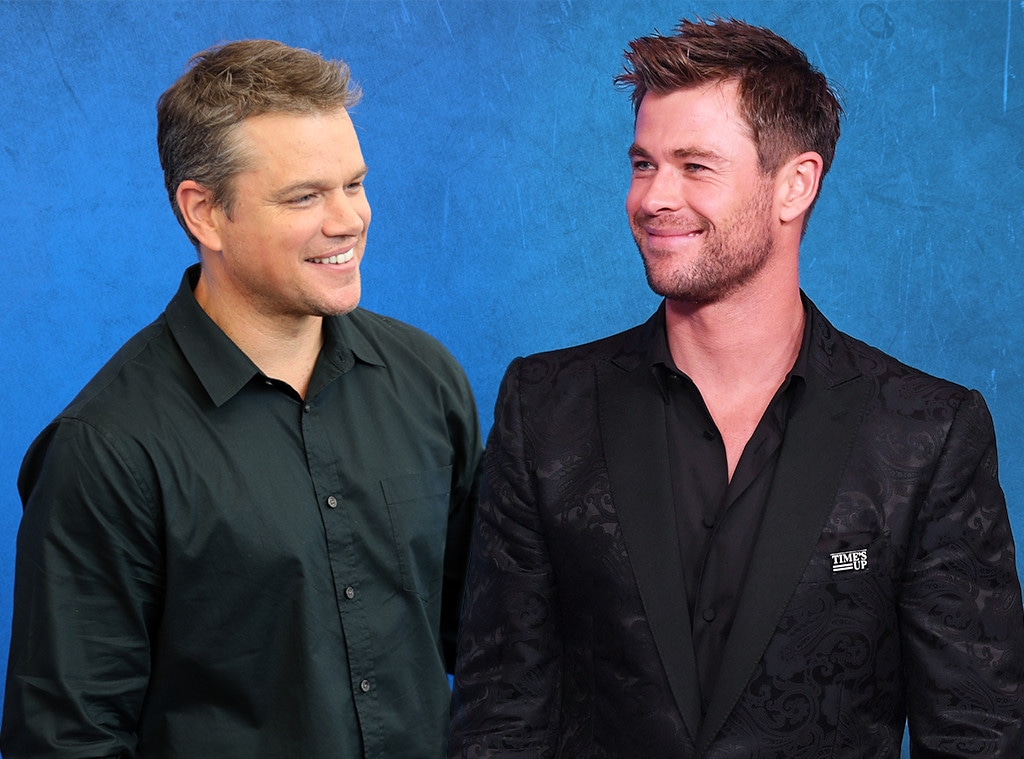 Getty Images/Shutterstock
So Jason Bourne and Thor walk into a bar...
It may sound like the set-up for a punch line, but really, it's just a standard vacation practice for Chris Hemsworth and Matt Damon, as the two actors have traveled the world together in recent years, often being spotted boarding boats, hitting the beach and inspiring travel FOMO in all of us. (Look away, Ben Affleck!)
While their bromance, which includes annual family vacations, spending holidays together and surf sessions, may seem a unexpected, given that they've never really worked together, Hemsworth and Damon's friendship actually began quite some time ago, before the Aussie star, who turns 35 today, took on the role of the Norse god that would make him a household name. 
"We became friends around the time I started to work, and I've really benefited from watching how he handles himself," Hemsworth revealed in a 2014 GQ profile, adding that he admired Damon's ability to stay grounded despite his impressive career and level of fame. "Matt's just a normal guy who has the movie-star thing figured out."
But the most surprising part of that interview was the fact that it actually took place at Damon's house, with the 47-year-old star lending Hemsworth and the writer, who is surprised to learn Hemsworth's friend "Matt" is in fact the Oscar winner Matt Damon, bikes for their planned adventure, cooking them breakfast (pancakes and coffee, in case you were wondering!) and leading them to their bike trail in his Tesla. 
Hemsworth's admiration of Damon, who grew up in Boston, makes sense, given how family-oriented both stars are.
After getting married in 2005, Damon and wife Luciana Barroso have had three daughters (Isabella, Gia and Stella), in addition to Barroso's daughter, Alexia, from a previous marriage. Hemsworth and his wife Elsa Pataky have welcomed three children, a daughter and twin boys, after their 2010 wedding.
Pataky and Barroso are arguably even closer than their husbands, with the two women becoming "very good friends" after their spouses formed a friendship. "His wife is Argentinian, so we speak Spanish," Pataky, who was born and raised in Spain, told People earlier this year. "So for me it's a relief, yes, somebody I can speak Spanish with!"
"Chris has been a big fan of Matt Damon, me too, and then when I met his wife, I'm even more a fan of his wife," Pataky continued. "They are such amazing people. We have three kids, they have four kids, so we ended up making the same plans because everything we do we do with the kids, so it's easier to do things with people that understand you."
And those things include annual vacations together, attending the Grand Prix in Monaco in 2017, a trip to Costa Rica, and the Damons even spending Christmas in Australia last year.
"We were all together and it was a really inspirational time," Pataky said, revealing she and Barroso even got matching tattoos to commemorate the experience.
"We felt like we had to have something to remind us of those great moments we stayed together," she said, "and we decided to get a little tattoo [of three dots on their pinkies] all together and we say 'We'll have to do one every year.'"
The women have also left the men at home to go on girls' trips to New York City (attending Pataky's The Fate of the Furious premiere together), a beach vacation in February 2017, and enjoying a visit to Disneyland. 
But their 2017 Christmas vacation together was just one of many for the two families, with the Damons also spending Easter in Australia earlier this year, even leading to Internet rumors that Damon and his family would be moving to Hemsworth's homeland. (Damon's rep later denied the report.)
With a shared love for adventure, Damon and Hemsworth's joint family vacations often include water activities, which lead to a scary moment during a trip to Australia's Byron Bay in April 2017, when Damon's then 6-year-old daughter Stella was stung by a jellyfish, with paramedics being called to the beach. 
Fortunately, Stella was fine after the terrifying experience, which both stars later opened up about during talk show appearances.
"It was the worst thing," Damon told Ellen DeGeneres of the incident. "Even Chris said, 'Mate, that's the worst thing I've ever seen in my life.' It was really bad." (Unrelated but importanrt to note: Damon does a pretty great impression of Hemsworth.)
When Hemsworth later appeared on Ellen's show, he also talked about the scary moment, calling her jellyfish injury "one of the worst I've ever seen."
Unfortunately for Damon, Australia wasn't done testing him yet, as he was greeted by a "big snake" on his next trip, Hemsworth shared. 
Given their equally impressive run of box office hits, Hemsworth and Damon are two of the most in-demand leading men in Hollywood, with the former currently filming the Men in Black spinoff and the latter filming Ford v. Ferrari in addition to his role as a producer on several projects. Despite their busy filming schedules, they still make time to support each other's projects...and even make cameos in them.
Marvel fans received quite the surprise in last year's smash hit Thor: Ragnarok when Damon made a brief cameo, playing Loki (Tom Hiddleston) in an Asgardian play. His appearance was one of the film's most guarded secrets and, somewhat surprisingly, marks the only time the close friends have worked on the same project.
"Chris just called me up, and Taika [Waititi] called me up, and I'm friends with those guys. They pitched me the idea and I just thought it was hysterical, the idea of basically an intergalactic community theater actor kind of living out Tom Hiddleston's character's fantasy," Damon told Collider. "I just thought it was just a great, funny bit, and very easy to do. Those guys were a lot of fun, and Taika runs a really fun set. It was a light lift for me."
And despite the more serious fare on their resumes and A-list status, both men share a sense of humor about their mutual attractiveness and fame. 
When Hemsworth was named People's Sexiest Man Alive in 2014, he credited Damon, who won in 2007, for helping him land the honor. 
 "I learned everything there is about being sexy from Matt," Hemsworth joked on Jimmy Kimmel Live!, which, of course, is hosted by Damon's longtime "nemesis Jimmy Kimmel.
When Hemsworth appeared on Kimmel's show in 2018 to promote Thor: Ragnarok, Damon sneaked onto the set, prompting Kimmel to ask, "Why are you friends with him?!"
Hemsworth replied, "I feel sorry for him, he has nothing...He turned up at my house in Australia, uninvited. But I'm an open person."
Fortunately for us, Hemsworth's pity party for Damon has continued, with the couples going on yet another trip together in late July, vacationing in Spain to celebrate Pataky's 42nd birthday.
Who needs the Avengers when you've got friends like the Damons?
Given how much time they are spending together, we're not the only ones who've taken notice of the epic bromance, as Damon's OG BFF Ben Affleck even playfully joked about the friendship-off on Twitter back in April. 
While Damon isn't on social media, Hemsworth was quick to respond to Affleck, jokingly jabbing at the Batman star.
"Sorry mate not my fault!" he replied. "He's just a big @Marvel fan, not @DCComics. How do you like them apples…"
And just like that the ultimate Hollywood bromance triangle was bourne...
Don't miss E! News every weekday at 7 and 11 p.m.